Twitch broadcaster Nicole "BadBunny" used her platform to announce that her life is more valuable than the lives of those in her chat. BadBunny is a political streamer who claims to have "escaped the alt-right pipeline." Her controversial content revolves around educating others about leftist politics and current events.
To view this video please enable JavaScript, and consider upgrading to a web browser thatsupports HTML5 video
descriptions off

, selected
captions and subtitles off

, selected
This is a modal window.
Beginning of dialog window. Escape will cancel and close the window.
End of dialog window.
Once again, BadBunny's controversial remarks have shot her into the limelight. Just a few months ago, she stirred conversation throughout the Twitch community by demanding her viewers subscribe to her channel (not the first time such a thing has happened). As a result, she was condemned for actively trying to manipulate viewers into paying for her content.
BadBunny strikes again
Keemstar tweeted out a clip of BadBunny scolding viewers, saying, "My value is so much more than all of your value put together." She backtracks for a moment saying, "I know every life has value," but then doubles down by saying, "but my life is far more valuable." At the end of her rant, she says the notion her chat considers themselves "at the same level of value" as she is "insulting."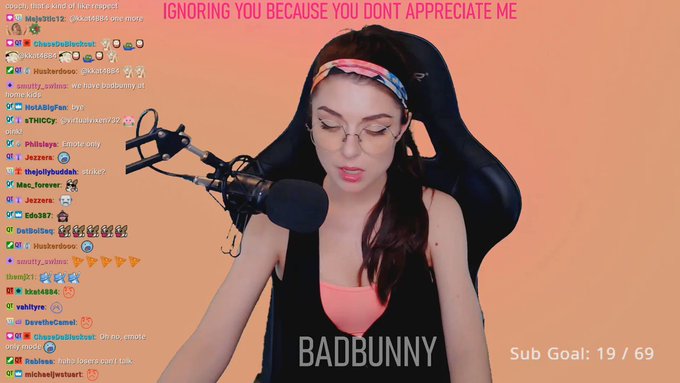 By playing this video you agree to Twitter's use of cookies
This use may include analytics, personalization, and ads.
In the middle of her monologue, BadBunny starts to shame physical appearance. She goes as far as to say the chat not recognizing her value is the same as a "super ugly dude" going up to an attractive woman and asking her on a date. Furthermore, the fact her chat doesn't acknowledge her value disgusts her.
Replies to Keemstar's tweet are overwhelmingly negative. The original tweet received a response from famed Twitch streamer Jaryd "summit" Lazar, where he essentially said her ludicrous statements are all a ploy for attention.

Ok. I'm convinced she's trolling now. We all getting jebaited.
Similarly, others in Keemstar's thread urged the drama reporter to stop giving exposure to her actions. A pattern is seemingly forming, where every few months, her openly hateful comments or toxic engagements bring BadBunny to the center of attention. There's no telling how many more times her community will forgive her, but as for now, she's definitely getting the attention she's asked for.
Source: Read Full Article