The Nintendo Switch has been out for about five years, and it's still a great gaming console, especially for playing while out and about. A staple genre in the video game realm is racing, and the Switch complements this genre perfectly with its ability to take games with you wherever you go.
Whether you are in the middle of a race or you want to drive around for a while on the bus, racing games and the Nintendo Switch go together like cars and gasoline. At the same time, it may not have Forza or Beam.NG, but the Switch has a trove of classic and modern racing games to fuel your desires.
Updated December 30, 2022 by Stephen LaGioia: While it's taken awhile, racing games have become fairly prominent on Switch — even going beyond typical arcade racers a la Mario Kart. While full-on racing sims and open-world epics are still pretty rare, the console has developed a well-rounded lineup of different types of racers.
And most of them look especially great on the vibrant, larger screen of the Switch OLED model. These driving romps range from the kid-friendly Hot Wheels Unleashed to deeper games like Need for Speed. With so many options now at hand, we thought we'd revisit and refuel this list.
15/15

Horizon Chase Turbo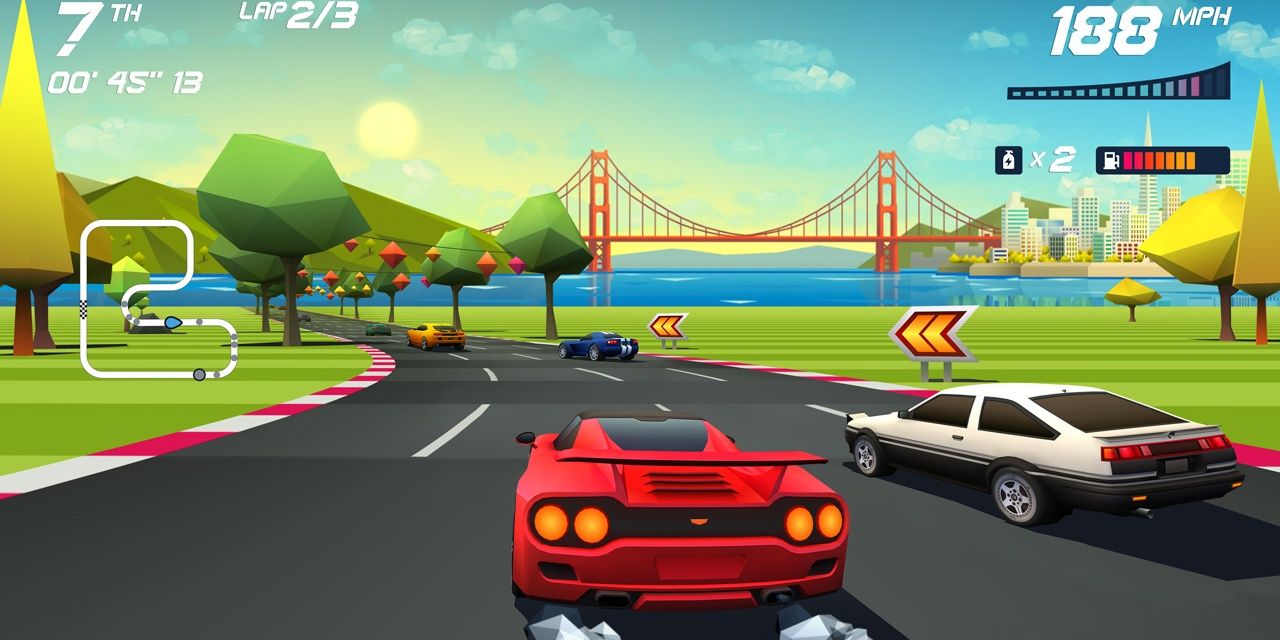 Remember those crude 8-bit racers that tried to convince you you were driving straight ahead in a 3D space? Most likely not, but either way — this indie arcade racer by AQUIRIS will likely blow your hair back with fun 80s nostalgia anyway. The game is a faithful homage to 2D racers of yesteryear while giving the aesthetic a modern polish of crisper, more vibrant visuals.
This flat, blocky visual style is actually something of a cover — as Horizon is loaded with content. Dozens of unique, rapid-fire stages, distinct cars, and even the underappreciated split-screen multiplayer round out this gripping racer. Oh, and in typical retro fashion, the AI racers can be shockingly brutal.
14/15

Grip: Combat Racing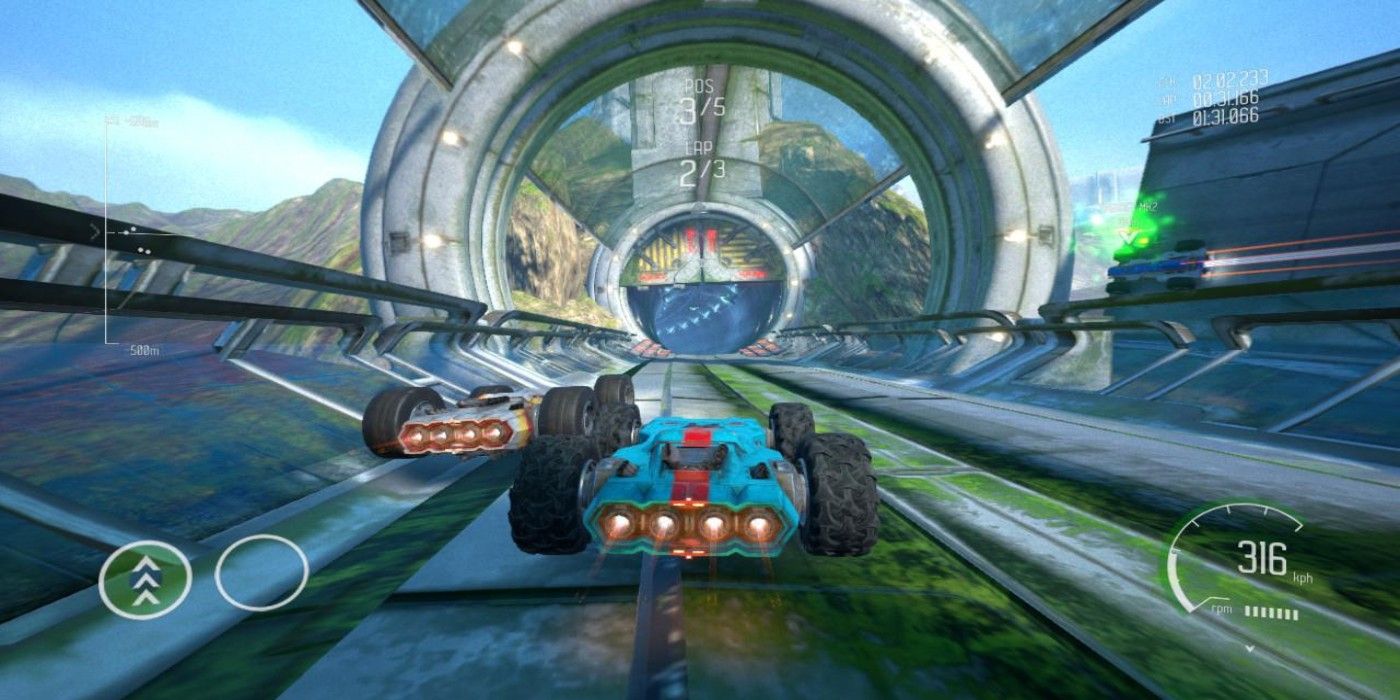 Grip: Combat Racing makes a great fit for Switch with its frantic, pick-up-and-play style and undiluted arcade gameplay. While apparently a spiritual successor to the even lesser-known Rollcase, studio Caged Element makes this chaotic combat formula its own.
The game brings a satisfying array of weapons, power-ups, and double-sided vehicles that can ride 360 degrees and flip about. Grip offers solid multiplayer (online and four-player split-screen), which hosts intense, F-Zero-style Elimination races and a combat-centric Arena. What's more — Grip can often be found heavily discounted, making this romp all the more worth the ride.
13/15

NASCAR Rivals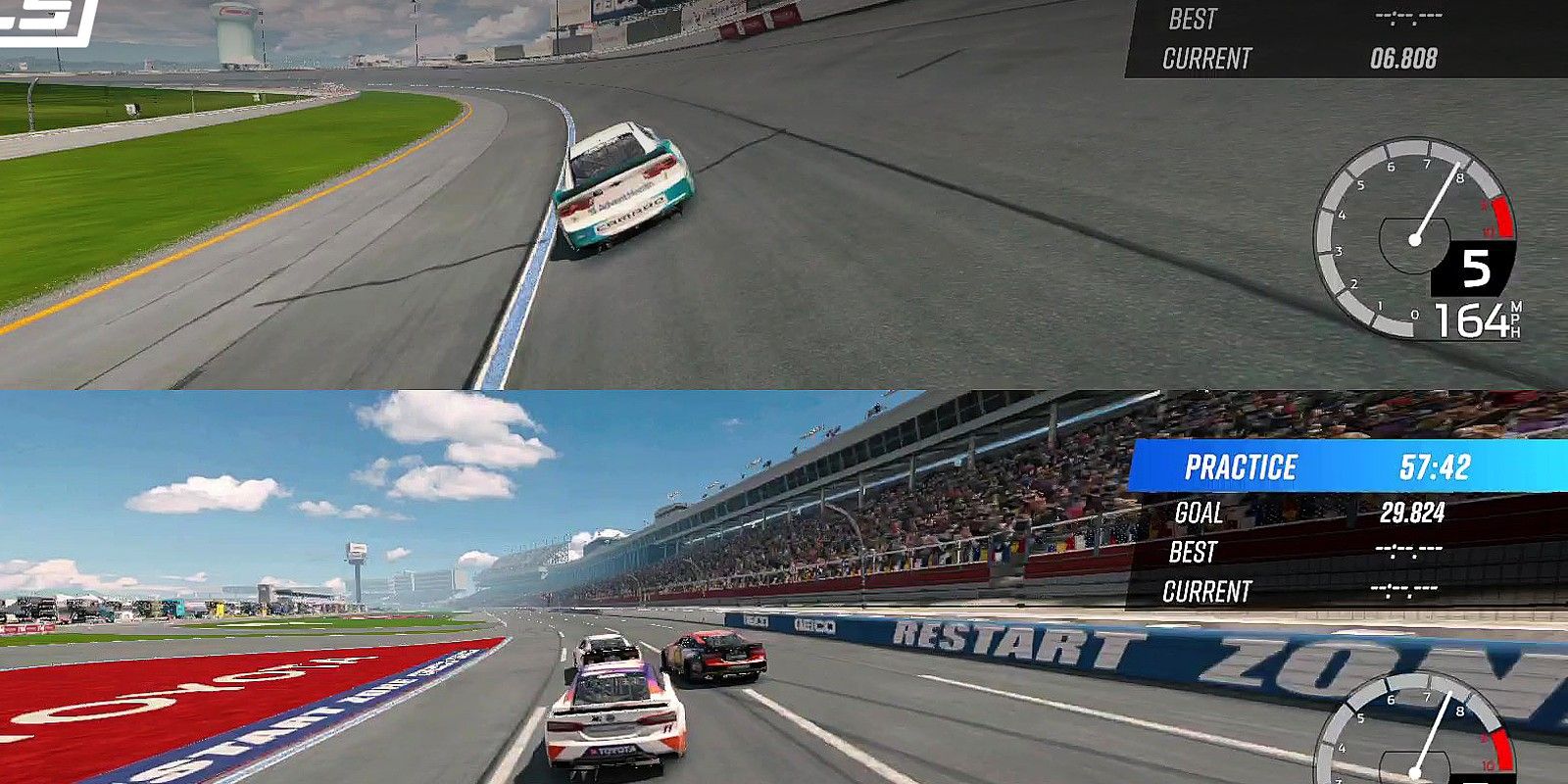 While there are plenty of racing and driving games on Switch in some form, the deeper, more refined sims are still rare. Enter NASCAR Rivals from Motorsport Games, a title that nicely fills a Switch niche. The game sets out to not only mirror pro auto racing but specifically emulate the 2022 NASCAR Cup Series.
A slew of diverse content has been released out of the gate, with more promised down the pipeline. These include a deep career mode, a challenge mode, and a feature that connects players with random drivers in any track. On a technical level, the game does what it can with the Switch's (relatively) limited hardware, though it plays fairly smoothly and looks great to boot.
12/15

Fast RMX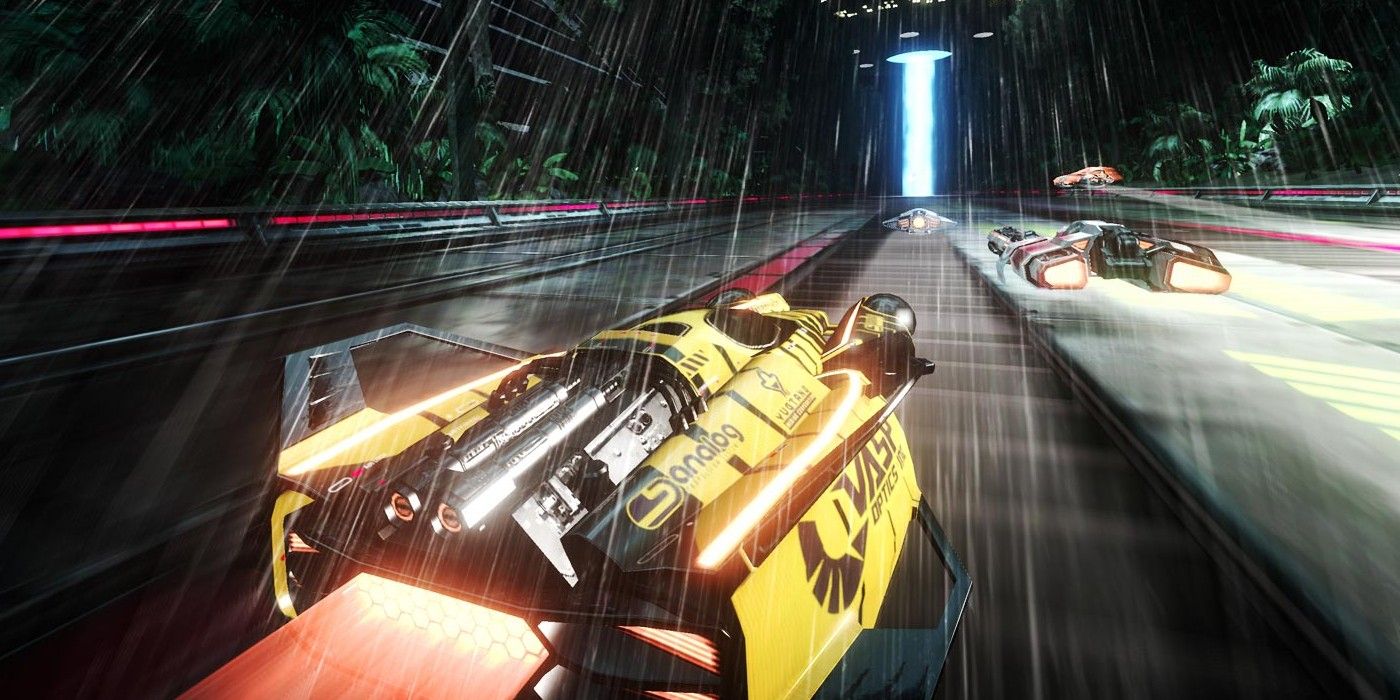 Those looking for an F-Zero replacement on Switch: look no further, as this launch game by Shin'en Multimedia is still about as close as you'll get. Though Fast RMX isn't going to blow past Captain Falcon and company, this futuristic racer tosses in a few neat features that make it stand out on its own merit.
The game features subtle-yet-effective color-switching mechanics used on the fly. You'll need to flip the color of your car's lights to utilize the corresponding strip on the track for boosting. Added to this are some impressive particle and lighting effects, along with split-screen and online multiplayer.
11/15

Cruisin' Blast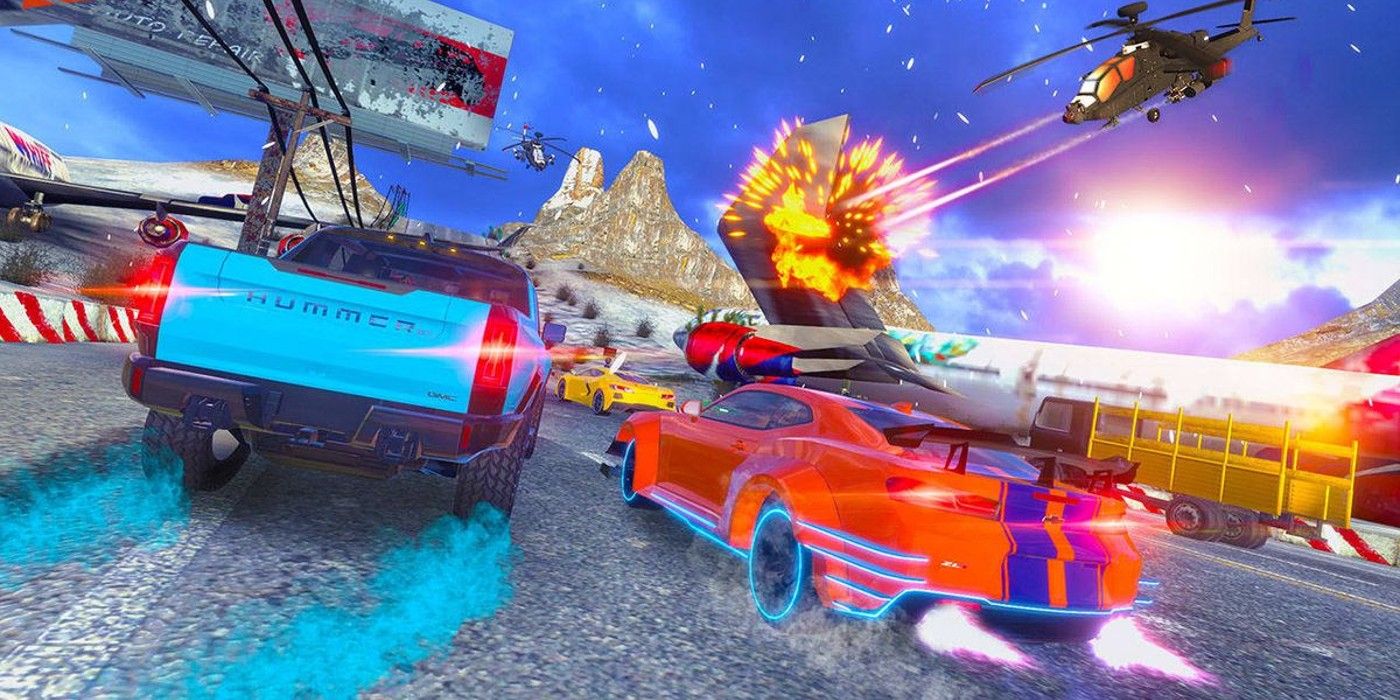 One of the most overlooked racers on Switch, Raw Thrill's port of the 2017 arcade game fits the hybrid console like a glove. The game exudes charming arcade chaos with its zeccentric themes, 90s flair, and frantic speeds throughout. Cruisin' Blast manages to be quite accessible while still hitting you with intense, edge-of-your-seat moments.
You'll zip through various vibrant tracks in a number of colorful cars, scrambling to extend your time limit while racing head-to-head. You can also get an edge by upgrading your vehicle, bringing a bit more depth to the Cruis'n experience.
10/15

Team Sonic Racing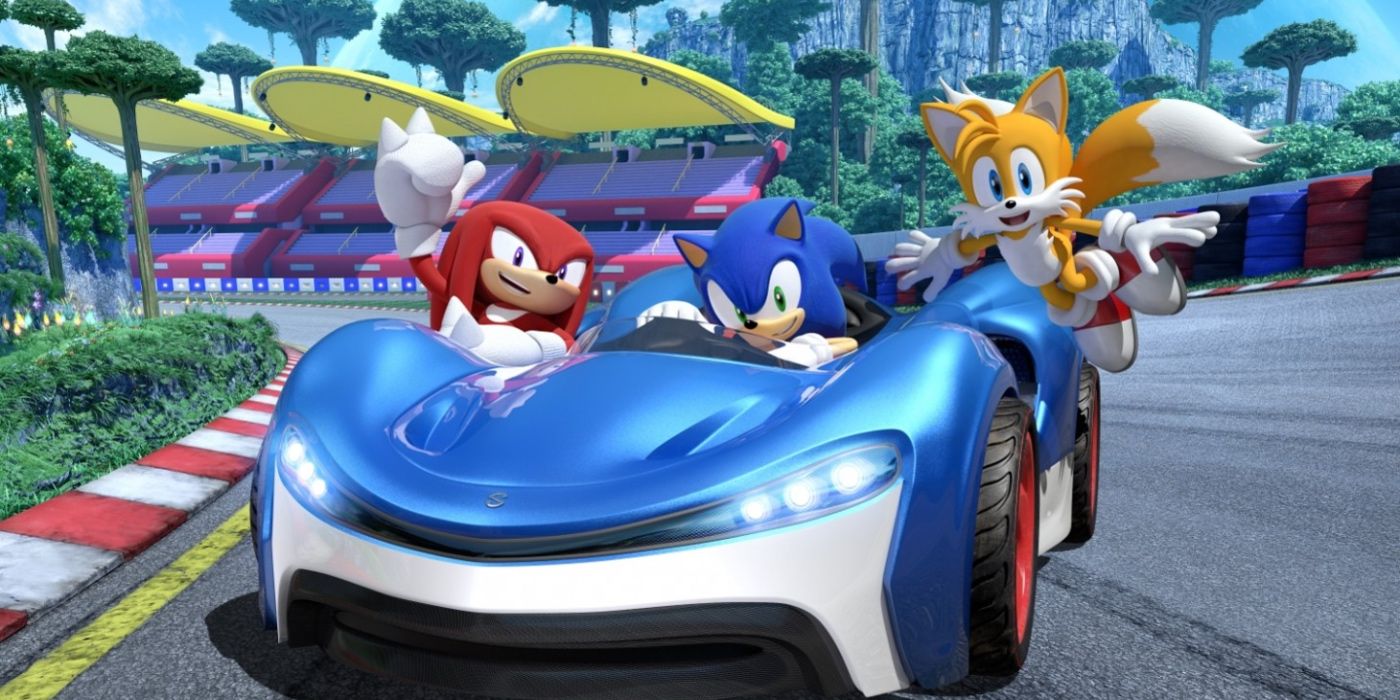 Kart racing games are a classic way for games that are traditionally from other genres to effectively mix things up. The classic example is Mario Kart, but Sonic has had a number of racing games over the years both in karts, on foot, and on hoverboards.
Of course, Sonic is the perfect subject for a racing game, given his speed and Team Sonic Racing is a great example of this. While it definitely shares a number of things in common with Mario Kart, Team Sonic Racing has enough unique content to be enjoyable.
9/15

Star Wars Episode One Racer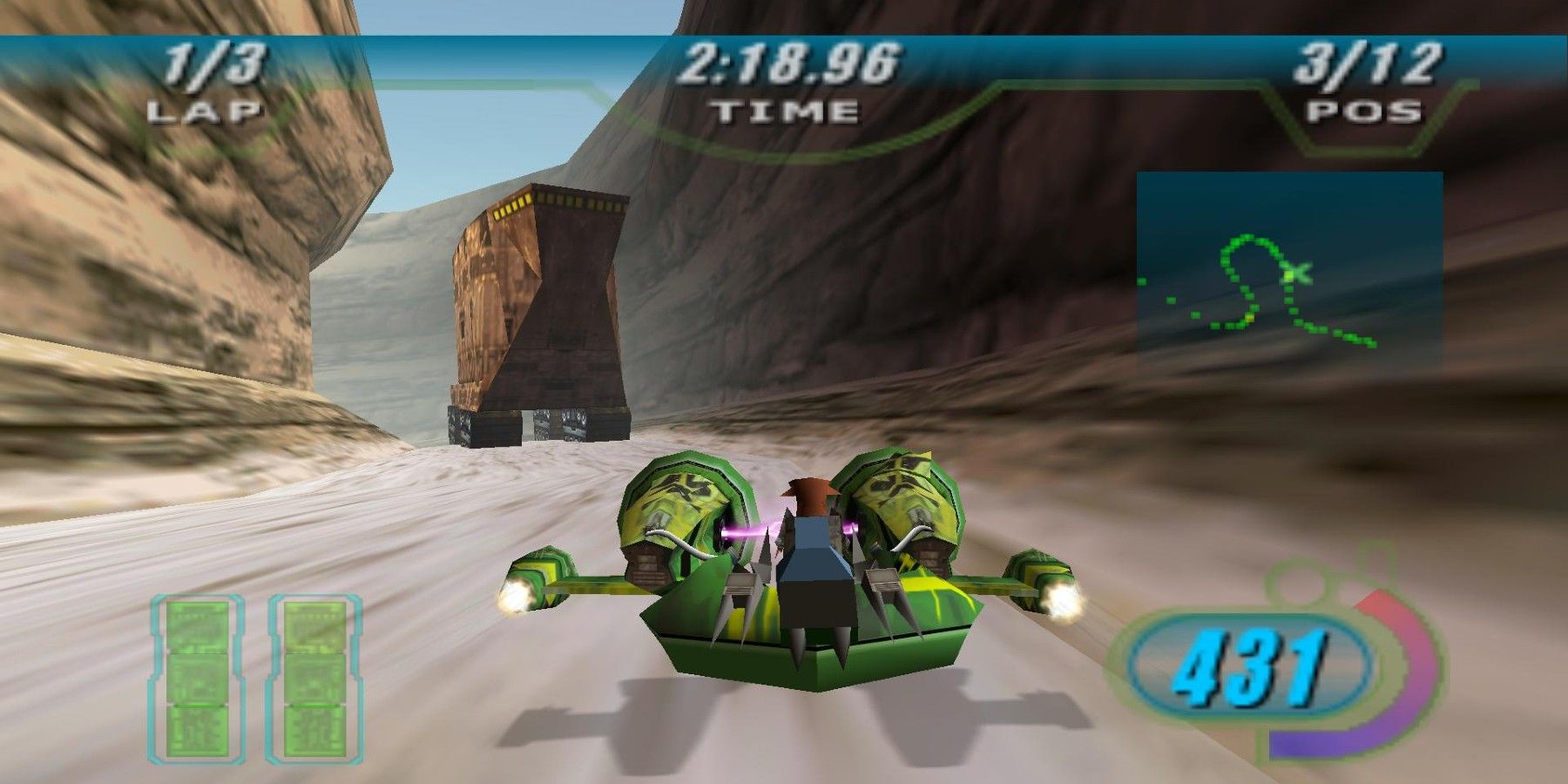 The surprising thing about Star Wars Episode One Racer is that it stands up against many of Switch's other arcade-style racers despite being 20 years old. It doesn't even have cars in it; instead, you race with pods like in the film. Despite it all, this game lives up to its legacy and then some.
This is not a remaster, though there are some quality-of-life improvements like motion controls. That means that even though the gameplay is solid, some things clearly show its age, like the somewhat loose controls, the compressed music, and especially the N64-era graphics. it's a good bit of retro fun, though.
8/15

Crash Team Racing Nitro-Fueled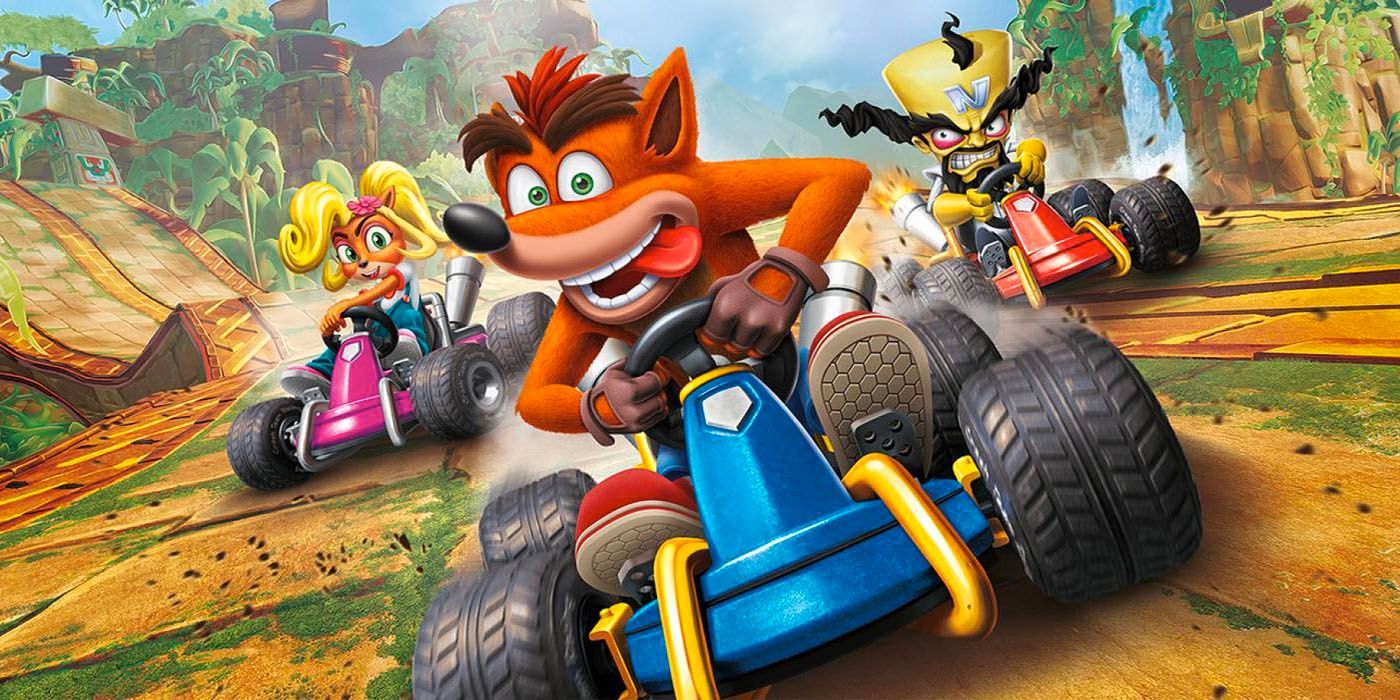 Crash Team Racing Nitro-Fueled is a perfect example of a remastered game done right. It has everything you could want out of a remaster, like modern graphics, tighter controls, and even online multiplayer, while respecting the vision of the original game.
While it also shares a number of things from the Mario Kart formula, CTR Nitro-Fueled has a few key differences that make the experience new. The best way to describe it would be that it is more of a competitive game requiring more skill, whereas Mario Kart is more of a party game pertaining to chance.
7/15

Asphalt 9: Legends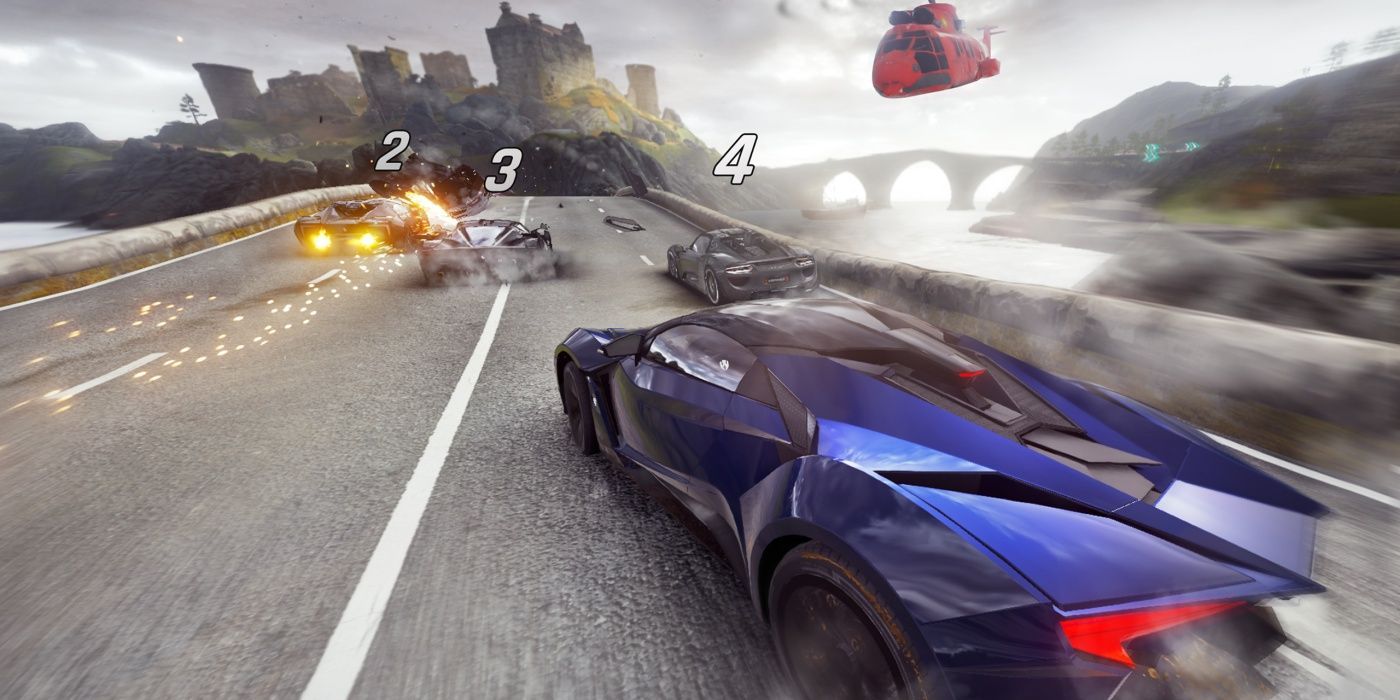 There is a phenomenon on the Nintendo Switch in which mobile games are ported over. Most of these games are better played on your phone, but Asphalt 9: Legends is a fully-fledged game and definitely worth downloading on the console.
Not only does it have realistic graphics, but there is online multiplayer, a huge selection of cars and tracks, and, best of all, a comprehensive career mode to play through. Actually, scratch that; the best part is that it's 100 percent free to play.
6/15

Hot Wheels Unleashed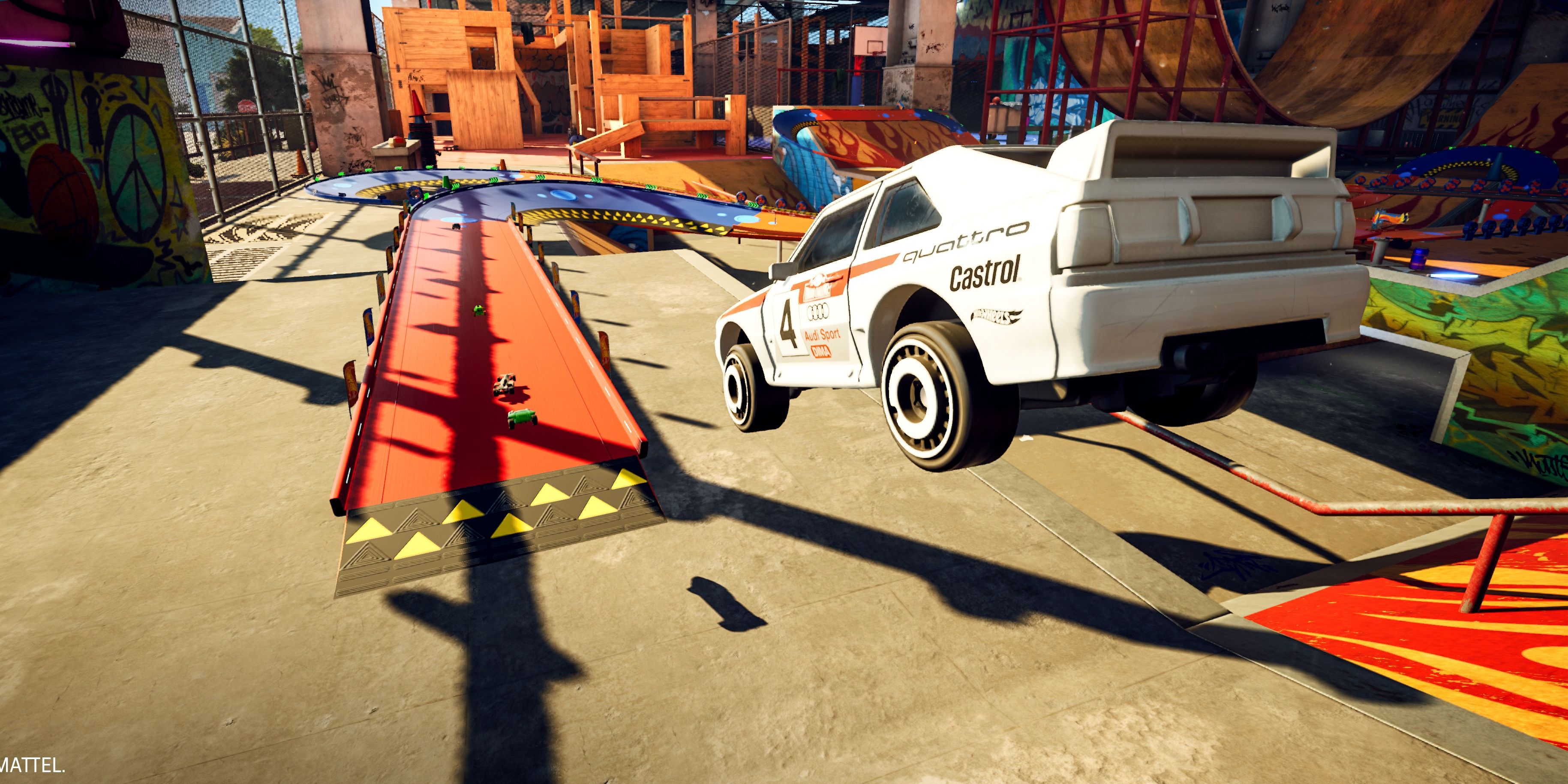 Hot Wheels is the ideal toy to make into a video game, and Hot Wheels Unleashed proves this. Rather than trying to make Hot Wheels into a realistic racing game, Hot Wheels Unleased stresses accessible, arcade-style driving and gives you a look into the toy's perspective.
The best part about Hot Wheels Unleashed is that it takes place on actual Hot Wheels tracks in houses that feel massive relative to the small size of the cars. You can even make your own tracks and relive every child's dream of getting in their favorite car and racing around the track they made in the backyard.
5/15

Need For Speed Hot Pursuit Remastered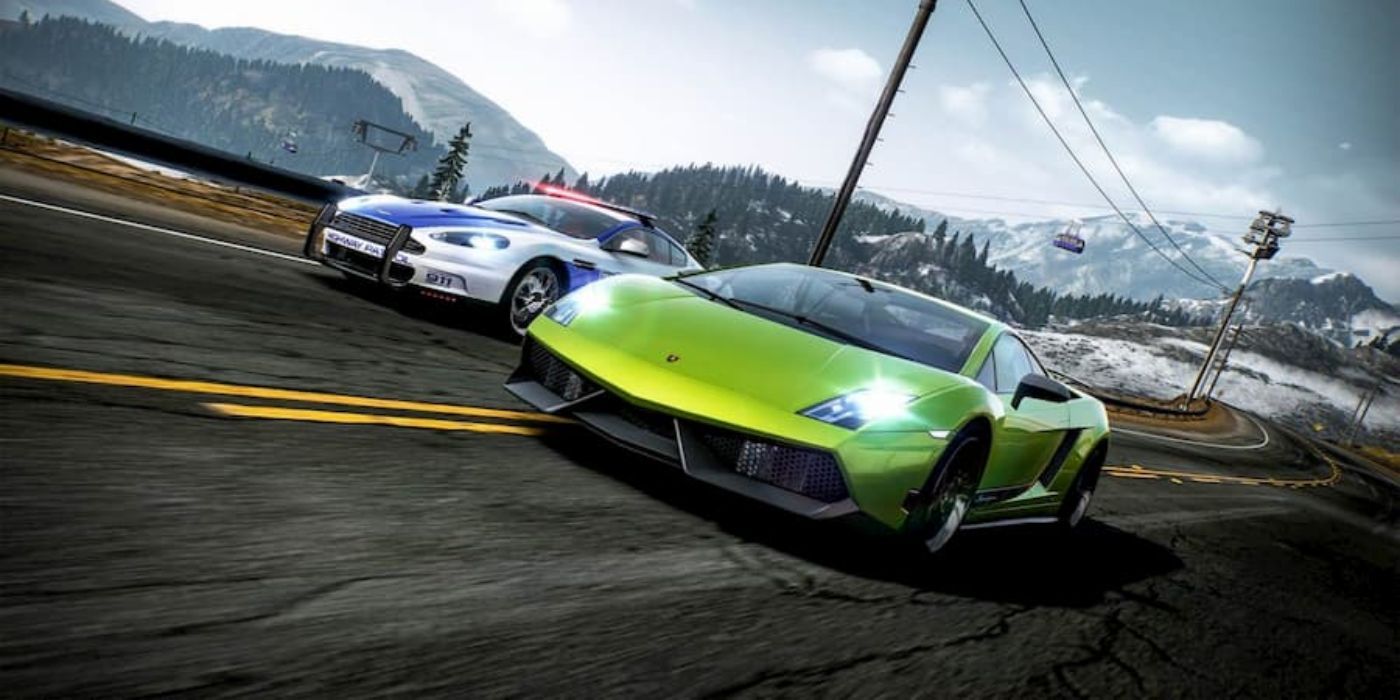 There is one Need for Speed game that is unilaterally agreed upon as excellent. That game is Need For Speed Hot Pursuit, and you can play the remaster of this classic cops and robbers arcade racing game on the go with the Nintendo Switch port.
You can switch between being a cop or an illegal street racer whenever you want, meaning things never get stale. Add to this a competitive leaderboard where you're encouraged to beat all your friends' times, and this game has a ton of replay value.
4/15

Grid Autosport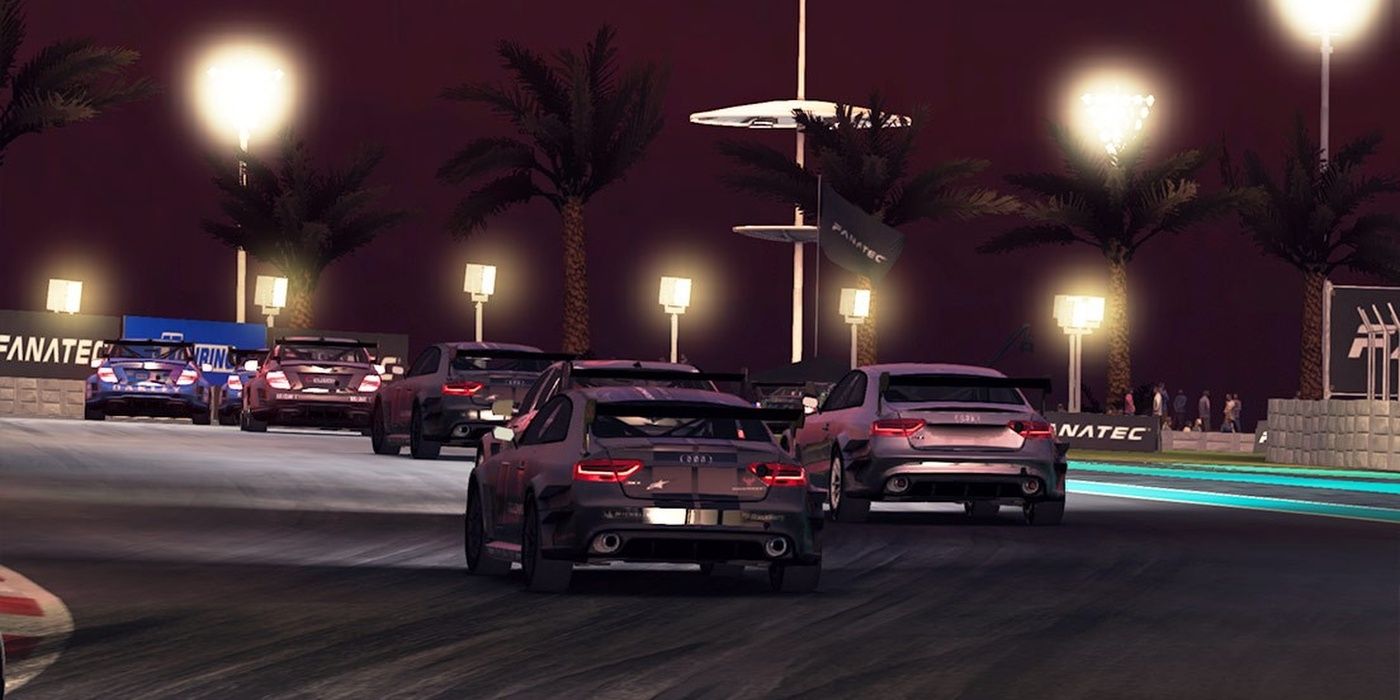 Grid Autosport comes in and steals the top spot on the podium for realistic racing games on the Switch. Not only does it feature a wide variety of racetracks and cars, but they all look about as realistic as the Switch can handle without exploding.
Grid Autosport is definitely going for a more simulation-like experience, but there is a wide range of options to customize the difficulty and controls for your vehicle. Best of all, the game includes local and online multiplayer, something that every racing game worth its salt needs.
3/15

Rocket League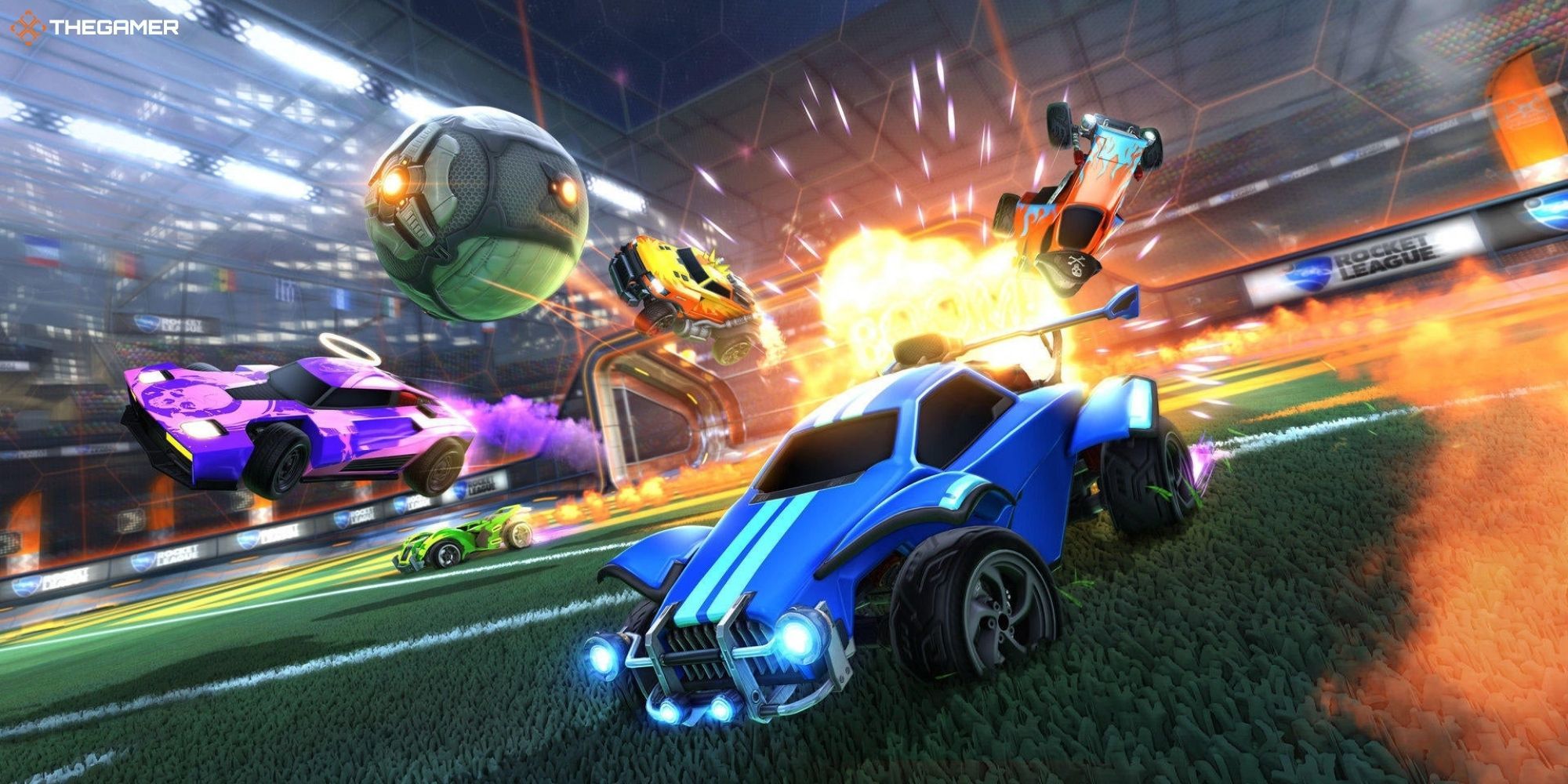 Never before has such a perfect combination of two seemingly unrelated things come together so smoothly. Rocket League combines race cars and soccer, and while technically it's more of a sports game, it must be mentioned because it blows away any potential competition.
Rocket League has everything a racing game needs, including a huge amount of cars, cross-platform online multiplayer, and, best of all, the fact that it is free to play. It's always entertaining to see the ball soar into the goal after boosting it at high speed.
2/15

Burnout Paradise Remastered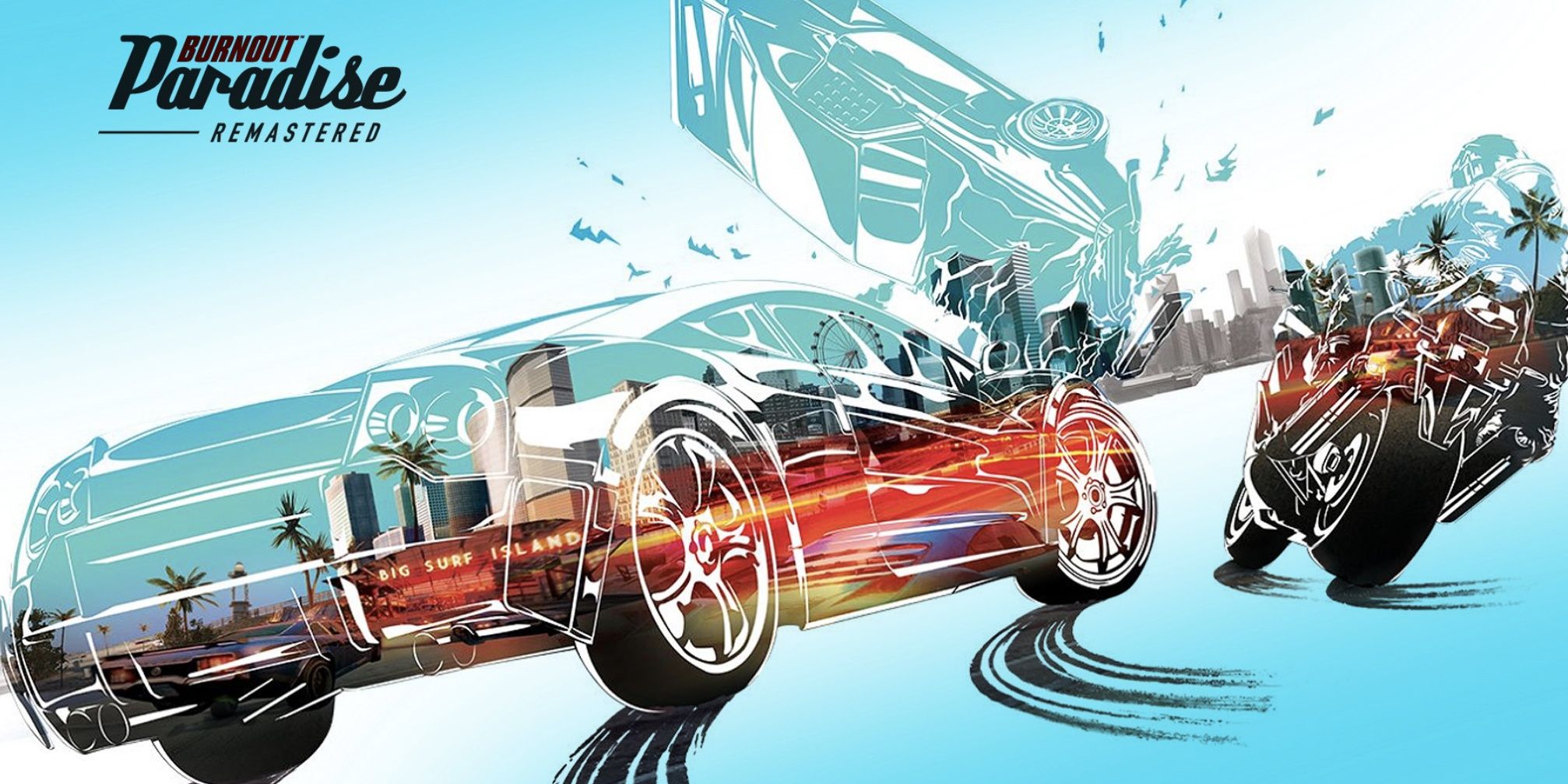 Burnout is one of the racing series known for its high-octane treks through crowded urban streets rather than taking place on an isolated track. Burnout Paradise took this to the next level, with its open-world city absolutely filled to the brim with races, crashes, and secrets to find.
Burnout Paradise Remastered is available on the Switch, and the style of play it sets up of driving around in the open world or taking part in a quick race perfectly complements the Switch's portability. Best of all, the crashes are totally glorious. This is Criterion Games at its best.
1/15

Mario Kart 8 Deluxe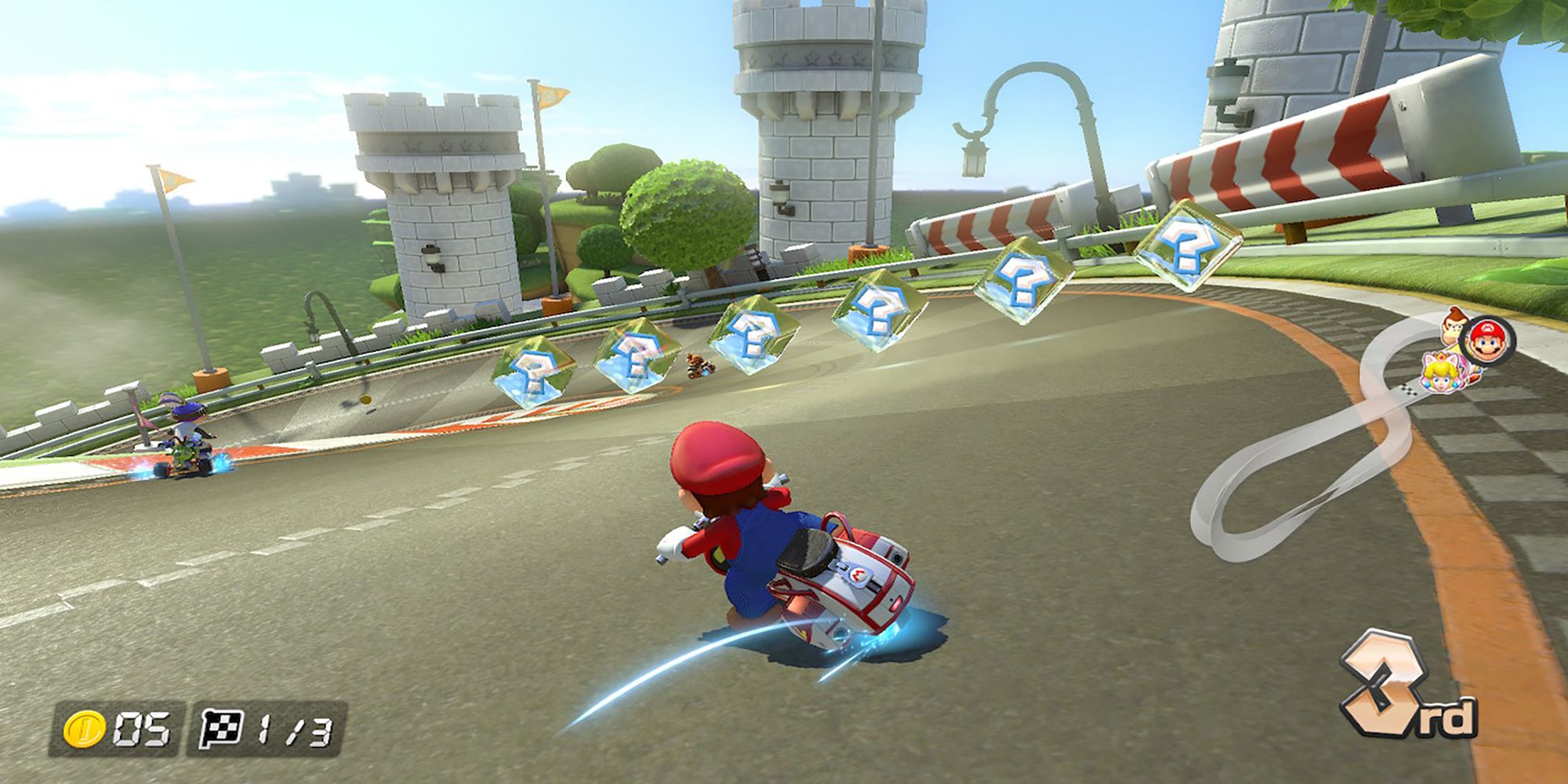 Super Mario Kart set the standard for kart racing games with its original release on the SNES. It went on to set the standard every time another entry in the series was released, and this has continued to be the case for Mario Kart 8 Deluxe. Though the game is also available on the Wii U, this Deluxe version is the definitive experience.
Mario Kart 8 Deluxe excels at pretty much everything. From great online play to fair item scaling based on what place you are currently in, this kart racing party game is the quintessential romp for any gaming get-together. You don't even need a TV since the Switch can be used as the screen.
Source: Read Full Article