Pokemon cards are the most fashionable financial asset right now, just ask Logan Paul. However, for those feeling a little left out from the Pokemon craze, a new opportunity to own one of the rare first edition base set Charizard cards has opened up, that is provided you have at least $35,000 to participate in the bidding frenzy that's surely about to unfold.
While there are many theories out there trying to pinpoint the many reasons why Pokemon cards have appreciated so much over the past year, the continuously increasing prices show no sign of stopping especially now that retailers such as Walmart and Target are beginning to sell cards again. Regardless of that, everyone knows when it comes to Pokemon cards the real value lies not in the brand new sets but in the vintage ones that contain the holy grails of Pokemon card collecting, such as the coveted Charizard.
Currently, the highest recorded price edition Charizard is around $350,000, a number that was reached buy two cards offered up for auction not too long ago, although those were PSA graded collectibles. In this case, the pokemon specimen is an SGC gem mint ten card put up for sale by Goldin Auctions with a starting price of $35,000 waiting for new bidders to jump in and make their best offers until the auction closes off its initial bids stage on June 26.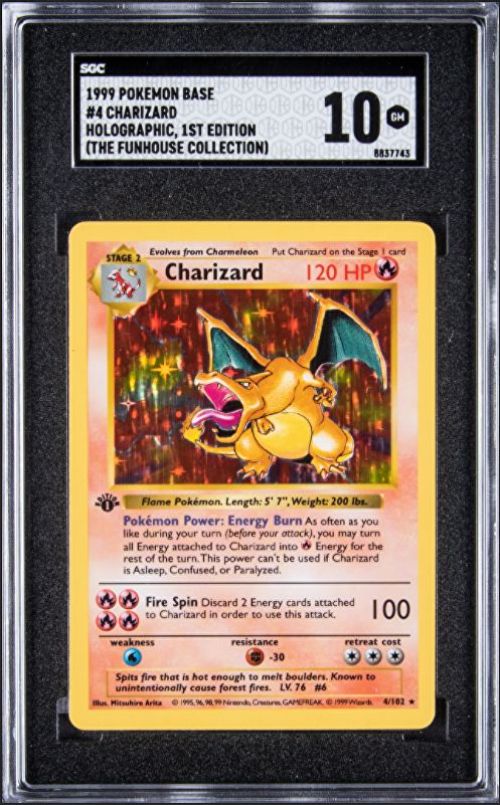 Unlike its two competitors, SGC it's a relatively new name in the trading card industry so the value of this particular Charizard card is unlikely to reach the same amount as previous copies rated by Beckett (BGS) and PSA. For example, in the case of Paul's now-famous Charizard necklace, which the YouTube Star come amateur boxer believes to be worth $1m, the fact that it's a BGS sample certainly boosts its value in the eyes of collectors.
Even though the exact amount of wild first edition Charizard is not precisely known, with the help of card grading companies it's possible to establish a rough estimate of how many have appeared, a number that would appear you be in the region of 122 cards. To put it bluntly, at an average price of $300,000 per item, the Charizard market holds a total value of just over $36m, and that is without accounting for all the cards rated at 9.5, 9, or even 8 condition, which still usually retain at least 10% of their maximum worth.
As consumer inflation continues to add up on a year-over-year basis and with new Pokemon Diamond and Pearl remakes on the way these holidays, the TCG bubble looks unlikely to burst anytime soon.
Source: Read Full Article