A new tabletop Kickstarter blew past its funding goal in 40 minutes, thanks to a simple-but-exciting premise: add anime to Dungeons & Dragons. Technically, the product isn't an official D&D branded project. It builds upon the Fifth Edition ruleset, however, to power up your d20 roleplaying to the next level.
Anime 5E is the name, and it comes as both a PDF and a full-color hardcover book. Kickstarter tiers also offer a pocket-sized rulebook, a DM screen, bookmarks, and other bonuses. The book's 272 pages can stand as its own game, offering a point-based system to create characters with more varied skillsets than typical fantasy RPG heroes. It also provides new rules to simulate dramatic anime battles – things like dramatic feats and called shots. Anime 5E can also act as a companion to your existing D&D games by introducing new races and classes rebalanced around anime themes.
The Kickstarter sits at $32,000 out of the $10,000 it asked for as of this writing. A big part of that might be the involvement of Mark MacKinnon, who created the Big Eyes Small Mouth tabletop RPG. BESM has a dedicated fanbase thanks to the fact that it's the only TTRPG built from the ground up with anime in mind. That said, BESM is designed more for storytelling than complex gameplay. Combining BESM's themes and character creation with Fifth Edition's tactical combat could result in a truly special TTRPG experience.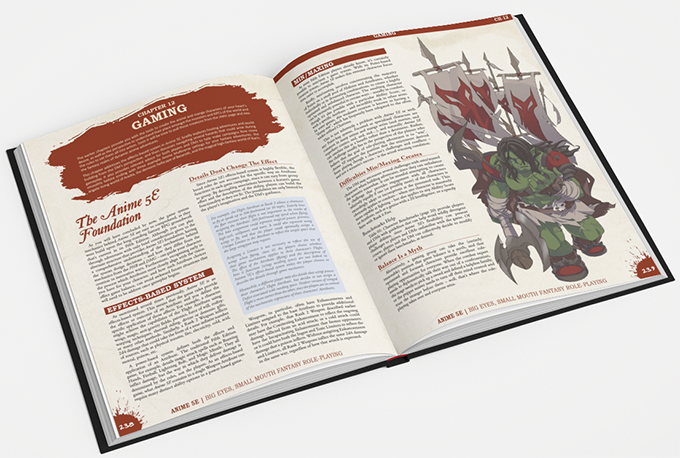 If this idea makes you curious, you can check out Anime 5E's table of contents before you commit. This gives a full look at what mechanics the system will cover, how it differs from D&D 5E, and what exciting additions it brings. For one, we can already see rules for creating a "raceless" character. This is a great indicator that Anime 5E in tune with the current TTRPG scene, as even D&D is struggling with the implications of using race as a gameplay concept. Adding an option to avoid race is smart.
Also of note in Anime 5E are sections on small and huge size player characters. Most TTRPGs limit players to average humanoid sizes. This makes sense as letting a player be a giant could trivialize most battles and dungeon crawls as they smash through everything. Still, players have requested character size actions for a long time, and Anime 5E looks to deliver.
Anime 5E looks promising, and still has 23 days left of its Kickstarter campaign. Those who get PDFs should receive them in May 2021, while physical rewards are set for September. If the idea of an anime D&D campaign sounds like something you'd want, you'd be wise to at least pick up a PDF. You can always add extras later with BackerKit. As to the question of whether Anime 5E really is a balanced and fun gameplay system, stay tuned to TheGamer. We'll have more in-depth reviews and analysis once we can peruse its pages.
Source: Read Full Article