There are now more people playing Artifact than at any point last year. In fact, there are more people playing Artifact right now than there have ever been since March of 2019.
That's almost certainly due to the fact that Artifact has gone free to own on Steam yesterday. Valve announced that they were ceasing development on Artifact and giving away the game for free, including the half-finished beta for Artifact 2.0.
Less than 24 hours after that announcement, Artifact is seeing people jump in to try the game that was widely panned shortly after its release way back in 2018. The biggest issue that Artifact had was its dismal economy that required players to pay for every new card, but since the whole game is free now, that has certainly cleared up that problem.
Players can also try their hand at Artifact 2.0, the beta that was under development right for the better part of a year. Called "Artifact Foundry," it incorporates many of the new art assets and improvements to the game layout that was another complaint from early Artifact adopters.
However, Artifact Foundry doesn't provide its players with free cards. You can still unlock all the cards in Artifact Foundry via play, but you still have to earn them by actually playing the game.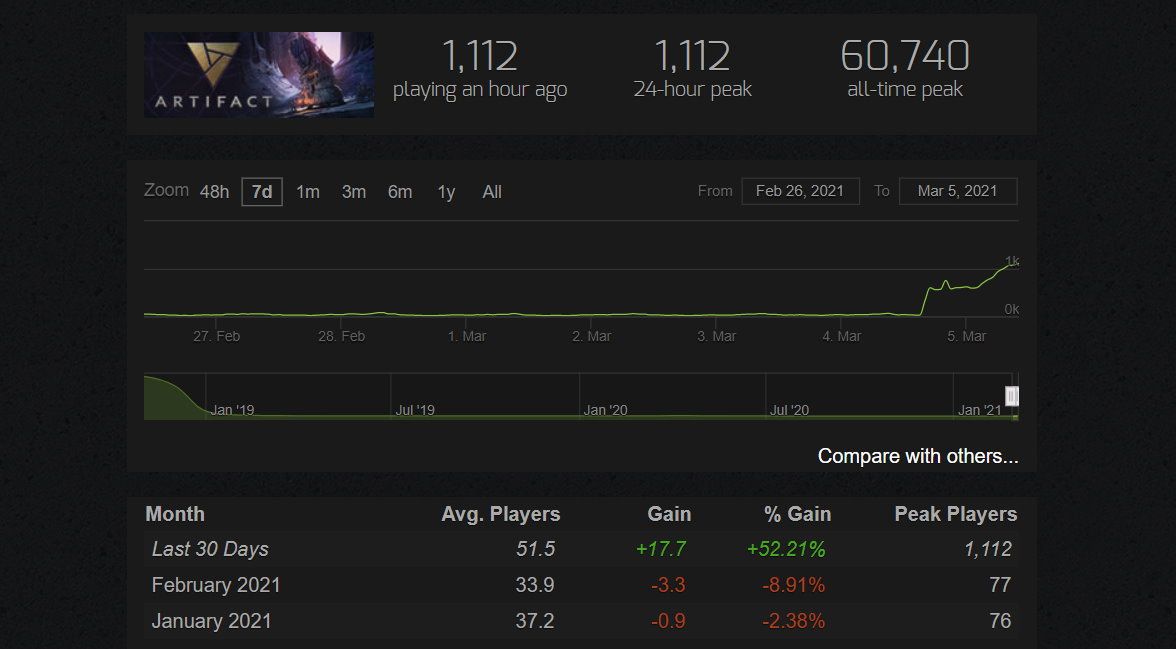 Although player counts have spiked, so too have negative reviews on Steam. Many players that purchased Artifact early on are expressing outrage and dismay that Valve decided to cancel Artifact's plan for a No Man's Sky-style revival. "Second biggest scam next to the Nigerian prince emails," wrote one user, while another "can't believe I wasted my money on this."
It's a shame to see Artifact go like this, but it might be interesting to see what players do with it now that it's free. Perhaps we're in for the Artifact renaissance than Valve just couldn't justify spending development dollars on, or perhaps it'll remain a niche card game with a very niche audience.
Source: Read Full Article