Babylon's Fall dropped to just one player yesterday.
When Square Enix initially revealed Babylon's Fall, it sounded exciting and had a fair amount of buzz. A third-person title focused on combat with Platinum Games developing sounds like a dream, but it quickly lost that momentum when it was revealed to be a live-service game. It then launched to incredibly poor reviews and all hope for it quickly went away, with player numbers dropping below 100 regularly.
Regularly dropping below 100 players is bad enough for a live-service game, but Bablyon's Fall has gone one step further and had a day where only one player was active. As reported by VGC, taking a look at the Steam Charts data for Babylon's Fall shows that only one player can be seen active on March 4.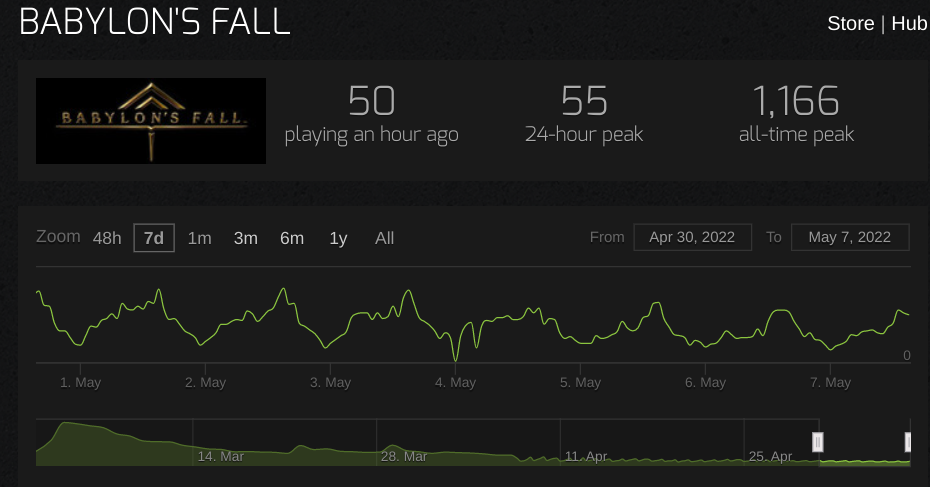 Although numbers for Babylon's Fall are generally below 100, this does seem to be some kind of anomaly as the rest of the week sees it creep closer to 50. It's still pretty damning of how people feel about the game though, which has been seeing fewer average players every week since its launch, something that looks set to get worse now that it's seen the lows of just one player.
The Steam Charts data for Babylon's Fall makes it clear how far the game has fallen since its launch in March, with its peak count dropping from 1,166 in its first month to 307 in April, which is a pretty massive drop. It's peak this month is 223, which is another big drop that looks unlikely to be salvaged as we get further into May.
If you're really having trouble coping with Babylon's Fall hitting just one player, it's worth noting that this is just on Steam. It's unlikely that Babylon's Fall is doing very well on other consoles, but it's worth keeping in mind that this is just one of the platforms that it's available on and more players will possibly have been on them.
Source: Read Full Article