A new DLC music pack for Beat Saber features 5 new tracks from Grammy-winning artist Timbaland. Unlike the recent collaborations with Green Day and Panic At The Disco, this pack contains 5 brand new songs written and produced exclusively for Beat Saber.
Timbaland is an award-winning rapper, producer, and DJ best known for his collaborations with Justin Timberlake (Carry Out, SexyBack, and LoveStoned) and OneRepublic (Apologize). Timbaland has had 3 top forty tracks to date and has been nominated for 13 Grammy Awards, winning 2.
Beat Saber has been on a roll with high profile artist collaborations. The VR exclusive title has proven to be a rhythm game phenomenon the likes of which have not been seen since the height of Guitar Hero in the mid-2000s. The first DLC music pack, a collaboration with electronic record label Monstercat, released in March of last year They've since released two paid DLC packs: a Green Day pack after the band performed at Twitchcon 2019 last September, and a Panic At The Disco pack in October. In November 2019, the game's studio Beat Games was acquired by Facebook via Oculus Studios.
The fast-paced rhythm game has proven to be as popular to play as it is to watch. Mod support has created an impressive community of players that map custom songs and share them online. Beat Saber content creators on Youtube and Twitch enjoy views in the tens of millions. It seems almost 2 years after entering early access, Beat Saber is more popular than ever.
Beat Saber has gone Double Platinum, selling over 2 million copies worldwide on all platforms. The game's all-time player peak on Steam, 46.5k users, was just narrowly beaten by Half-Life: Alyx, released just this past Monday. A new music pack is sure to bring players back to the game.
The Timbaland pack contains 5 songs, each a collaboration with a different artist. Here is the tracklist: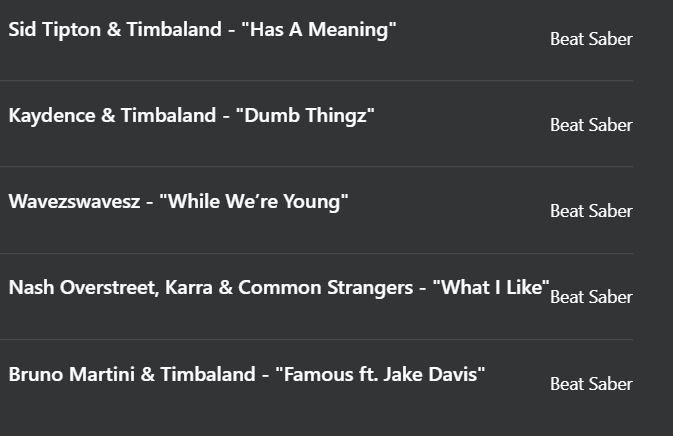 The DLC pack is available now on Steam, Oculus Store, and PSVR. Each track is available for $1.99 or $7.99 for the bundle. You can learn more about the Timbaland pack on Oculus Store.
Source: Read Full Article