In a post on CD Projekt Red's official website, the developers re-established their commitment to quality in the midsts of the fiasco that has been Cyberpunk 2077's release. They also offered a look at their planned roadmap for the game in the coming year, which includes an estimated next-gen update happening sometime in the second half of 2021.
Cyberpunk 2077 has had a pretty tough go since release. With bugs, glitches, and issues dominating the game's debut and forcing CD Projekt Red to issue refunds to players, it has not been the smooth ride that fans or the creators were hoping for. However, with a fairly solid performance on PC and a slew of patches and fixes released, the game seems to be heading in the right direction.
CD Projekt Red is looking to be transparent with players "about the progress being made on Cyberpunk 2077's further development, including information about updates and improvements, free DLCs, and more." As such, it released a roadmap of what updates will be happening to the game within 2021.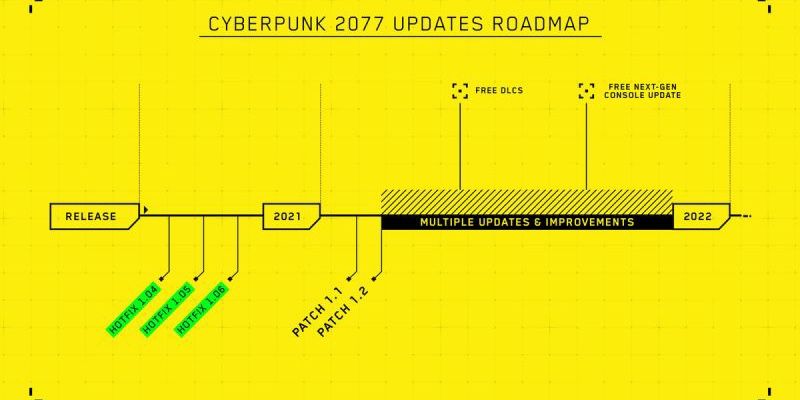 Since its release, Cyberpunk has already been given three hotfixes to improve performance and fix some of the issues. In the coming weeks, it looks like two patches or updates will be issued for the game followed by an undisclosed amount of updates and improvements throughout the year.
One of the more interesting points on the roadmap for Cyberpunk is the "Free Next-Gen Console Update" that is set to occur in the second half of 2021. As of right now, those playing on the Xbox Series X/S or PlayStation 5 are utilizing the system's backwards compatibility to play Cyberpunk. This free update would, hopefully, improve the game's performance for those systems and utilize the software and hardware of next-gen. While no additional information was given, the update is expected in the latter half of 2021 with news to come when available.
While many were, rightfully, disappointed in Cyberpunk's release, it looks like 2021 may be the year the game lives up to its hype.
Source: Read Full Article