Remember that cool Combat Wheelchair homebrew from last week? Well, the minis are ready for pre-order.
That didn't take long. No sooner than we get the Combat Wheelchair 2.0 for D&D 5e from games writer and disability advocate Sara Thompson do we have a miniatures company taking up her design to make it freely available for a modest fee.
Just a quick recap, last week Thompson released her revised version of the Combat Wheelchair with a 19-page PDF. Designed for the differently-abled adventurer, the Combat Wheelchair defeats stairs by simply floating up or down them, depending on which direction the user wishes to travel. It also folds away for easy storage, is considered part of the user for the purposes of spells and Druid's Wild Shape, and can even be used as a weapon.
Although a few folks had problems with the Combat Wheelchair, most found it to be awesome–including Steamforged Games sculptor, Russ Charles. In less than 24 hours, he whipped up a 3D design for the Combat Wheelchair featuring a tiefling with a mace, and now just over a week later, his design has been turned into an actual product.
Along with Steamforged colleague Tom Lishman, Russ partnered with UK-based Strata Miniatures to make a series of models featuring the Combat Wheelchair. All are made out of resin and metal, and all are completely badass.
First we have the female elf rogue, featuring dagger-coated wheels so that she never has to reach far to toss a knife at someone. Then we have the female human druid who rolls into battle with her owl companion, and then there's Russ's original tiefling design with a retractable lamp.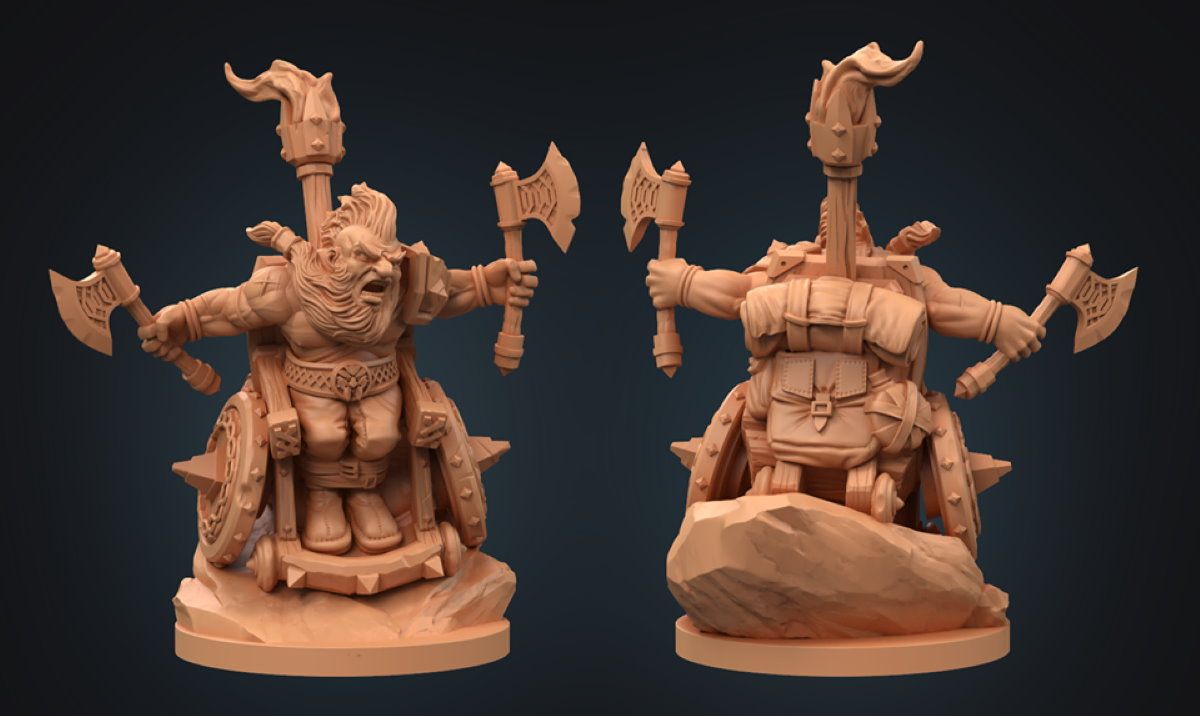 But my easy favorite is the dwarf barbarian. He's got spiked wheels, two axes, and a flaming torch on the back. He's also got his legs strapped down with belts because you just know he's coming at you at 200 mph while upside-down and on fire and he can't have his legs dangling all over the place.
The Combat Wheelchair minis start shipping on September 21. You can get each mini for £15.00 or you can download the designs to print yourself for just £5.00 each. A quarter of every sale will be donated to Ehlers-Danos Support UK, a charity that helps those with Ehlers-Danlos syndrome.
Source: Read Full Article