Trials of Osiris are one of Destiny 2's competitive game modes that are also considered endgame content. The game mode consists of two teams with three players in each team and a total of ten rounds. Whoever wins the five rounds first, wins the game. The thing that makes Trials of Osiris different compared to other PvP modes like Iron Banner, is its reward structure.
In order to play Trials of Osiris, players must purchase a Passage from Saint-14. These passages grant players different perks depending on which one they get. Passage of Mercy is one of the most used passages in the game as it forgives on loss per run.
Bungie introduced a set of new weapons and armor sets for Trials of Osiris in Season of the Chosen. These new weapons are Sola's Scar (legendary sword), The Messenger (legendary pulse rifle), and Igneous Hammer (legendary hand cannon). Today, we are going to discuss every possible way that allows you to unlock the Igneous Hammer hand cannon in Destiny 2.
The Igneous Hammer Hand Cannon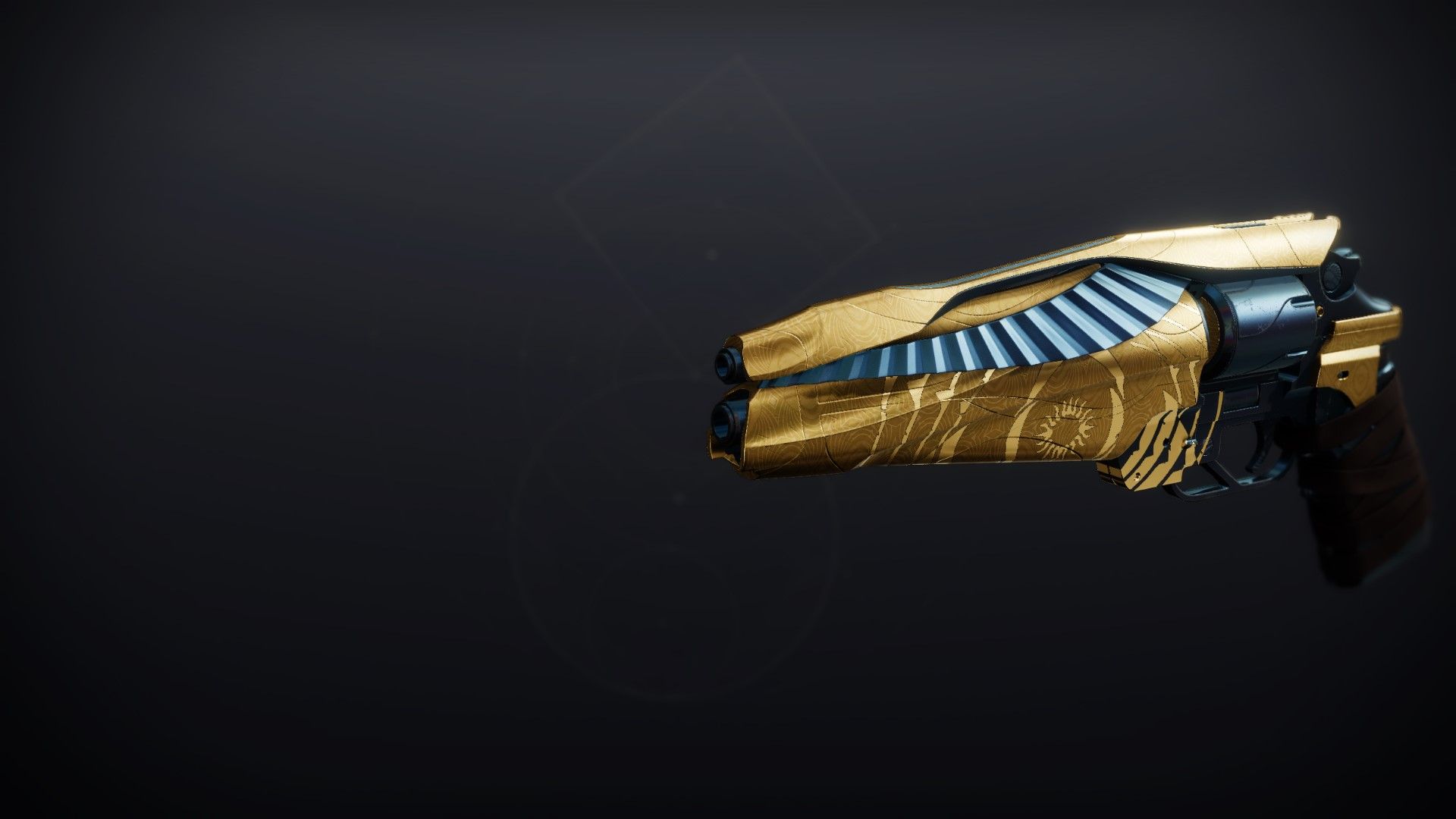 There's no doubt that Igneous Hammer is one of, if not the best hand cannons in Destiny 2 right now. With its adept version that unlocks by going flawless in Trials of Osiris, players could equip adept mods that make this weapon even more powerful.
There are a couple of God rolls for Igneous Hammer that you should be looking out for. The best one is, Smallbore, Ricochet Rounds, Quickdraw, and Rampage. Some others are Rapid Hit, Killing Wind, or Outlaw with Rampage, or Snapshot Sights.
Check The Loot Pool For The Trials of Osiris
One way to unlock the new Igneous Hammer hand cannon is by winning a set number of matches in Trials of Osiris.
However, this is not a guaranteed drop since Igneous Hammer is not available every week as a featured weapon in Trials of Osiris for three, five, seven wins. So, for this method, you would need to wait for the weapon to be featured in the loot pool.
Redeeming Tokens At Saint-14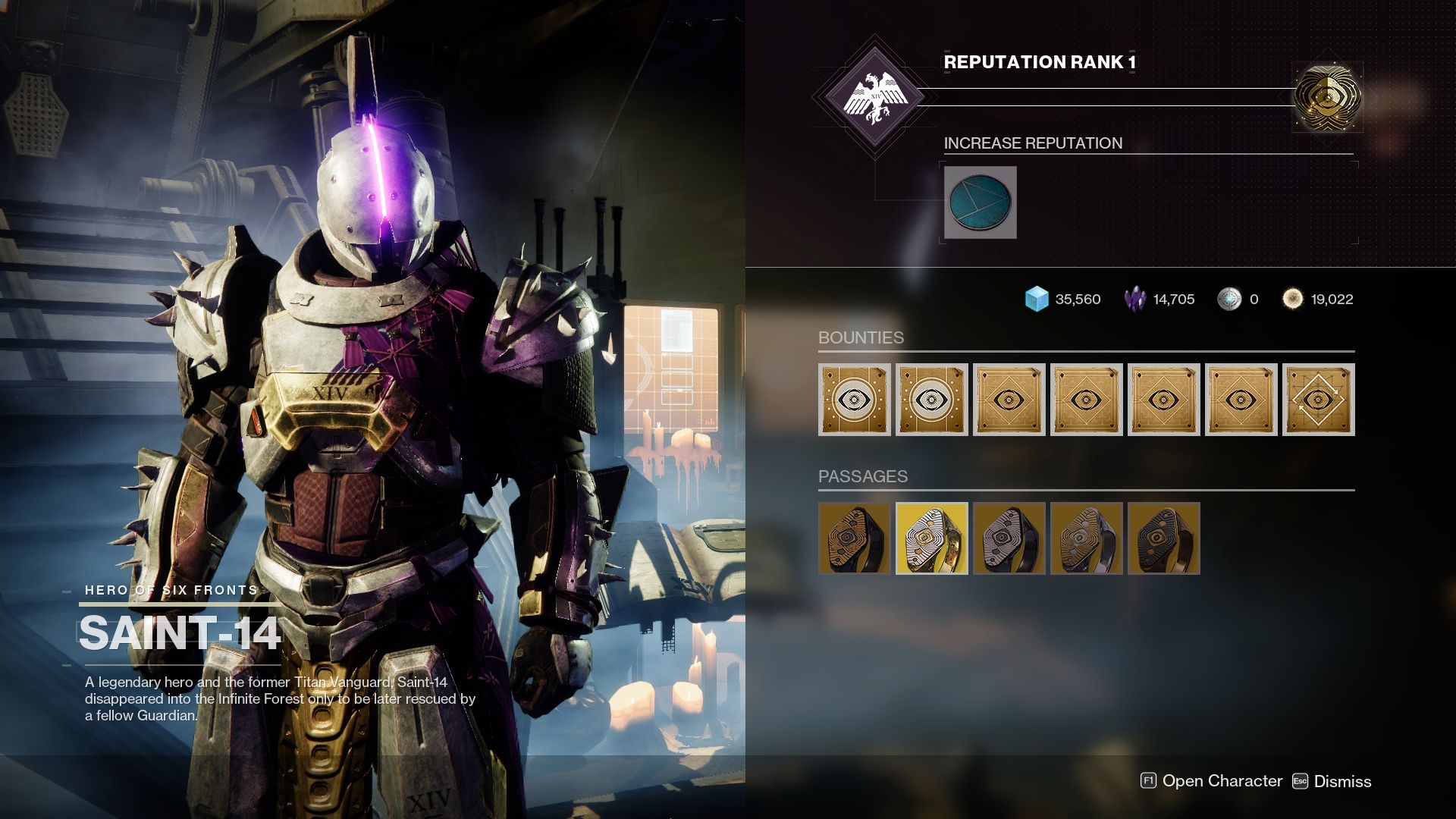 When you complete Trials of Osiris matches, you get tokens that can be redeemed at Saint-14 in the Tower.
However, for this method you need would need to first unlock this hand cannon by either winning matches or by completing triumph (next step) for it to be included in the Tokens loot pool.
Completing 'Trial by Firing Squad' Triumph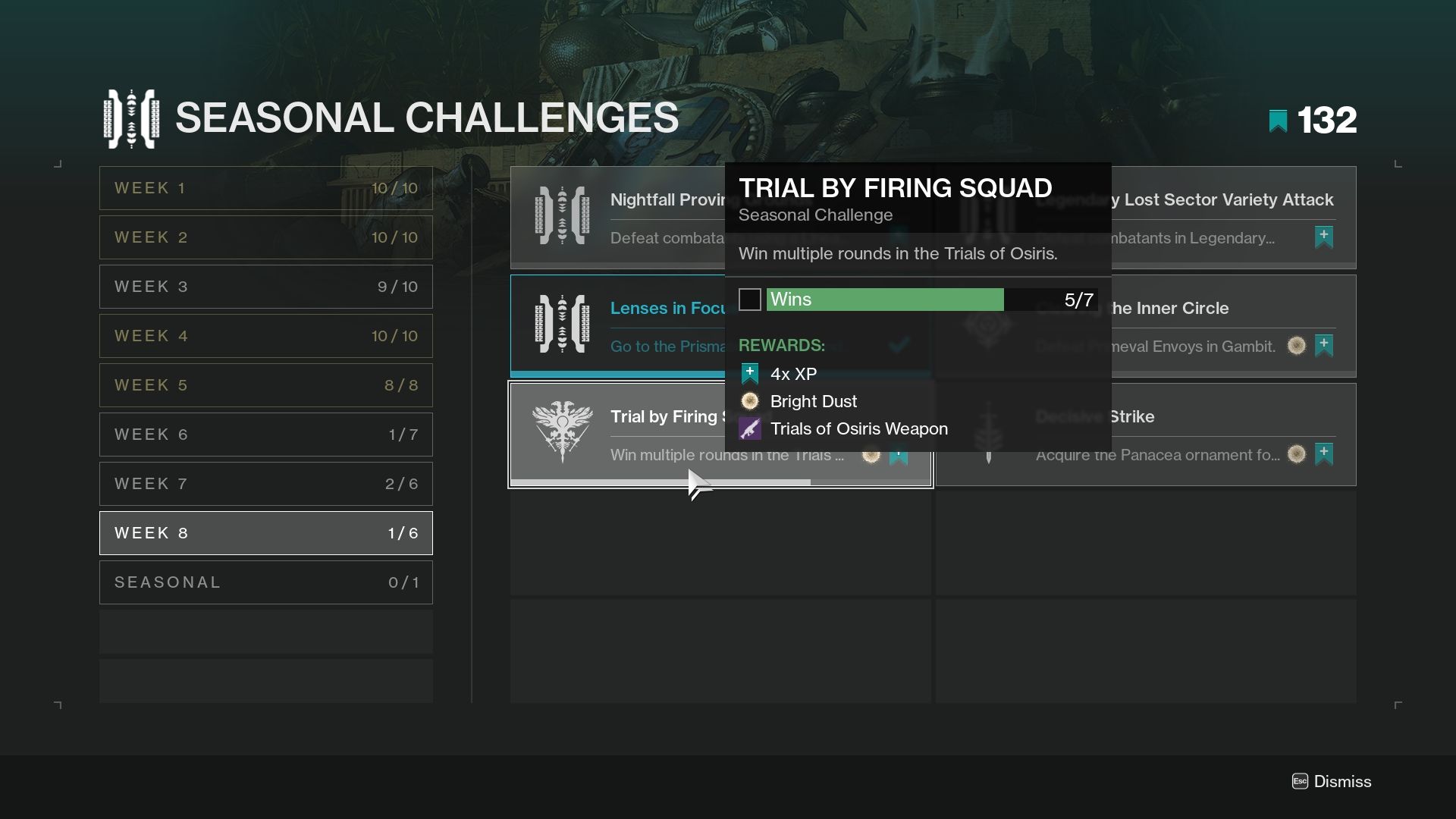 With Season of the Chosen, Bungie introduced a new set of challenges – Seasonal Challenges. With each week, the game gets a new set of challenges that players should complete for XP and Bright dust, including some legendary seasonal weapons.
There's also a triumph called 'Trial by Firing Squad' in week 8, which requires you to win seven rounds in Trials of Osiris. This is a guaranteed way to unlock the new Igneous Hammer hand cannon upon redeeming the challenge.
Completing Weekly Trials of Osiris' Bounties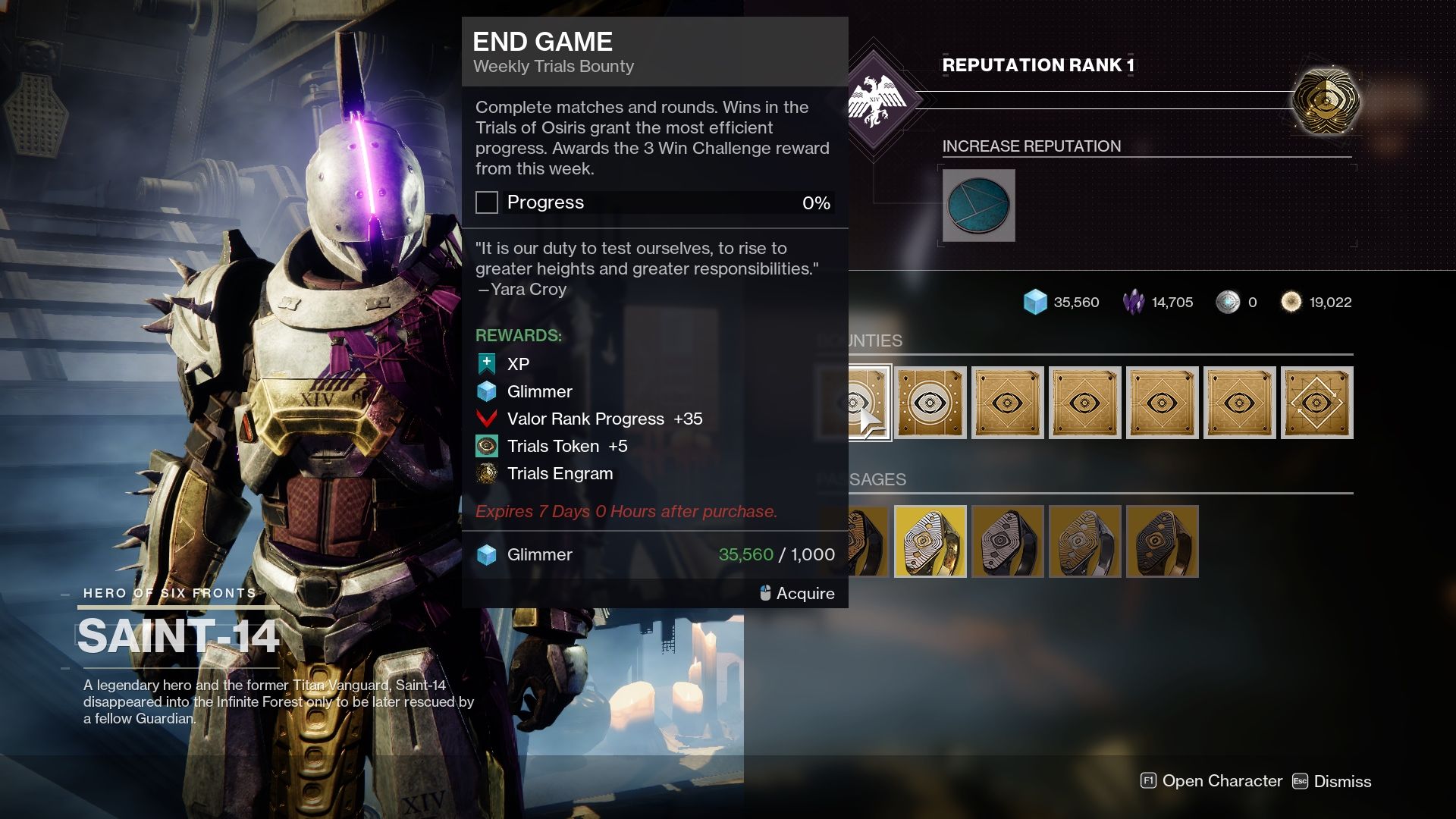 Completing weekly bounties for Trials of Osiris also drop the 3-win featured reward. One of these bounties requires you to only complete matches.
Next: Destiny 2: Bungie Shares More Details About Ada-1 Returning In Season 14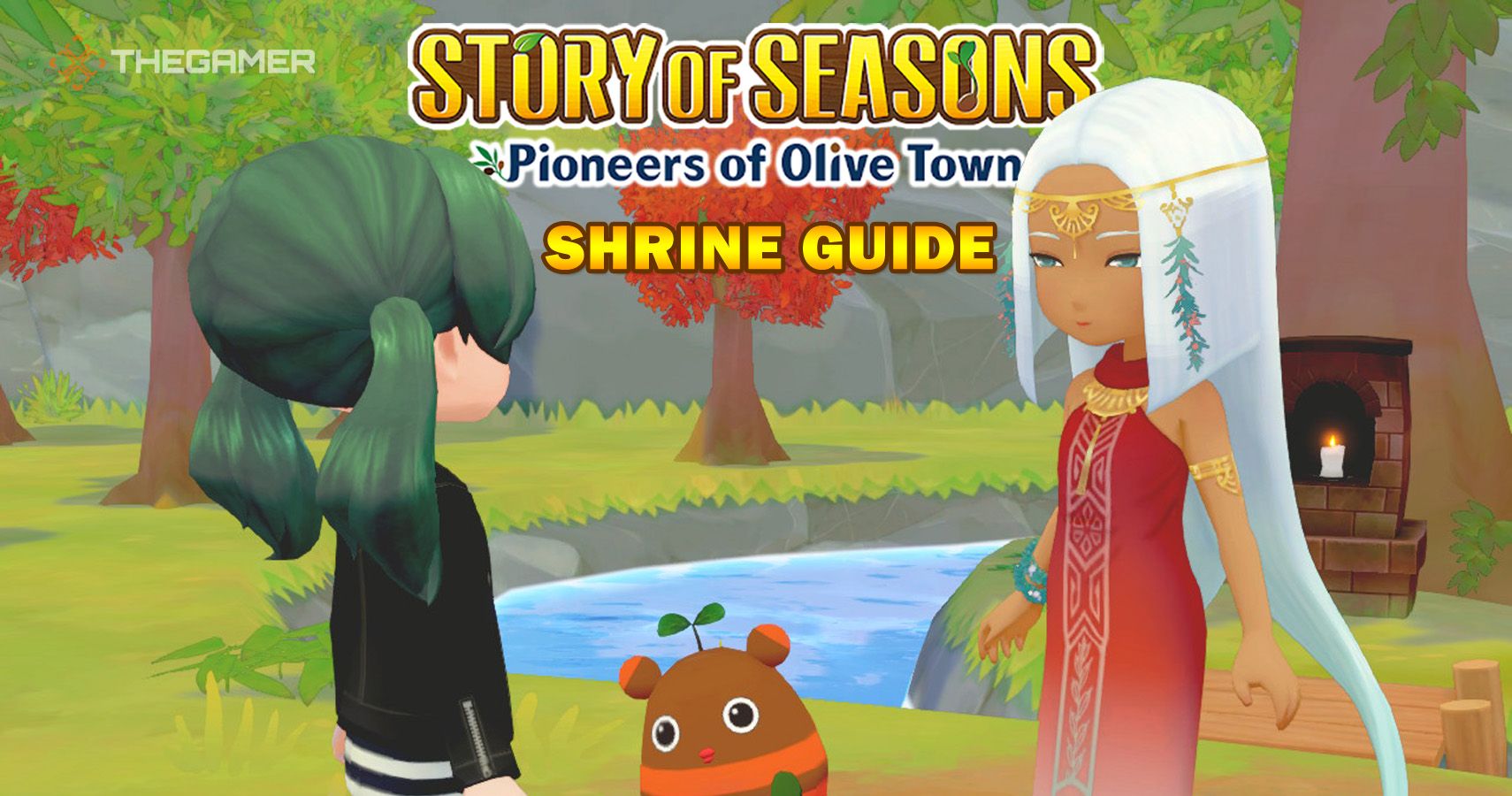 Zuhaad Ali is a gamer and writer who started off playing video games in the early 2000s. He mostly plays multiplayer games like Destiny or Call of Duty, and Overwatch.
Source: Read Full Article