Quick Links
Walk The True Path
Power In Your Hands
Nocturne
Modded Out
Splicer's Armament
Daybreak
Short Circuiter
Wire Cutter
Virtual Fighter
Brute Force
Guardians have started to master the art of splicing in Destiny 2's Season of the Splicer. If you love this season's gameplay loop of splicing into the Vex Network via the Override activity, then you might want to consider chasing the Splicer title.
Related: Destiny 2: The Best Rolls For The New Season Of The Splicer Weapons
As with most seasonal titles, Splicer is all about engaging with seasonal content and eliminating enemies with seasonal gear equipped. None of these challenges are particularly challenging or require a fireteam, meaning Splicer is one of the most solo-friendly titles around. If you've never unlocked a title before or want to expand your current collection of titles, this guide is for you.
Walk The True Path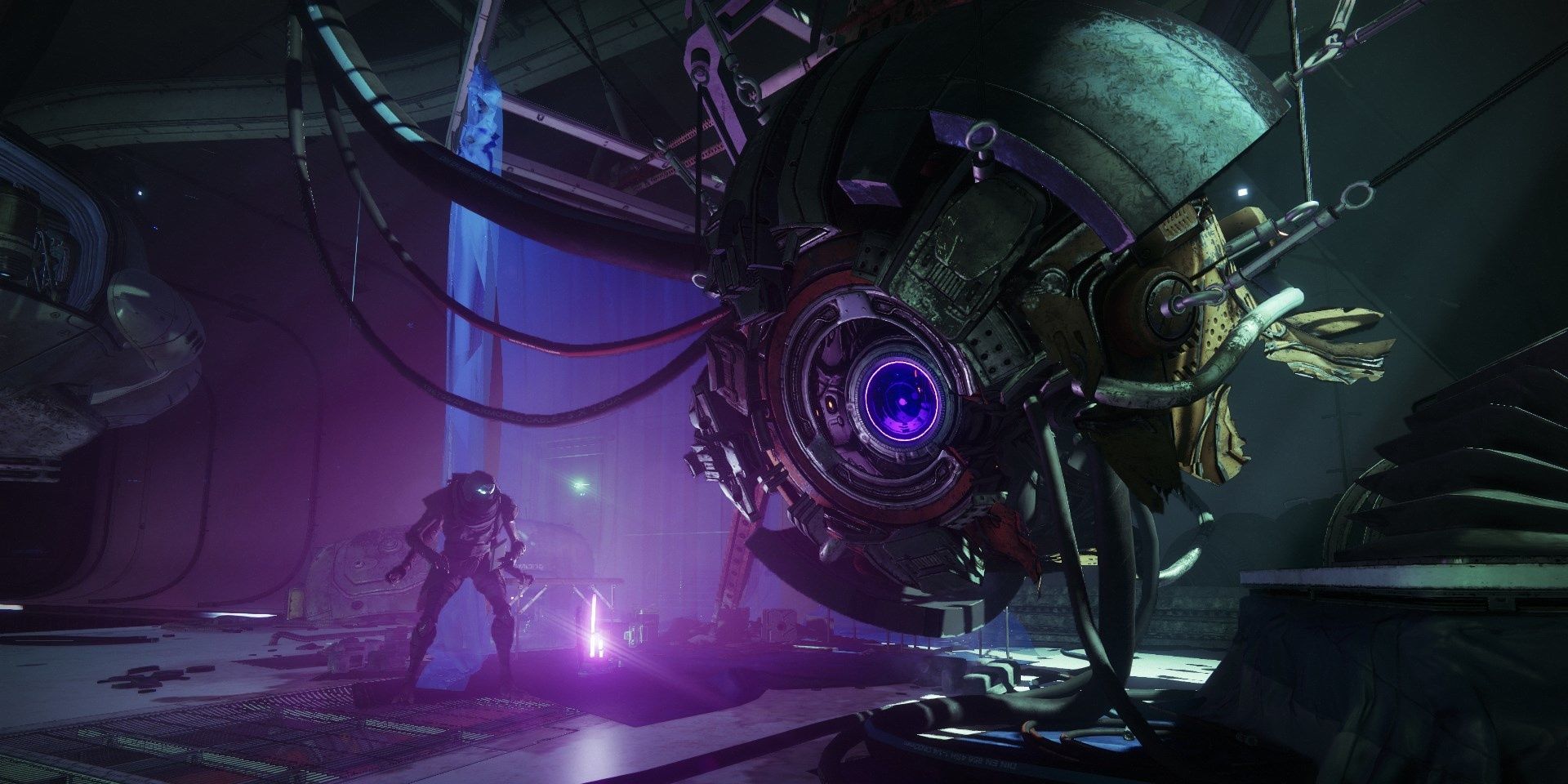 Walk the True Path: Complete all Path of the Splicer quests.
Path of the Splicer is Season of the Splicer's questline. Each week, players can visit the Splicer Servitor to receive a new step in the questline. There are eight versions of this quest, one releasing each week. You must complete all eight versions of Path of the Splicer to complete this Triumph.
Unfortunately, many of these quests are time-gated, requiring you to complete certain Override missions that are only available during certain weeks. The next season begins on August 24th, so it's best to complete all eight quests before then.
Power In Your Hands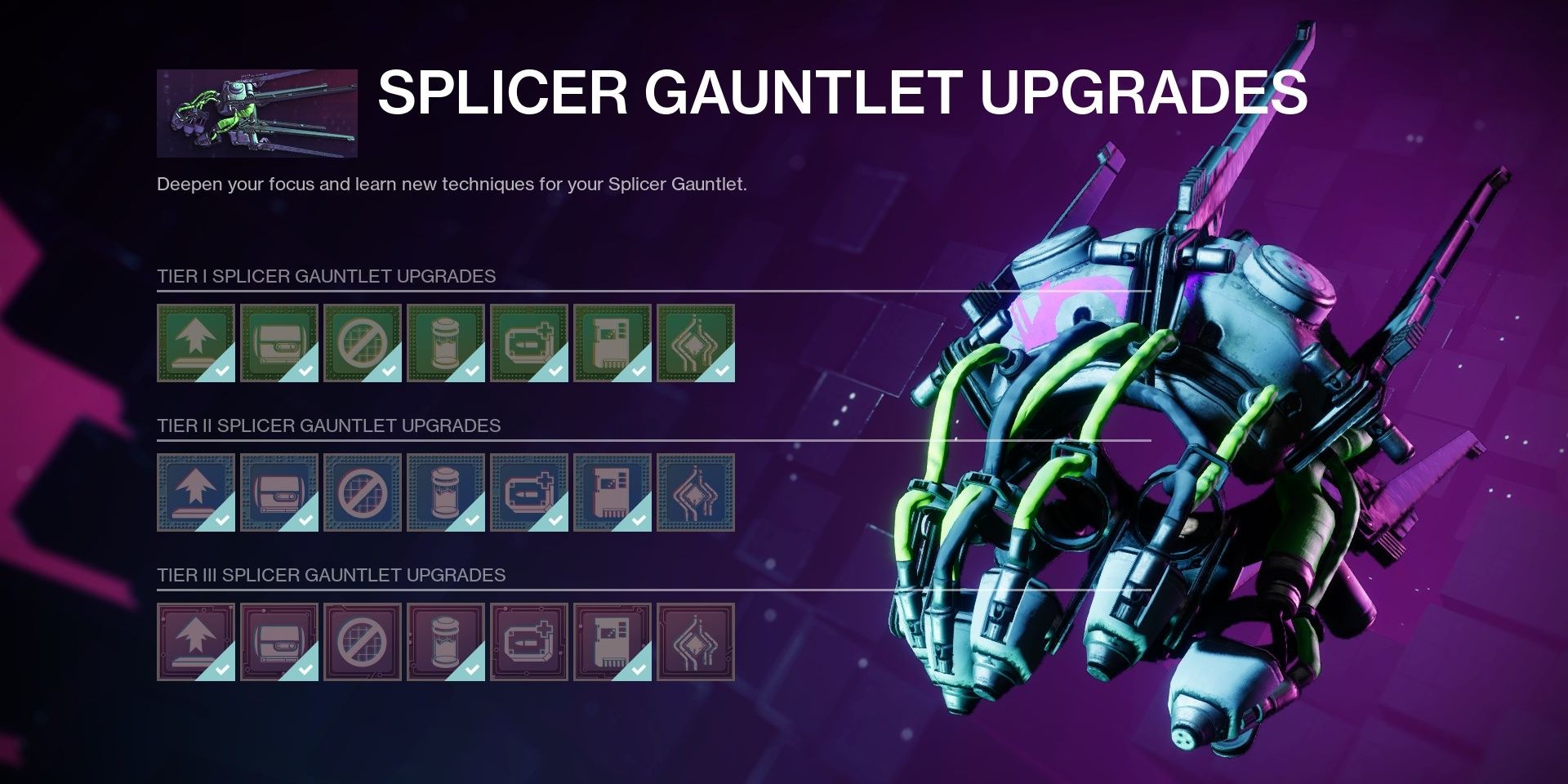 Power in Your Hands: Unlock all Splicer Gauntlet Upgrades
.
The Splicer Gauntlet is Season of the Splicer's unique progression system. Speaking to the Servitor at the H.E.L.M, you can spend Decrypted Data found in Override missions and certain Seasonal Challenges to upgrade the gauntlet's functionality.
There are 21 upgrades in total, all of which are divided into three tiers. Each tier of upgrade costs a certain amount of Decrypted Data:
Tier One: 100 Decrypted Data
Tier Two: 300 Decrypted Data
Tier Three: 500 Decrypted Data
Seven upgrades are part of each tier. In order to purchase a tier two or three upgrade, you'll need to have purchased the previous tier upgrade in that column.
It'll cost 6,300 Decrypted Data to purchase all 21 upgrades. Complete any Seasonal Challenges that grant Decrypted Data and farm Override missions to complete this Triumph. Purchase the Override Efficiency upgrades first, as they increase the amount of Decrypted Data you earn from Override Conflux Chests and Corrupted Conflux Chests.
Nocturne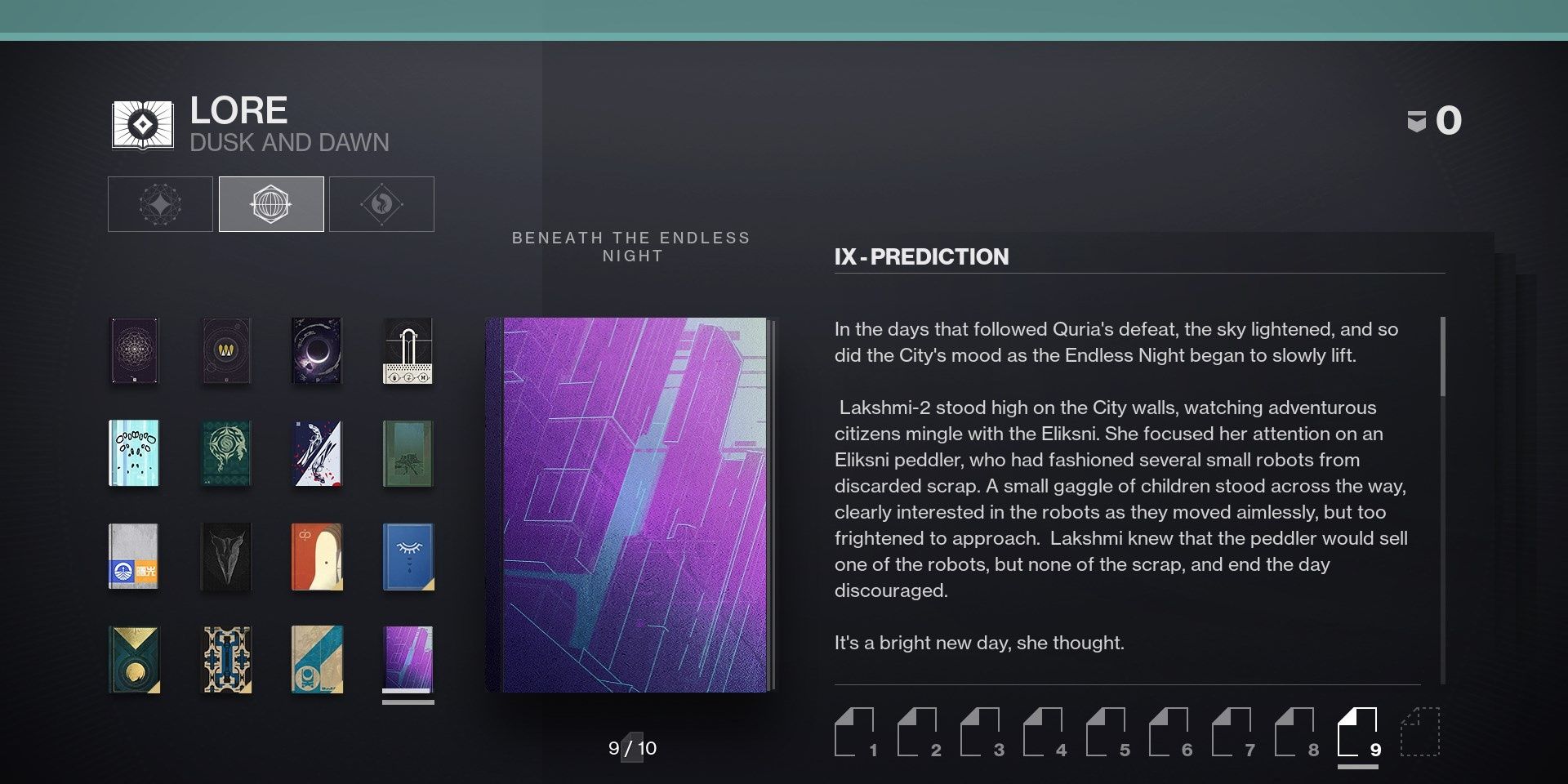 Nocturne: Collect all pages of the Beneath an Endless Night lorebook.
Beneath an Endless Night is a lorebook with ten pages. Each page is tied to a story quest in Season of the Splicer. Since you'll need to complete every Path of the Splicer quest for one of this title's Triumphs, Nocturne should passively complete itself.
Related: Destiny 2: Expunge – Corrupted Tartarus Guide
Lorebooks are obtained from the following quests:
Beneath the Great Machine (one entry)
Path of the Splicer (eight entries)
As Prophesied (one entry)
As Prophesied will be available towards the end of the season. Once you've completed the quest, be sure you claim the Triumph tied to that quest to receive the lore entry. You can view them under the Triumphs tab in the "Season of the Splicer" section. The "Quests" section stores all of these Triumphs.
Modded Out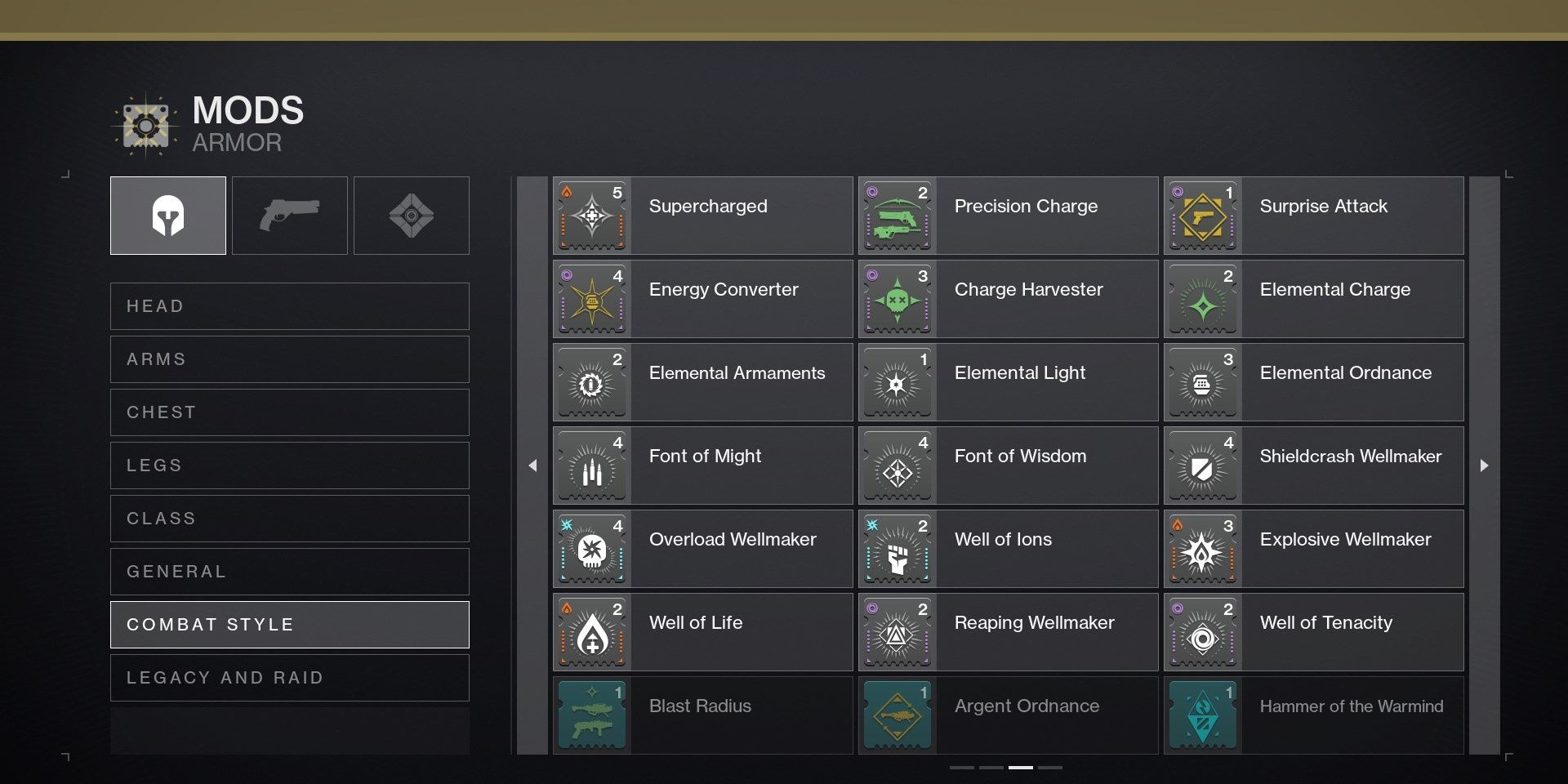 Modded Out: Collect all Season of the Splicer mods.
There are seven Season of the Splicer mods, all of which can be obtained from the Splicer Servitor at the H.E.L.M. Each of these mods are tied to a specific reputation rank with the Servitor. You'll need to reach rank ten with the Servitor to unlock all seven mods. You can increase your reputation with the Servitor by earning Decrypted Data—a currency tied to Override and certain Seasonal Challenges. Once you reach the appropriate reputation, you can purchase the mods for ten Mod Components each.
As for the mods themselves, they revolve around elemental wells, a mechanic introduced last season. If you haven't played with elemental wells at all, check out our elemental well guide and elemental well mod guide.
Splicer's Armament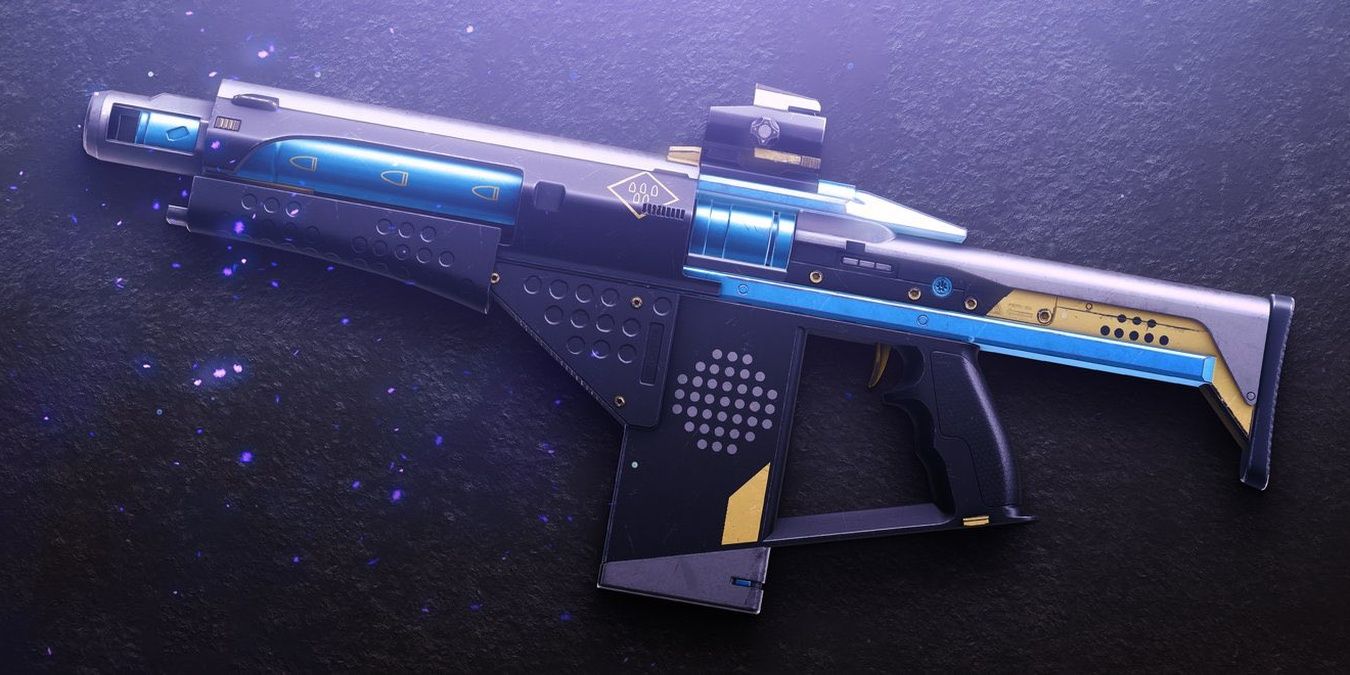 Splicer's Armament: Complete the quest "A Sacred Fusion."
A Sacred Fusion is a quest tied to Null Composure, Season of the Splicer's ritual weapon. Speak to Banshee-44 in the Tower to pick up this quest. You'll need to defeat enemies and complete ritual activities to finish the quest. If you haven't obtained Null Composure yet, give our Null Composure guide a look. It'll cover how you can finish this quest and obtain all three of Null Composure's ornaments.
Daybreak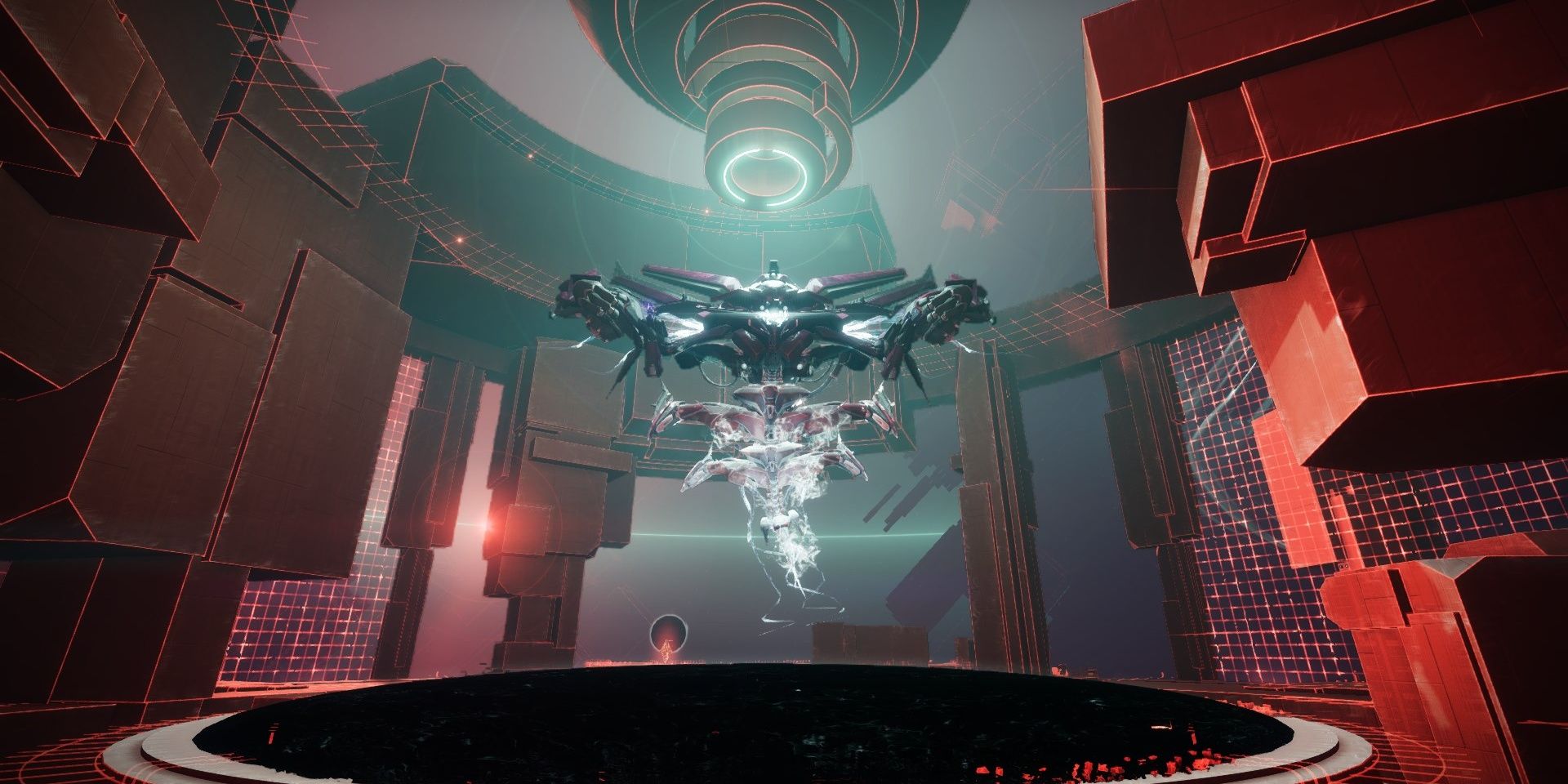 Daybreak: Defeat the source of the Endless Night.
Complete Expunge: Delphi to complete this Triumph. This is the seventh and final Expunge mission in Season of the Splicer, tasking Guardians with defeating Quria, Blade Transform, the Dreaming Mind. Check out our Expunge: Delphi guide if you haven't slain Quria yet.
Short Circuiter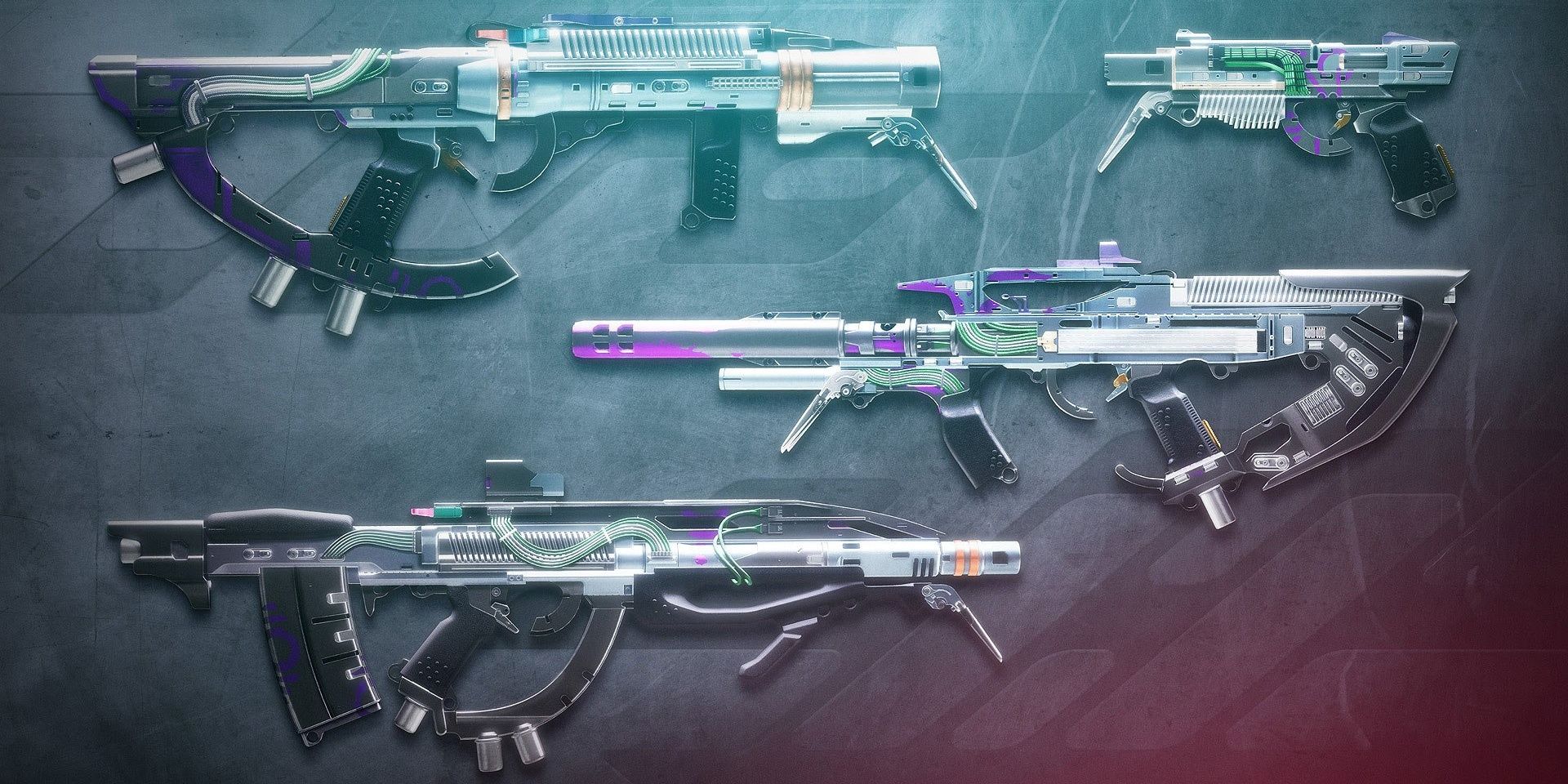 Short Circuiter: Defeat combatants using Season of the Splicer weapons.
Despite the Triumph's wording, only weapons obtained from Override will grant progress. Compatible weapons include:
Farewell
Gridskipper
Ignition Code
Shattered Cipher
Weapons from the Season Pass or Vault of Glass raid don't count. You'll need quite a few kills with these weapons, as this Triumph has five tiers. However, the kills can be anywhere, so consider farming the Thrall hallway in the Shattered Throne dungeon or the Moon's Alters of Sorrow activity to get this done quickly.
Wire Cutter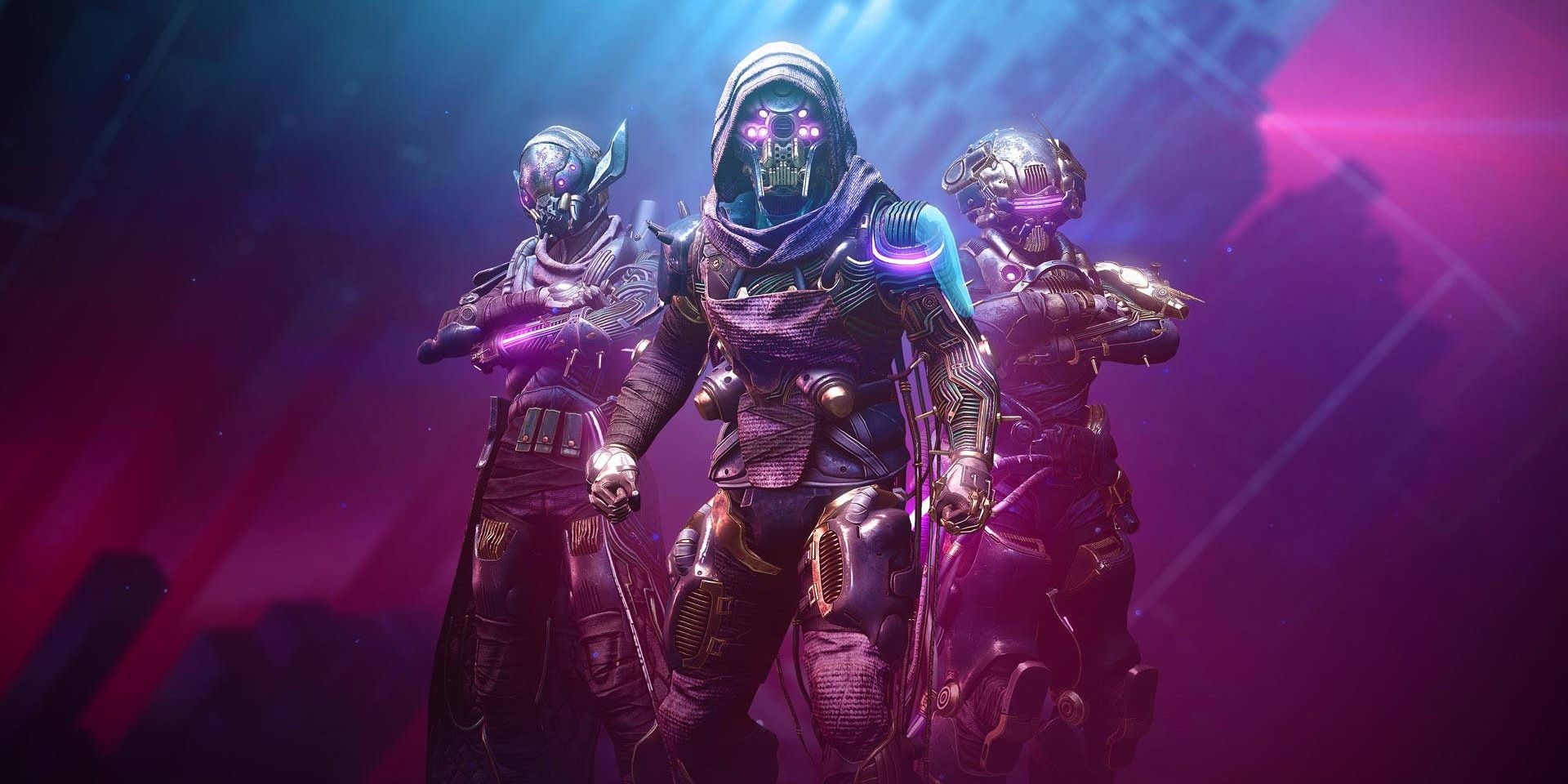 Wire Cutter: Defeat Vex while wearing Season of the Splicer armor. Earn bonus progress for each armor piece equipped.
Season of the Splicer armor refers to the Lightkin set, available from Override Conflux Chests and Expunge missions. It seems that using Armor Synthesis to transmog a piece of Lightkin gear onto your armor will count as wearing a Lightkin armor piece for the purposes of this Triumph.
Related: Destiny 2: Beyond Light – What Are Aspects (& How To Obtain All Of Them)
As for defeating Vex, the Override playlist and the Expunge: Styx mission are solid for farming Vex kills. In Styx, disable the laser grid during the second phase of the boss fight, then farm the infinitely spawning wave of Goblins and Fanatics.
If those missions prove boring, you can complete Nightmare Hunt: Servitude on the Moon. This activity has dozens of Vex in a compact arena and is fairly quick to complete. Alternatively, The Glassway strike on Europa has quite a few Vex towards the end of the mission.
Virtual Fighter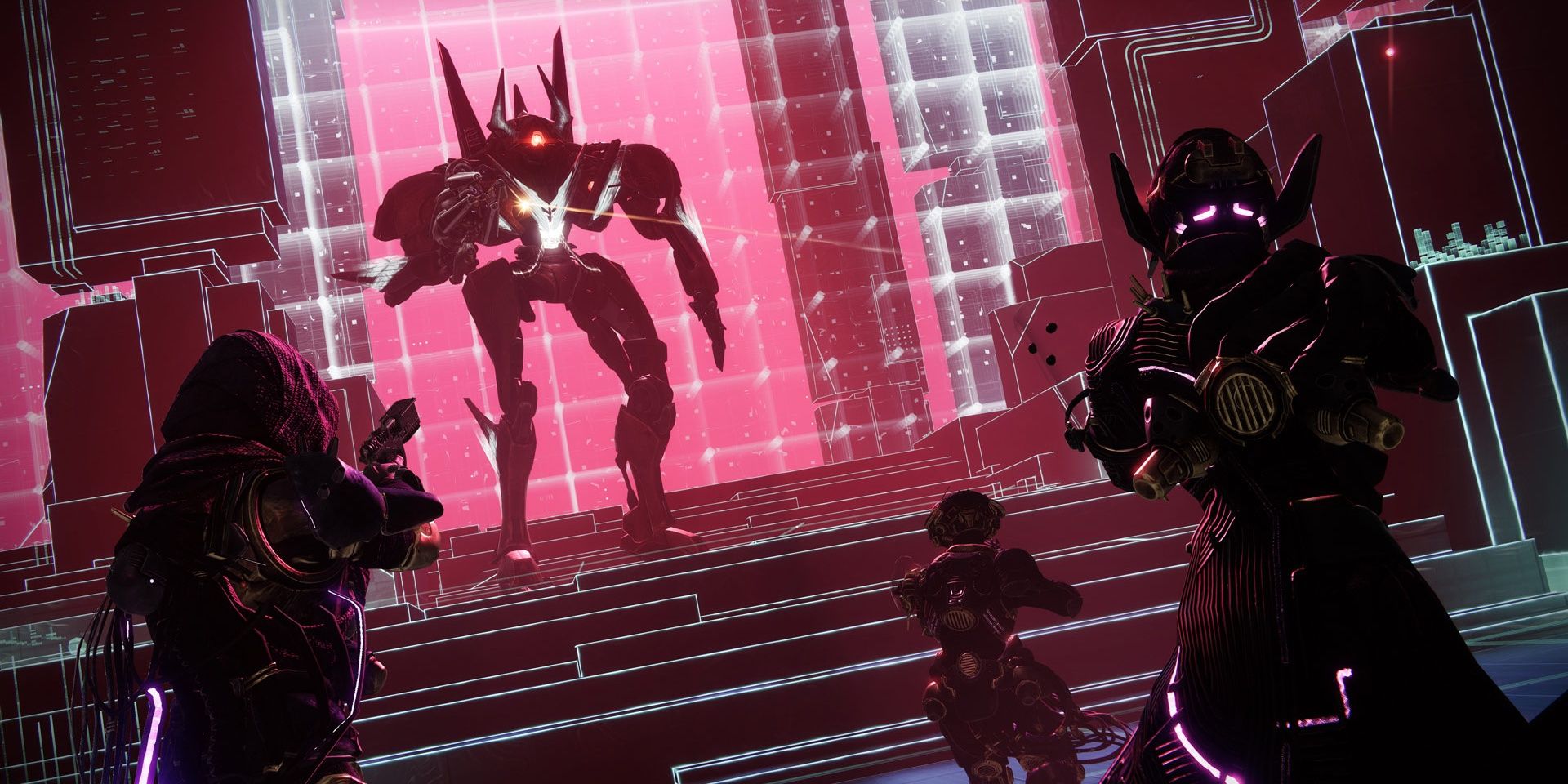 Virtual Fighter: Defeat Champions in Override.
Defeat 100 Champions in Override to finish this Triumph. Not many Champions spawn in an Override match, so this will ultimately be a slow farm. Queue up the Override playlist and farm as many missions as you can, focusing on defeating Champions whenever they spawn. You'll need to complete over a dozen Override missions to finish this Triumph, so try not to focus on this Triumph while in the activity. It's going to take a while, regardless of what you do.
Brute Force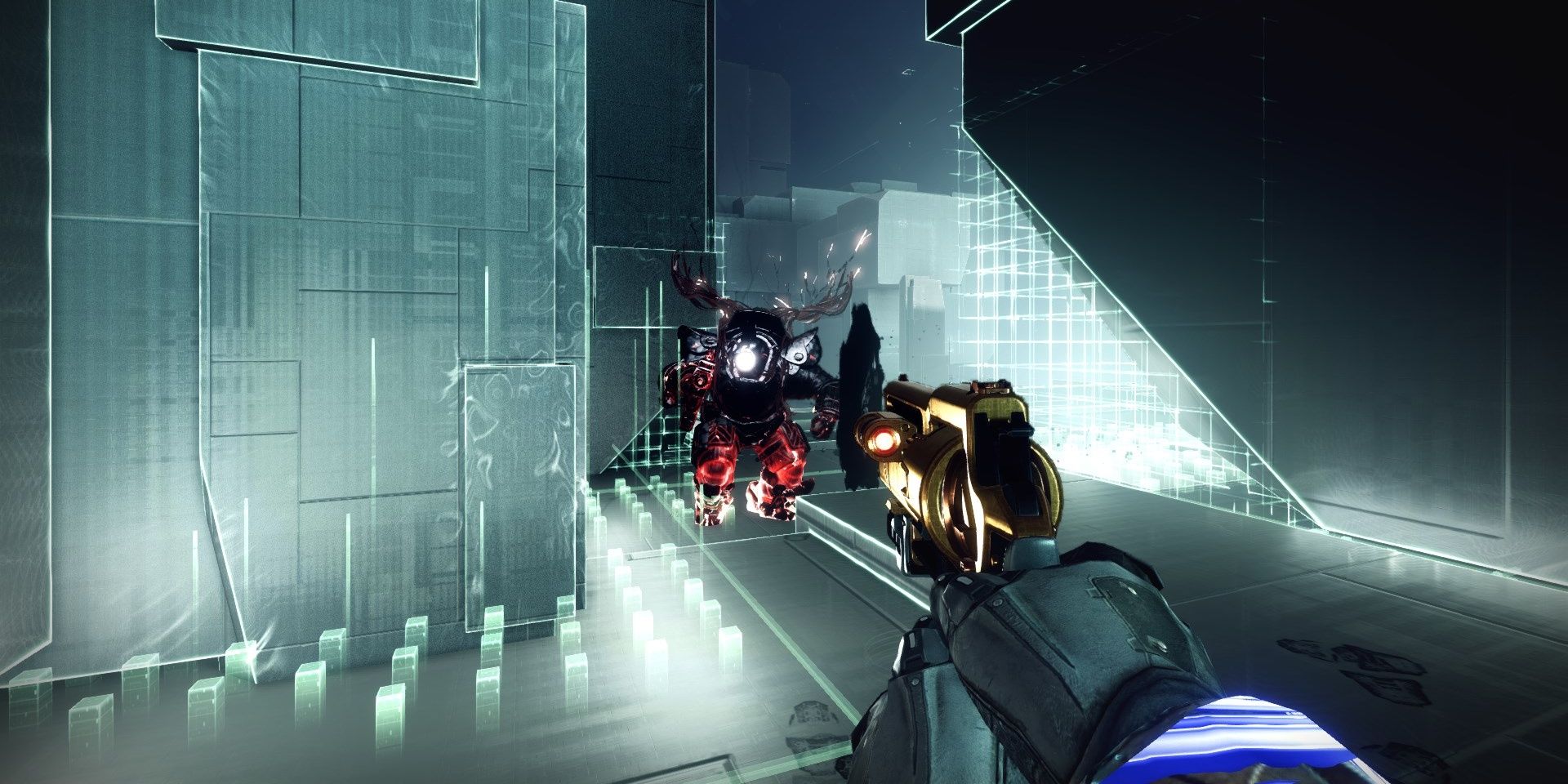 Brute Force: Defeat Champions in Expunge.
Eliminate 30 Champions in Expunge to complete the Brute Force Triumph. While the number is much smaller than Virtual Fighter's requirement, most Expunge missions only spawn two Champions.
The Expunge mission you farm will boil down to whichever you can farm the fastest. We recommend Expunge: Tartarus for this Triumph. Once you memorize the cube spawns, you can get this mission done in four to six minutes. Assuming you can beat this mission in five minutes and kill both Champion Hobgoblins, this should take a little over an hour to complete. Of course, if you find yourself completing other Expunge missions much quicker, feel free to farm those instead.
Next: Destiny 2: Beyond Light Complete Guide And Walkthrough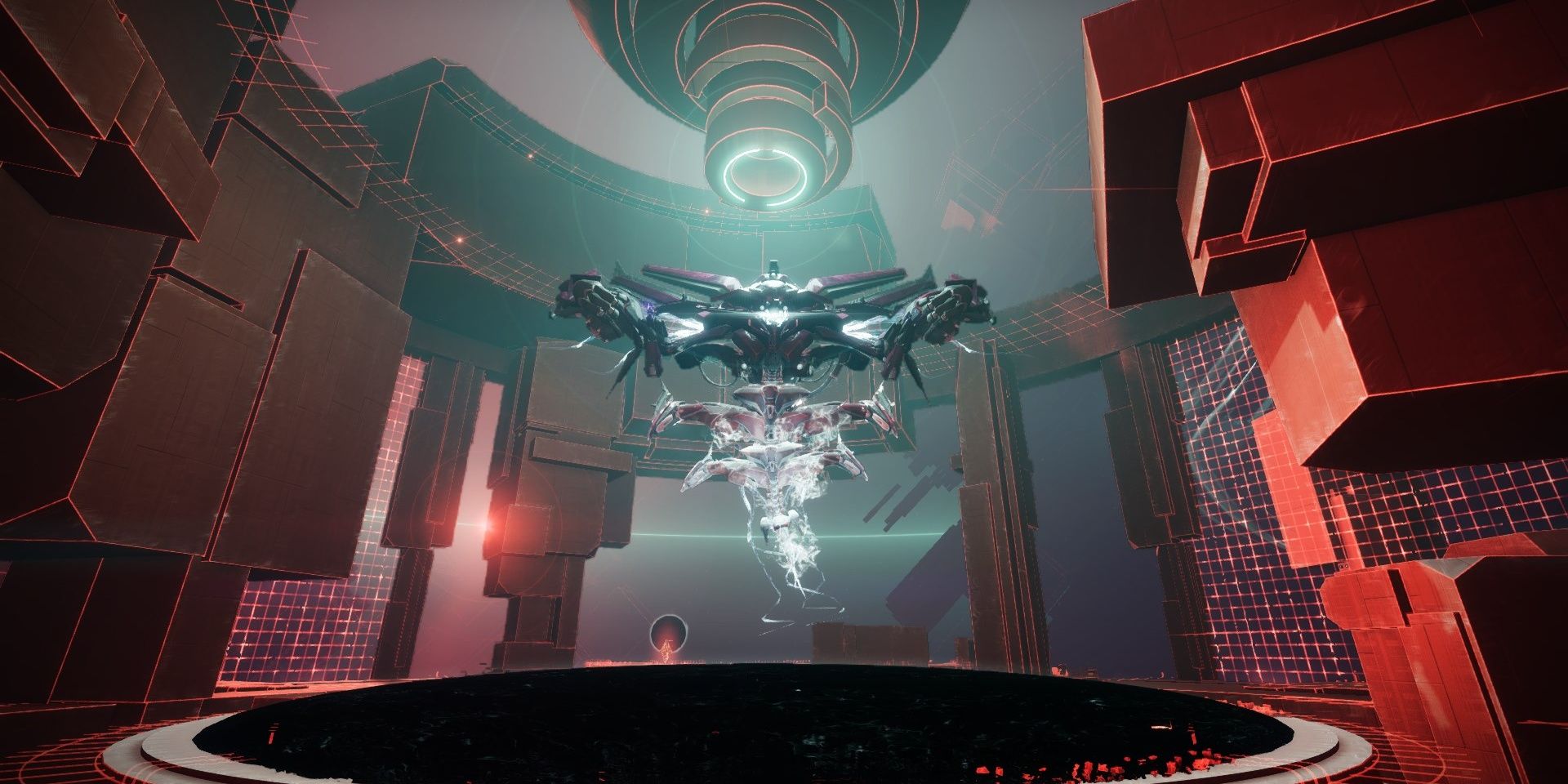 Destroy Quria, Blade Transform to save the Last City.
Guides
Destiny 2
Destiny 2: Beyond Light
Charles Burgar is an expert on all things tech and gaming. Graduating from Pikes Peak Community College in 2018 with an Associate of Science, Charles has spent his time dissecting popular video games, movies, and technology. With an understanding of games for as long as he can remember, Charles has a large interest in understanding what makes things fun. He is currently a Freelance writer for TheGamer and Game Rant.
Source: Read Full Article