Detective Pikachu, the Nintendo 3DS Pokemon game starring the franchise's electric rodent mascot, may have a sequel in the works for the Nintendo Switch. Even more surprisingly, the proof was reportedly found while playing Monster Rancher 1 & 2 DX, of all things.
Resetera user CyberWolfJV posted a thread reporting his discovery of something called "Untitled Detective Pikachu sequel" in Monster Rancher 1 & 2 DX, which launched yesterday, while he was summoning monsters. He says he was reviewing the game for Brazillian outlet Ultra N Podcast when he saw the alleged Detective Pikachu sequel name-dropped in the custom database.
If you played the original Monster Rancher games, they allowed you to swap discs on the PlayStation console to summon different monsters. However, the remastered compilation replaced this mechanic with a feature that lets you search for games across PS1, Sega Saturn, and even the entire Switch library, hence the sudden appearance of "Untitled Detective Pikachu sequel."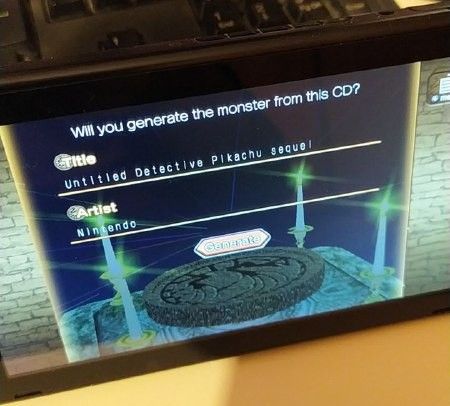 CyberWolfJV said that the list of games, released and upcoming, that showed up in Monster Rancher 1 & 2 DX may be tied to Nintendo eShop data, and that those games may have internal pages on the servers that aren't available for public viewing yet. They even spotted pages for Metroid Prime 4 and "Untitled Breath of the Wild sequel."
The Pokemon Company teased that there would be a sequel to Detective Pikachu back in 2019, saying that details of the game are "still a mystery," and that fans should keep checking back to its Twitter feed for clues. Try as they might, nothing materialized out of that tweet ever since — not even a teaser trailer.
Detective Pikachu debuted on the Nintendo 3DS in 2016 in Japan (under the title Birth of a New Duo) and globally in 2018. The game featured the titular Pokemon teaming up with a teenage boy named Tim Goodman to solve mysteries surrounding the disappearance of Harry Goodman, Tim's father and Pikachu's owner. He went missing after a mysterious car crash, that happened around the same time Pikachu got amnesia.
Despite promises of a sequel — or a Nintendo Switch port, as fans have also speculated would happen — the game managed to get a movie adaptation in 2019 starring Ryan Reynolds as Detective Pikachu and Justice Smith as 21-year-old Tim Goodman. The movie grossed over $433 million in the global box office, and was dubbed "the best video game movie ever" by Forbes even before the Sonic movie broke the video game movie curse.
Source: Read Full Article