When there's a queue of people that stretches around the block of one of the largest houses in the ward, you just know something good is about to happen. When Namafel Inc. announced that it would be performing Lalafells of the Caribbean — a Final Fantasy 14 parody of Disney's Pirates of the Caribbean — players came out in droves hoping to score a front-row seat.
For those who didn't snag a spot in the audience, the show was streamed on Twitch for all to enjoy. Lalafells of the Caribbean proved so popular that the team has since reprised their roles and performed an additional show to meet the demand of avid Eorzean theatre-goers. The popularity surprised the Namafel Inc. crew, who had initially been worried about filling the seats.
"We definitely didn't expect this kind of popularity, to say the least," Kael Ornitier, one of the founders of Namafel Inc., tells me. "We were worried at first if we'd even fill out the 65-seat audience, and we wanted to allow actors to invite their friends in to watch the premiere due to those concerns. We did not anticipate any queues, let alone the queue that wrapped around an entire plot! We feel truly blessed that it garnered the attention that it did, and we're very thankful that people took such an incredible level of interest in what we love doing!"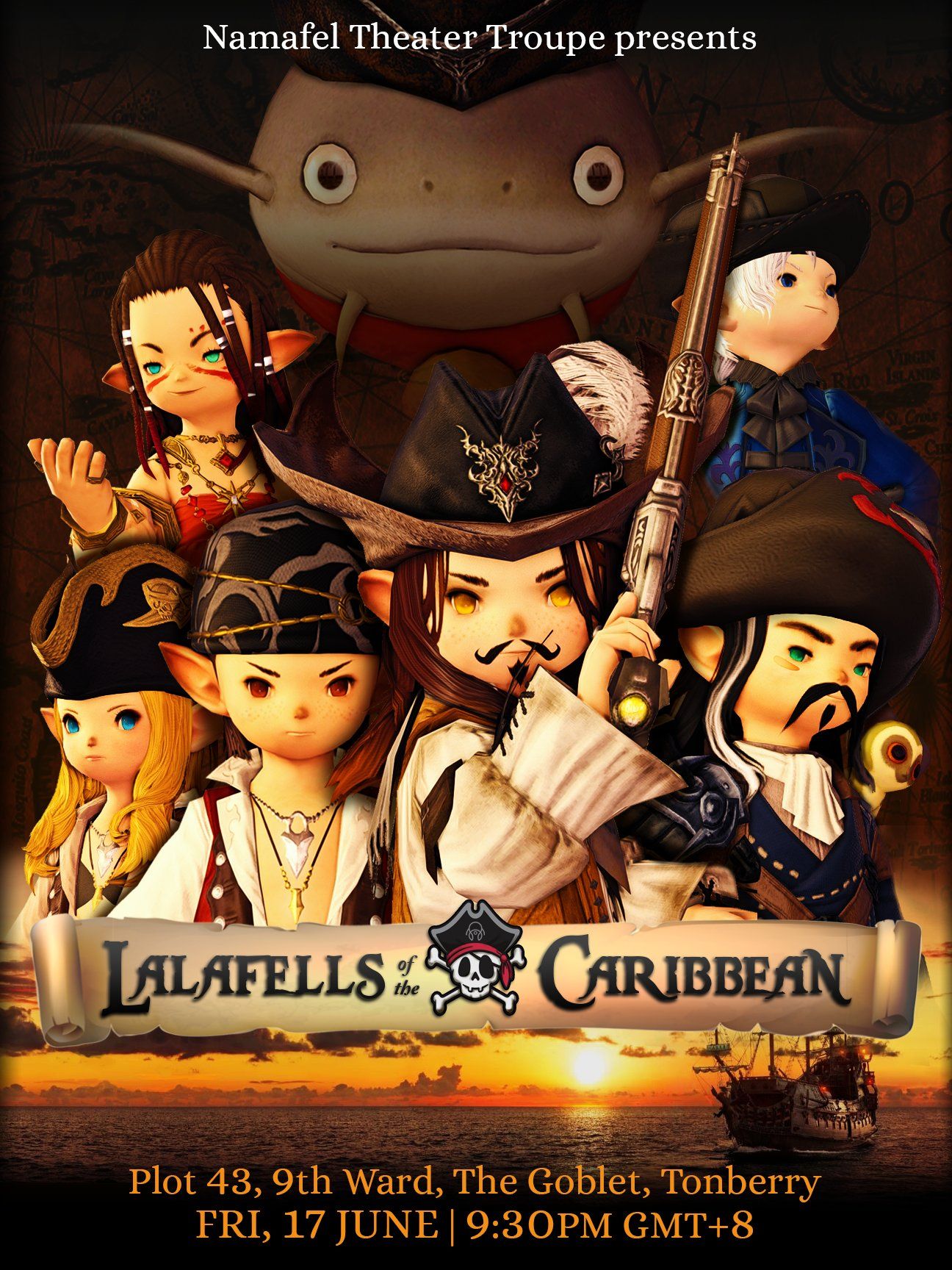 Namafel Inc. was founded in November 2020 after Kael decided to spice things up in-game and take a break from his usual raiding to dip into housing design. Having given his little apartment a makeover with his newfound skills, it soon became a hangout spot for Kael and his friends, Duns Mordio, Z'viktria Fhey, and Hazak Zealot. It was there that the group decided to turn themselves into something more.
"We were all Lalafell at the time, and we felt the Namazu were so adorable and so very lovable, so we created 'Namafel' from 'NAMA' and 'FEL'," Kael explains. "When we began, there was a very small English-based roleplaying community in the Elemental Data Center, and most venues were Cafes, Bars, or GPose studios. As a team, we wanted something different, something special. I remember speaking to Duns about the idea of making a Theatre production someday, but we never got around to it due to various factors. At the time, our aim was just to create new experiences and events for Elemental, and to always do something different from the last.
"In the process of working together, we met great people, like Space Nemorensis and Niko Sonnenblume, and worked on many different projects – A Night Market, Oktoberfest Celebration, Casinos, Fire Festivals, Tour agency, and so many more. But only recently did we finally try the theatre idea again, which I had mentioned to Duns nearly two years ago. And, with a lot of sweat and blood to grease the gears, we did it. We finally did it!"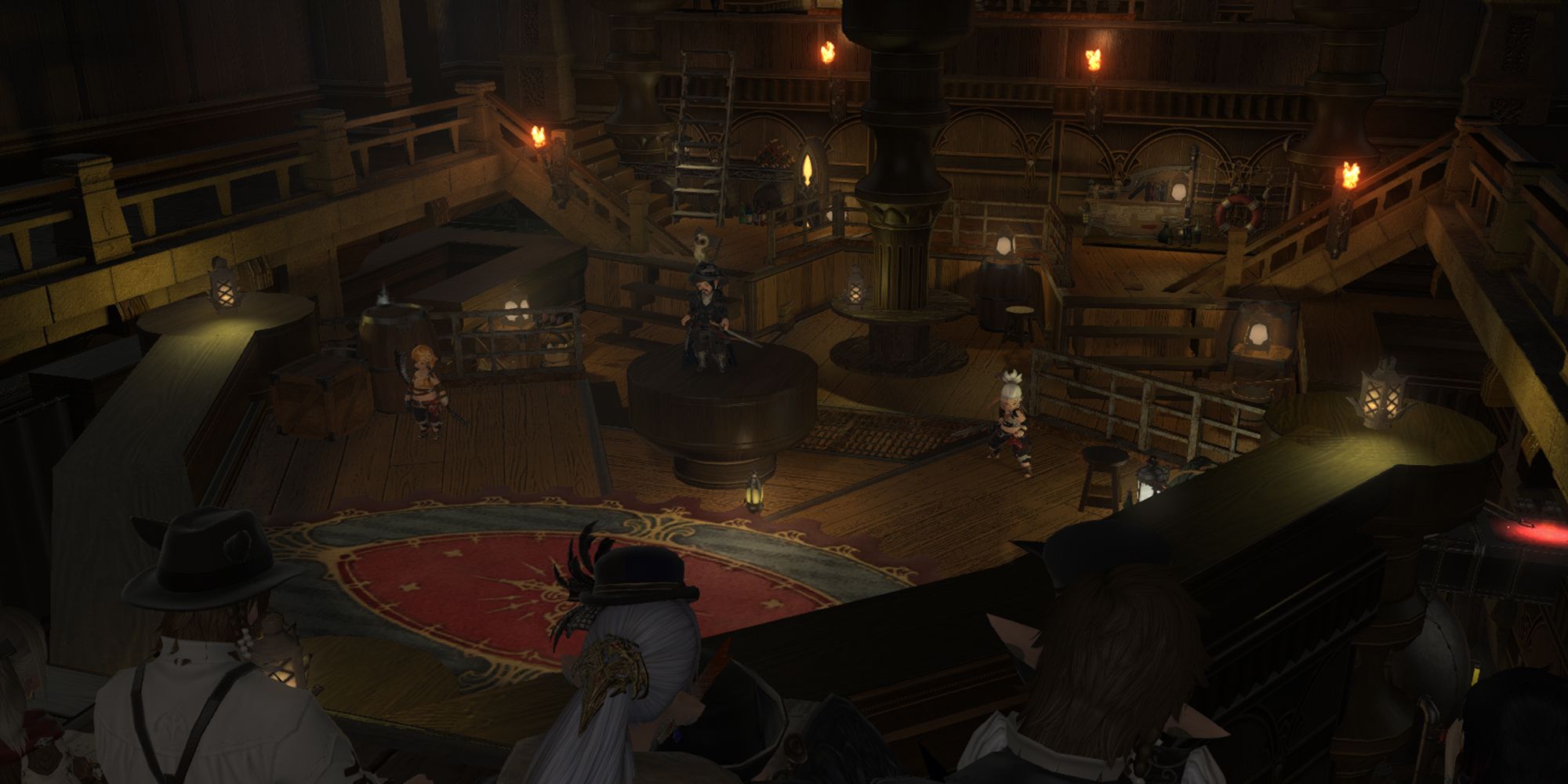 I was lucky enough to snag a spot in the audience for the first showing of Lalafells of the Caribebean so that I could watch the adorable cast take to the stage in pint-sized versions of our favourite characters, but not as we know them. The troupe put a twist on the plot, drawing in characters from the second film, such as Davy Jones and Tia Dalma, and making a few plot and character changes, for instance, turning Norrington into a proper creeper.
"We wanted to make it as accurate to the original as we could," Kael says. "But at the same time, we had so much fun coming up with new ideas and scenarios so, of course, we couldn't resist messing a little with the side characters. Like Norrington! People have fond memories, some even from their childhood, of how Jack Sparrow or Elizabeth Swann, or William Turner should be. And those expectations made us very reluctant to change the main cast. Most of the jokes we had written down came from the actor of Norrington himself, Kirithus Zelance. He did a lot of improvisation with his work, and his wit and humour definitely defined the role for us!"
You could tell from the polished performance that Namafel Inc. poured its heart and soul into this show. The attention to detail made the whole experience unforgettable, such as having Barbossa use the Opo-opo minion in place of the monkey from the film and using the eating apple emote as a nod to the film's character.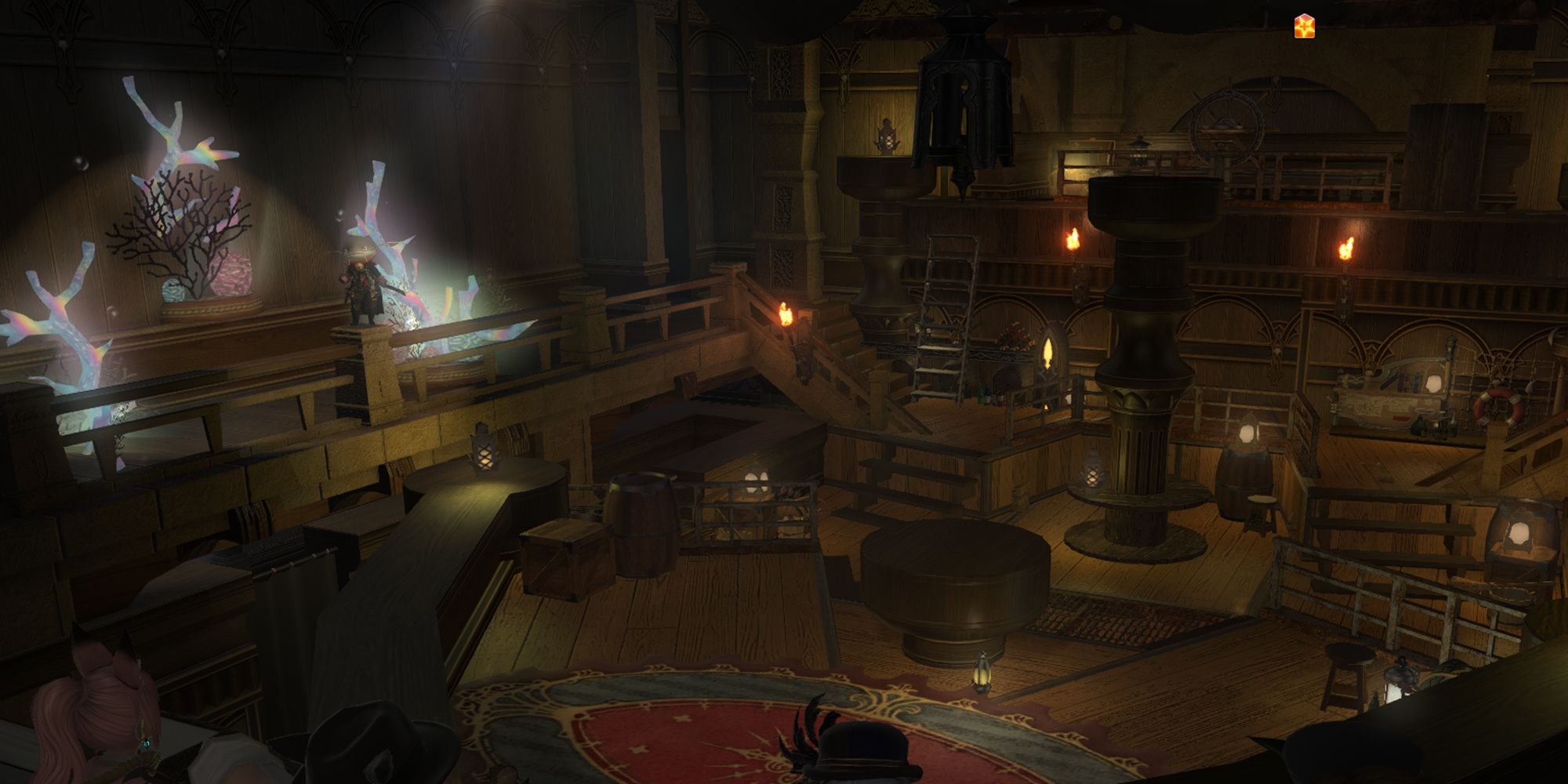 Various Final Fantasy 14 elements were cleverly used to the troupe's advantage. For example, Jack Sparrow was a Red Mage, so he could do some fancy swordplay on stage, while Davy Jones wore a Namazu head to give him a suitably fishy appearance.
The impressive stage took the form of a large ship, with various places for the actors to appear and disappear as needed. After the show ended, the audience had a tour of the set, showing that the props didn't just stop at what we could see from our seats, as below deck was a hold full of treasure too. Further proof, if any was needed, that the team went above and beyond in delivering Lalafells of the Caribbean.
"The set is always first. It helps to visualise the entire plan," Kael says. "Once the set was done, we got immediately into script writing with our friend, Sera Elizabetta. It was a huge endeavour because Sera was essentially writing a full theatre adaptation of the movies! From there, it was casting. We needed dedicated people who'd put a lot of effort into their role and with an obvious passion for the project — also, willing to be Lalafell. Once we had the actors, each actor helped to revise the script with their own unique flair. This took a lot of time, even into our later rehearsals!
"During the process, we contacted other external groups to help us; Glamoire and Heavensbard. Glamoire is a team of fashion specialists, and they both consulted us and helped prepare our entire wardrobe! Their expertise was very valuable in getting our vision as close to the movie's outfits as possible. Heavensbard, the other team, is a group of bards who helped by playing music from the original movie throughout the performance. We had a whole octet on opening night!"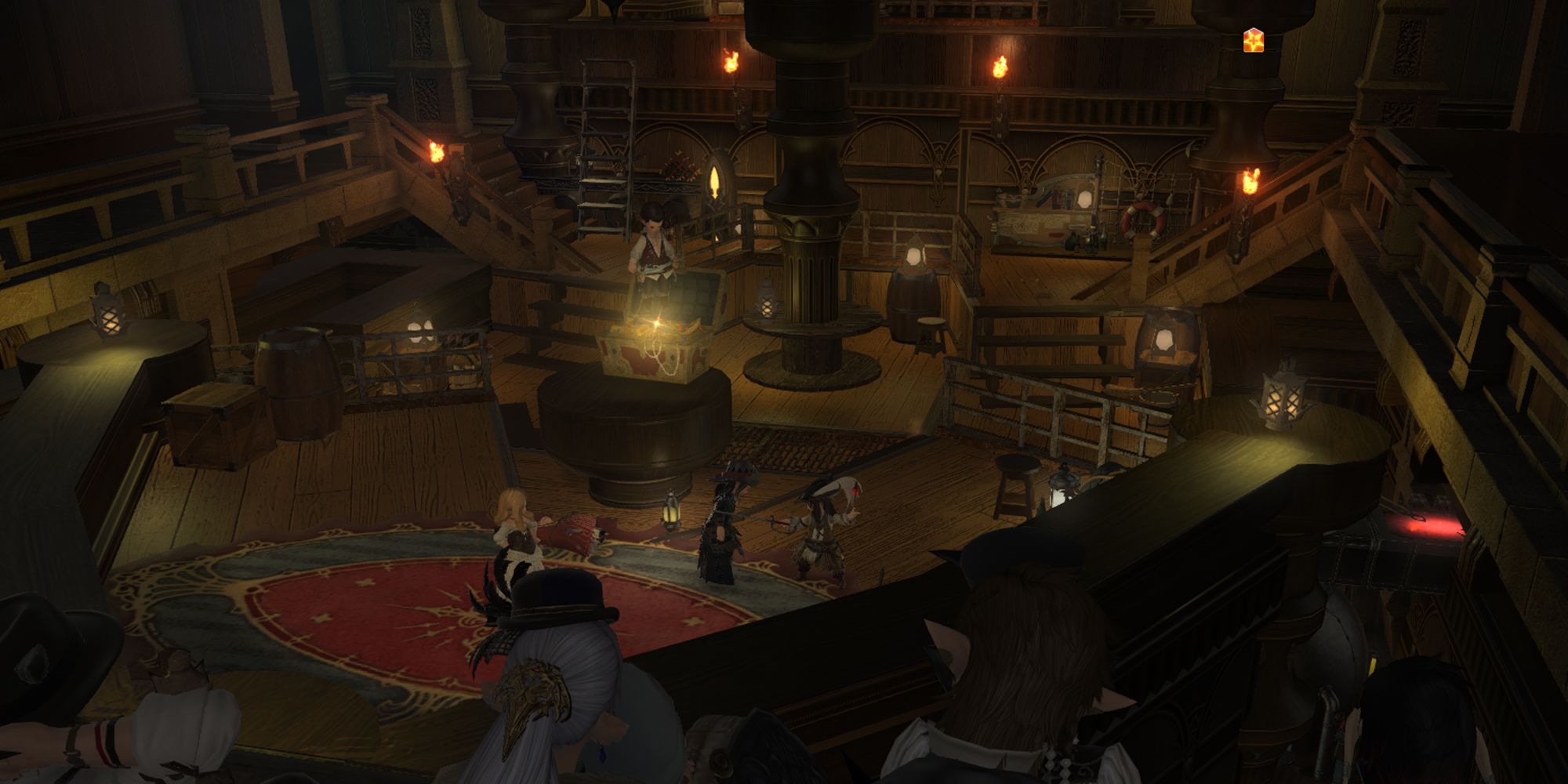 The team has been preparing for Lalafells of the Caribbean since April, practicing six to eight hours a week and with some cast members utilising 70 separate macros for their lines and emotes during the show. It didn't just stop at the performance either, as the team created crafted souvenir items to sell to audience members that featured the actor's names, the in-game version of an autographed keepsake, with all proceeds going to supporting the show. After the success of their first show, Namafel Inc. now has big plans for the future and encourages like-minded players to join in the fun and get involved in the creative side of the FF14 community.
"We are preparing a sequel," Kael tells me. "Not only that, we'll be planning other shows based on other movies as well! It just might take some time to get there. But we've had a lot of fun doing this, and it was a personal dream of mine, so do expect more in the future!
"I would like anyone who has any interest in this kind of scene to hear this: Keep an open mind! It is not wrong to follow the current trends and put your own spin on what others are doing, but being brave and adventurous, and willing to experiment with your work is what will encourage the growth and development of our community! Competition can breed toxicity, yes, but innovation can provide unity! We had a lot of different kinds of people join us on this production, all with the goal of showing what we can do with a funny idea and the willingness to persevere!"
If you want to keep up to date with Namafel Inc. and its future shows, you can follow the team on Twitter, check out their website, and join their Discord.
Source: Read Full Article