The creativity of the Final Fantasy 14 community knows no bounds. I've seen stage play productions, open-mic nights, bard bands, DJ sets, and RP venues, but I'd never seen a fully-fledged aquarium. The Eorzean Aquarium, complete with every single in-game fish on display, finally crossed that off my Final Fantasy bucket list. It has over 180 fish on display across 24 different rooms, and also boasts a touch-tank exhibit, a Shark Encounter attraction with a fully working shark cage, a bar area complete with a stage, and of course, a gift shop.
The aquarium uses private rooms within the Free Company house to create themed exhibits, displaying the fish in uniquely decorated aquariums that reflect the in-game region the fish call home. So, for example, you'll find the fish of Il Mheg in a flowery room with Fuath and Mandragora decorations, while one of the Dravania rooms features pom-tastic Moogle furnishings.
I had the pleasure of speaking to Fruity Snacks, the player who came up with the idea of the Eorzean Aquarium, as well as several staff members to discuss the work that went into creating the venue and the incredible community response they've received.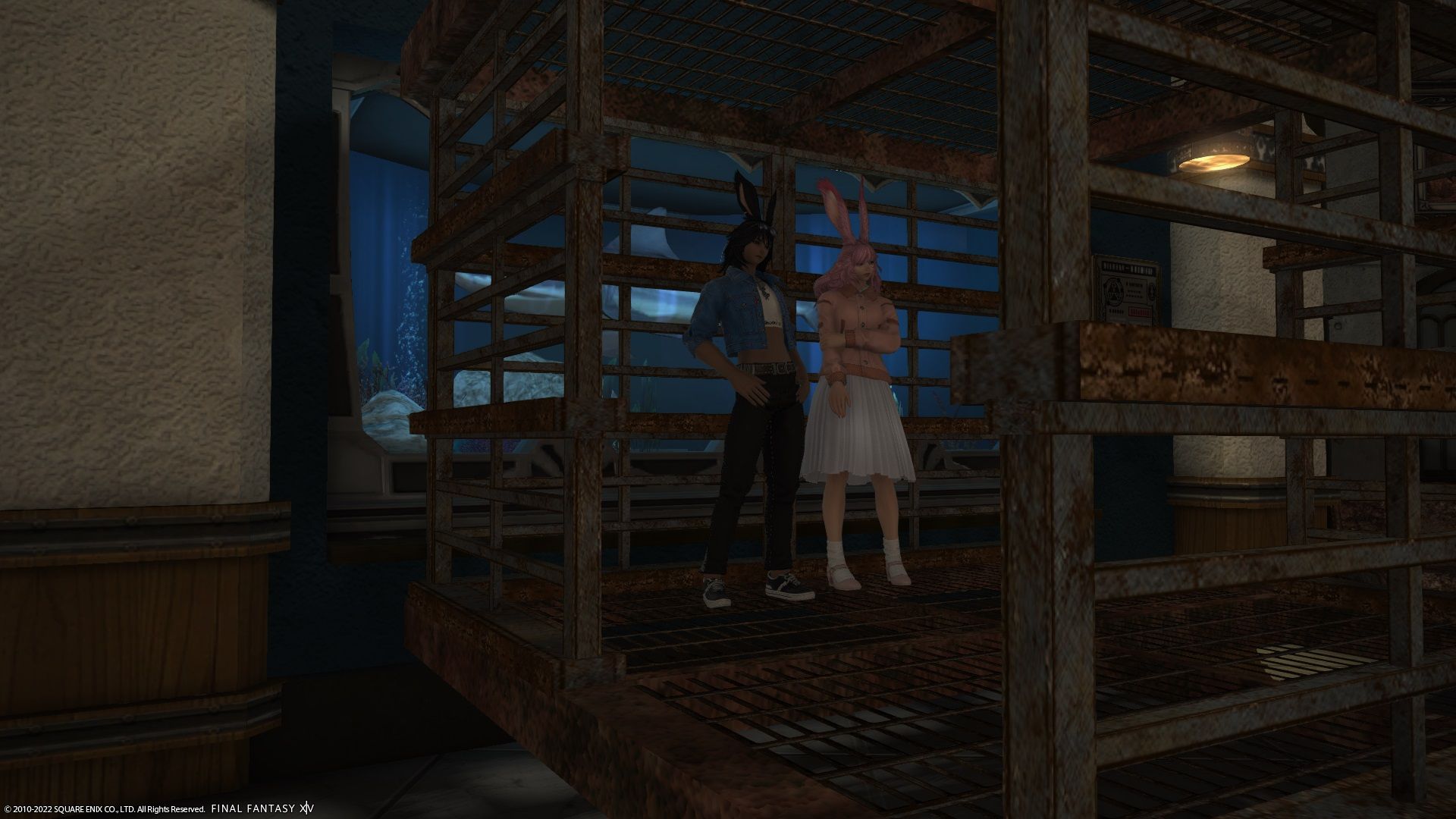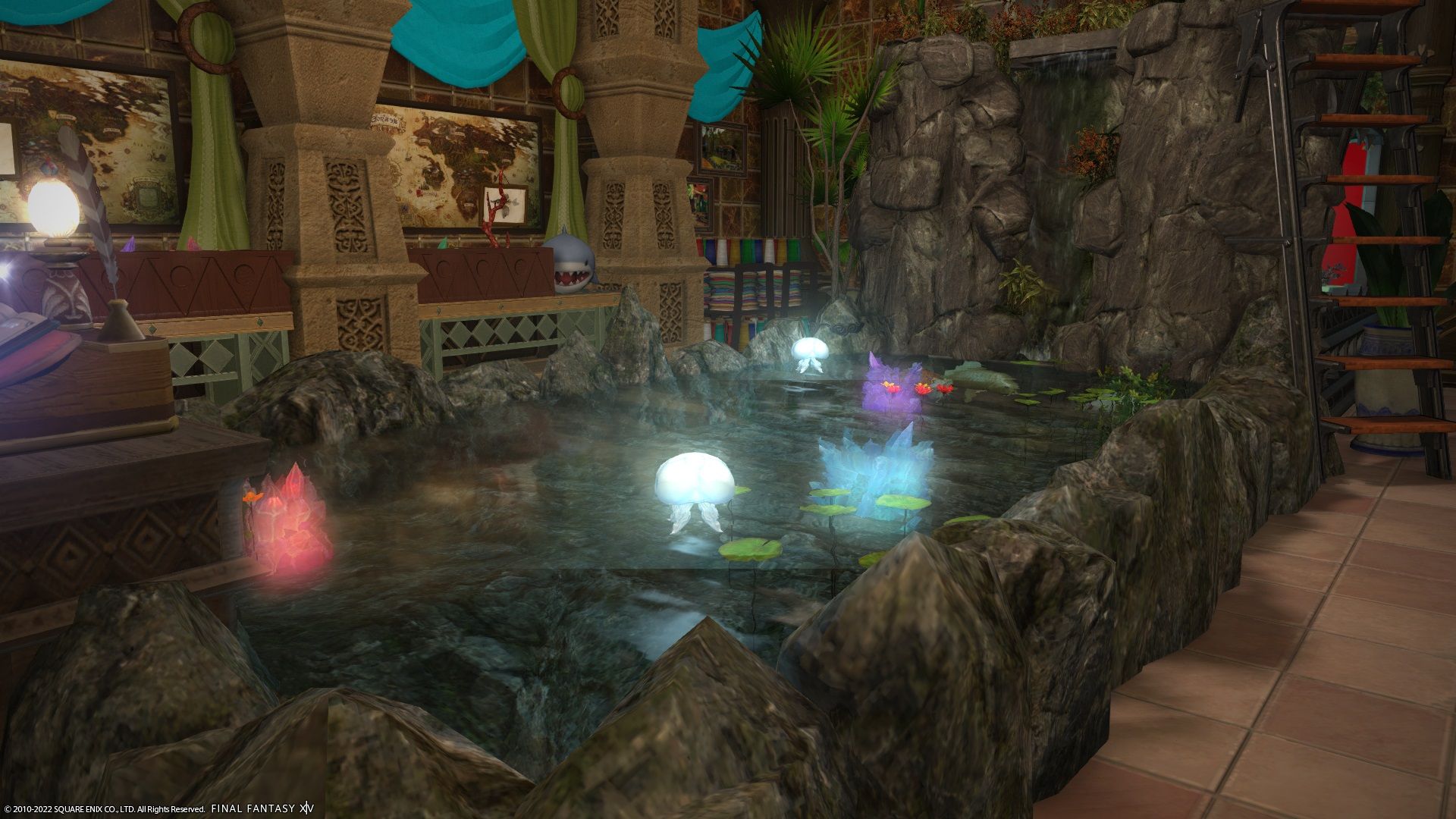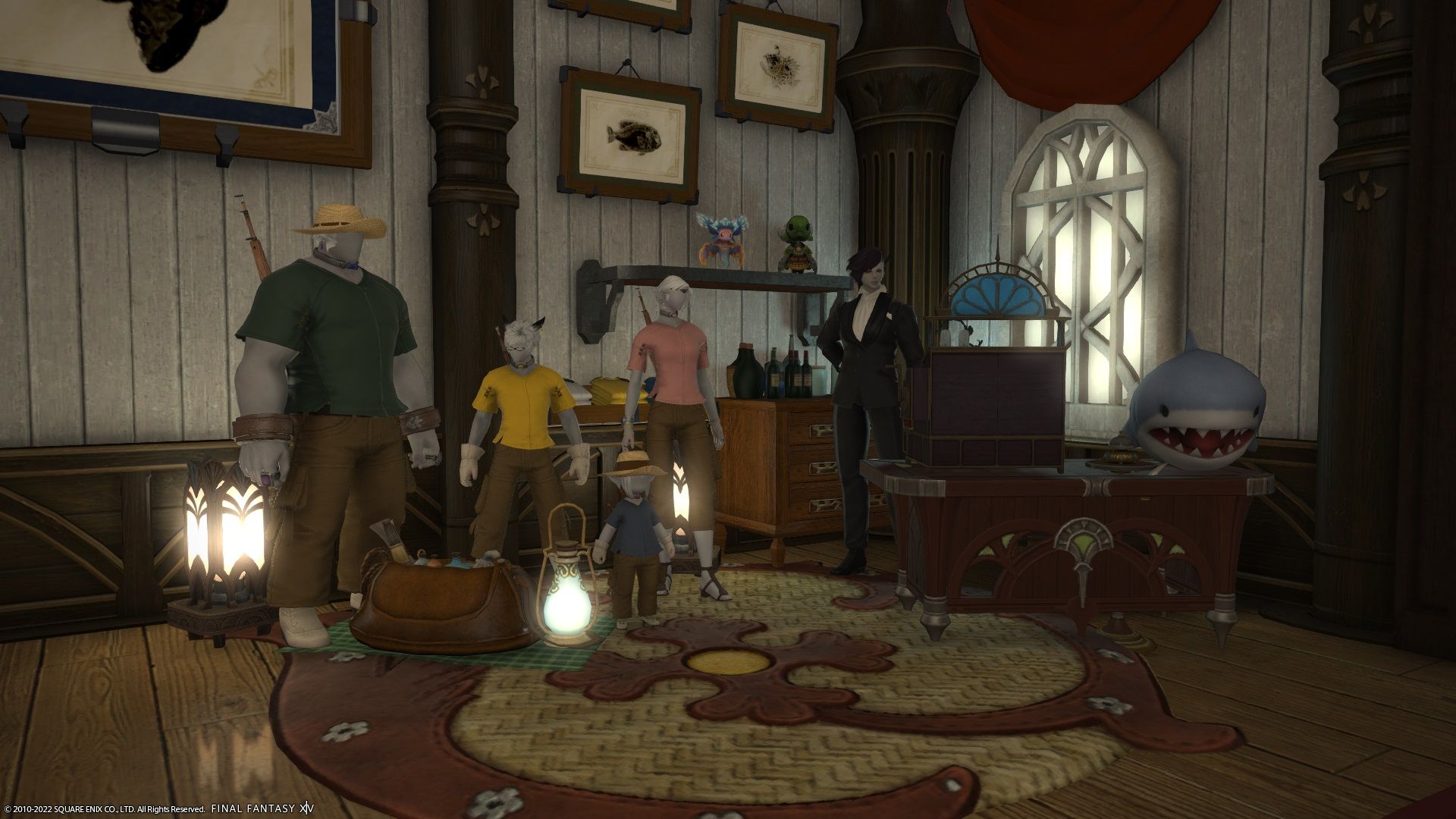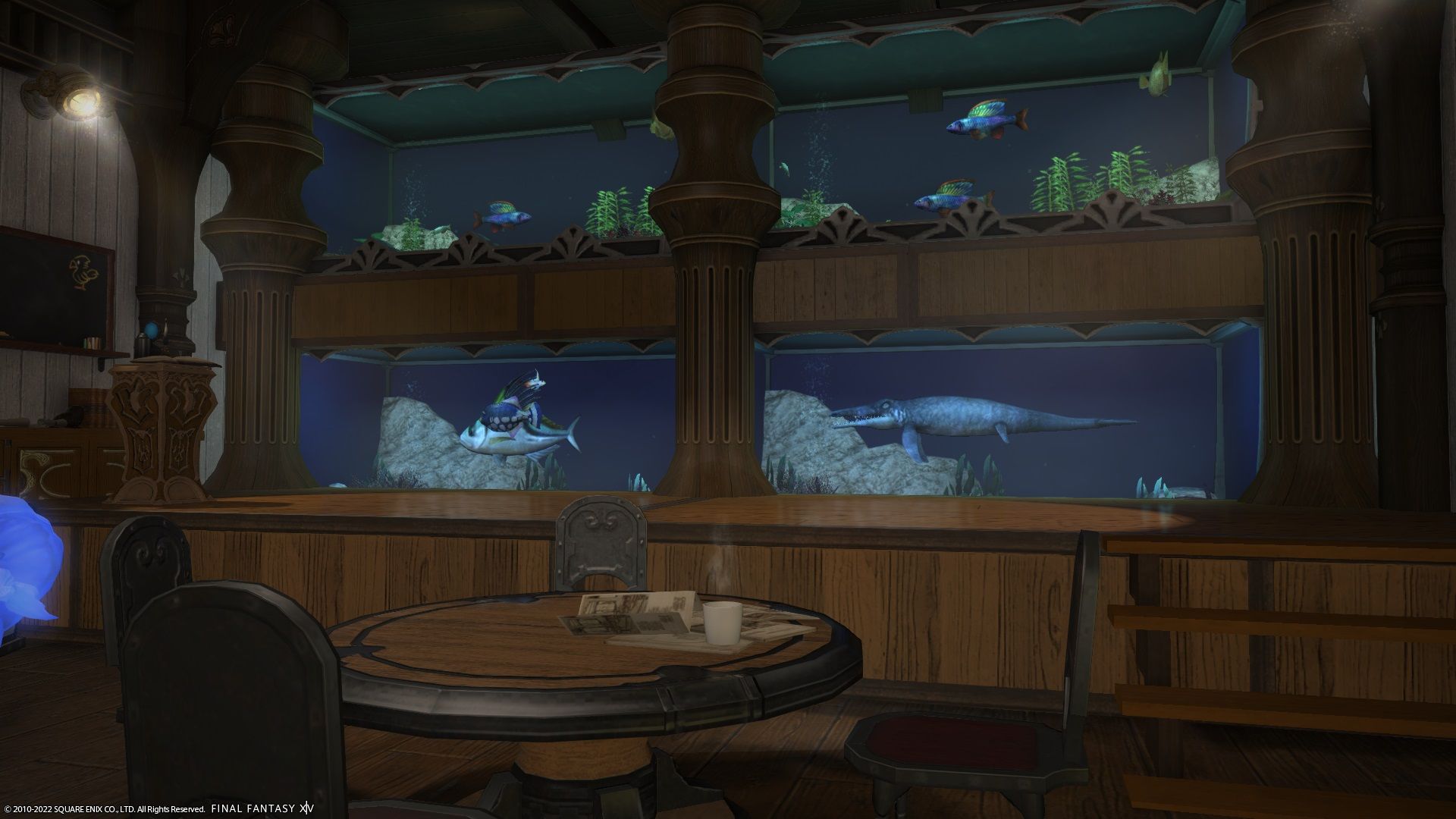 "Originally, I wanted to make a small place for fishers to just hang out and meet up in-game — like a proper fishing guild," Fruity explains. "Folks could come, learn about how to catch fish, get free gear and bait, and tips if they needed them. Then, one day I realised that you could get around the housing limit on fish tanks if there were an enterprising enough Free Company. By using the private rooms, you could show even more fish tanks than the house itself would allow and be able to decorate each room with a unique theme.
"So I posted this comment in a channel in the Fishcord — the FF14 Fishing Discord called Fisherman's Horizon — and about three hours after that, we had a ton of volunteers already making alts to build the rooms and a house that was donated that we could use."
Fruity came up with the idea at the beginning of April this year, and the aquarium opened just 28 days later, on May 1.
"It involved around 20 people across two groups, Fishcord and Little Sun," Kyrie Overdrive, a Fishcord and aquarium staff member, explains. "Many individuals from Fishcord supplied the actual fish that went in the tanks, and Little Sun helped us get the decor and housing all sorted. Many individuals donated money, items, and time to help us get things ready. We needed the materials to make over 100 Tier 4 Metal Aquariums, and that's just the tanks. We're from all over the place – the Eorzean Aquarium has individuals from the Americas, European Union, and Oceania regions helping out on staff, so sometimes coordinating was a pain, but if there was a will, there was a way."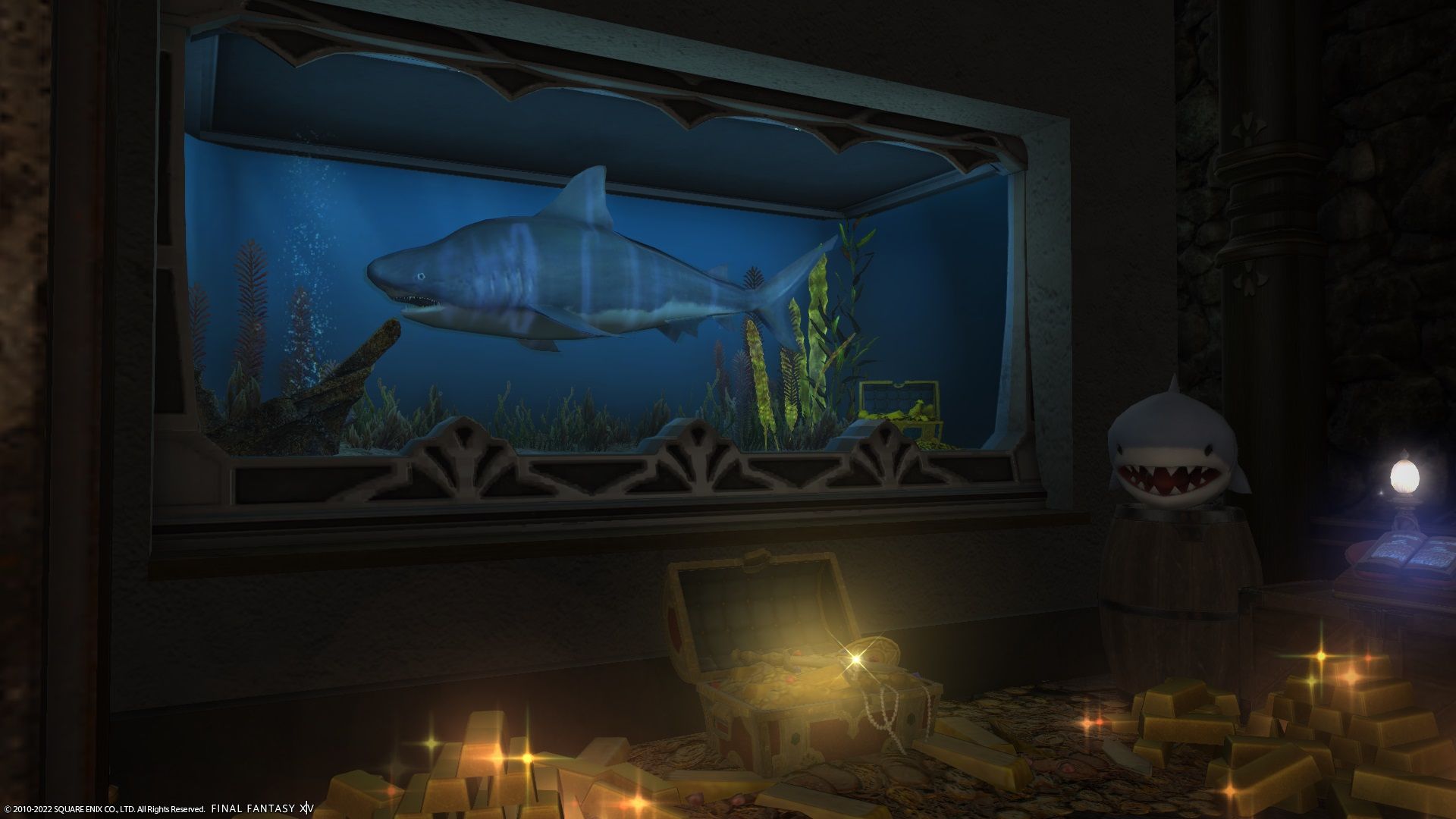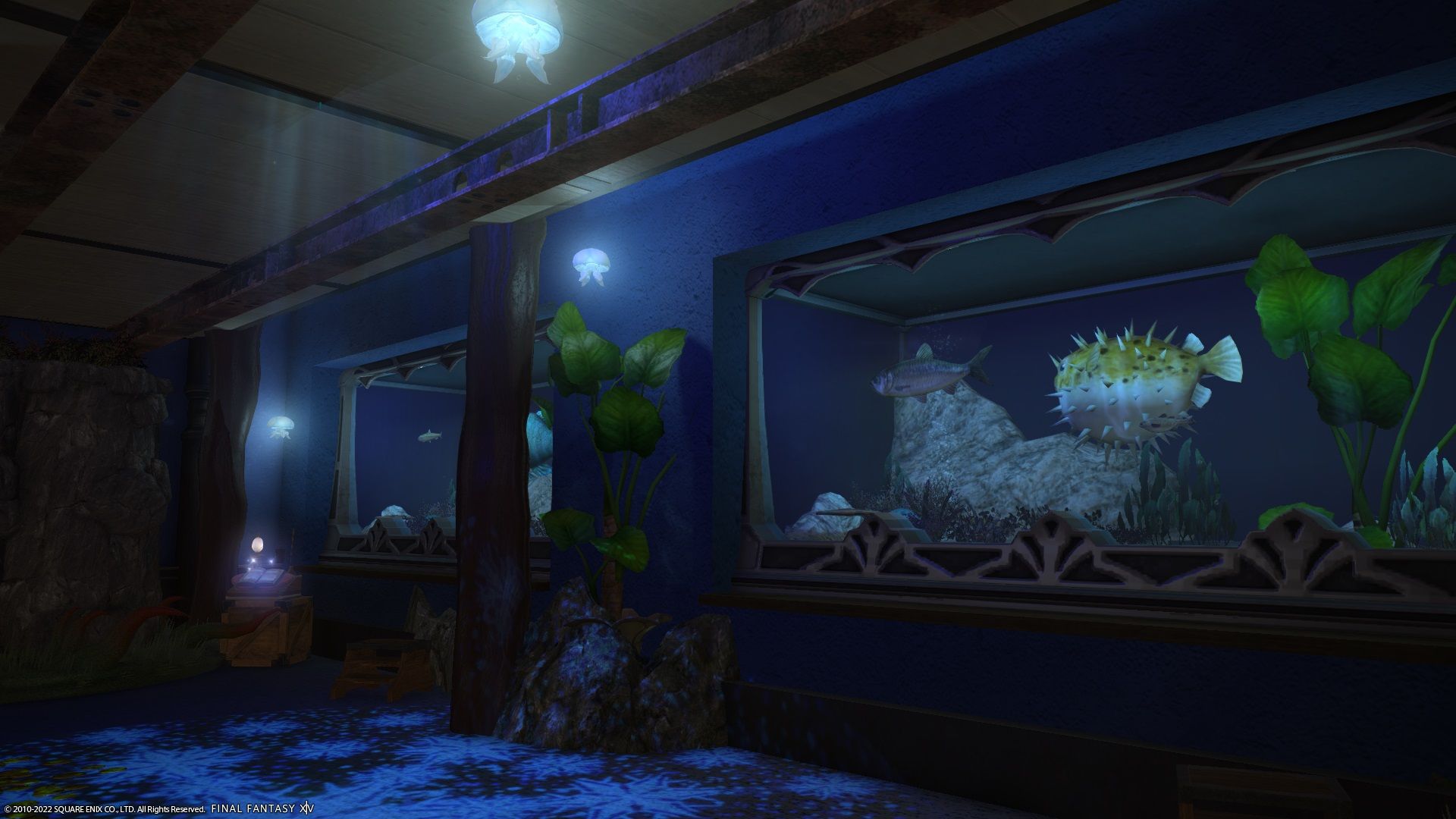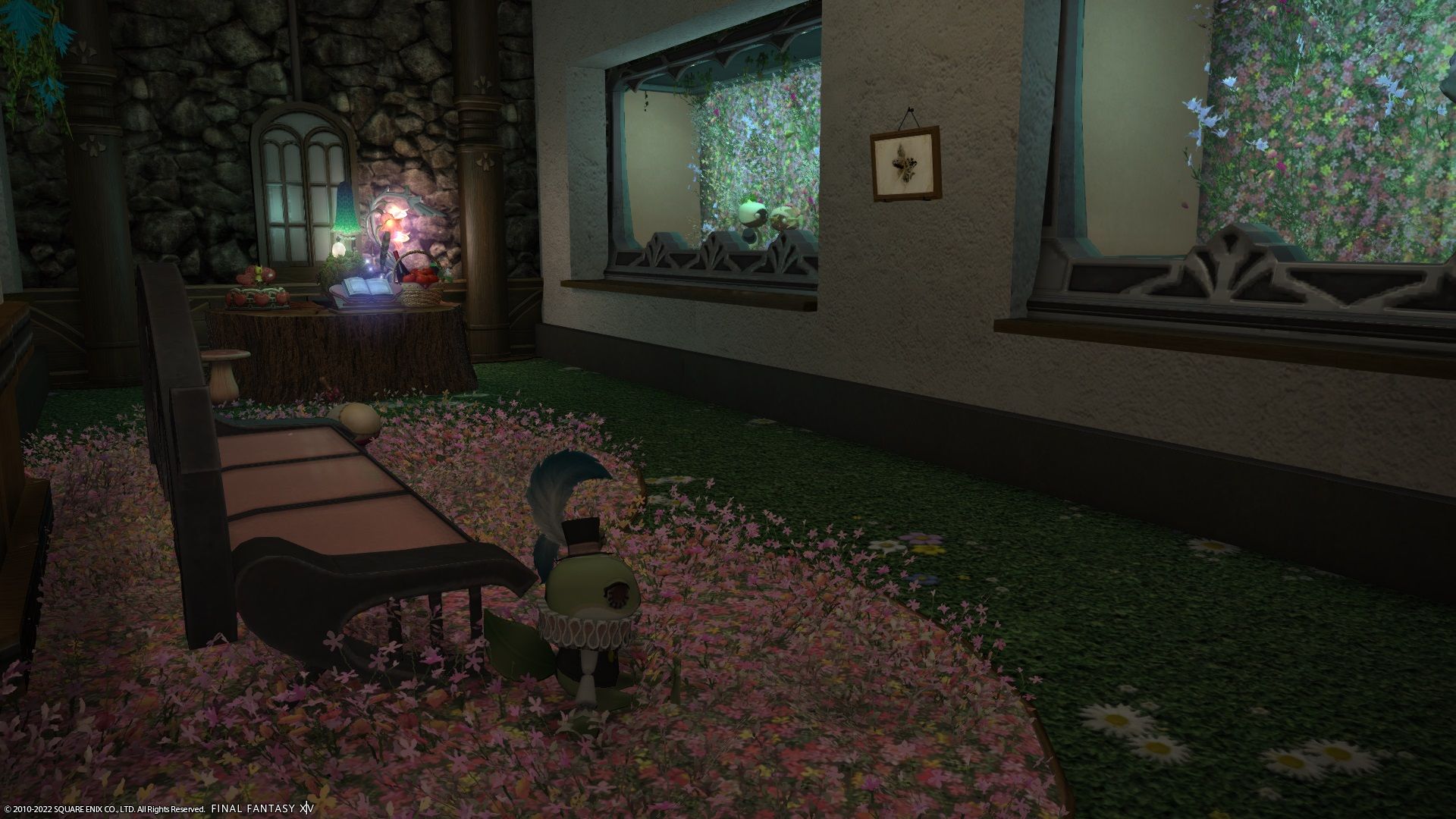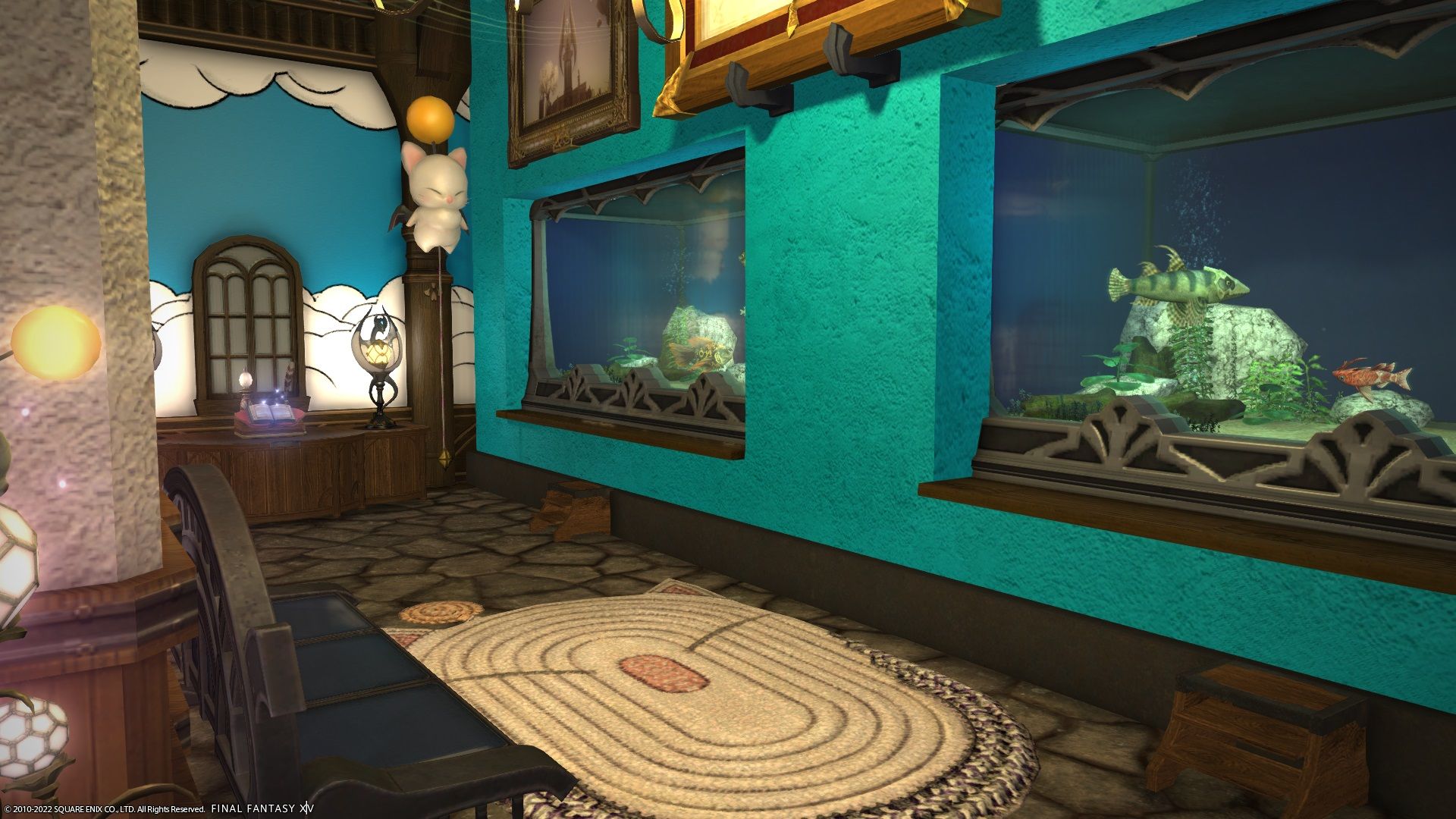 Aside from the aquatic displays on offer, the use of private rooms is one of the most noticeable things that sets the Eorzean Aquarium apart from other community venues. As a result of this, individual players were responsible for creating set exhibits, unlike the main FC house space, where more than one player can decorate freely.
"A template was developed for people to follow," aquarium staff member Beans explains. "And there were a few requirements, such as having a table orchestrion and a message book in each room, and of course, the fish were planned out meticulously to ensure that every species was displayed, and in the correct zone, but overall members had a great deal of creative control over their own rooms."
The aquarium has already hosted several noteworthy events for the community and has even more exciting plans for future events. For starters, later today, they will be hosting a hide-and-seek style Namazu hunt event to celebrate the implementation of Data Center travel.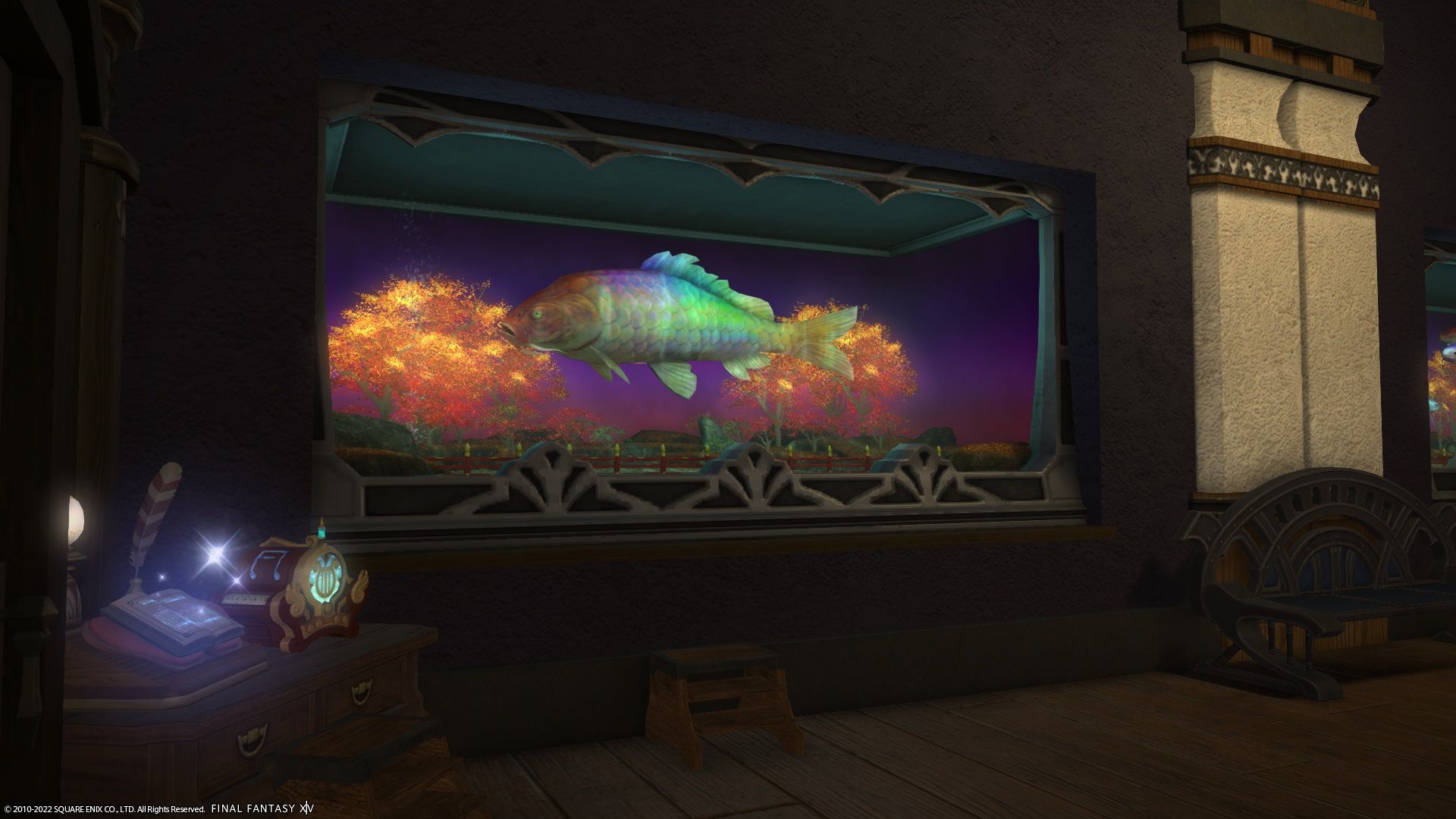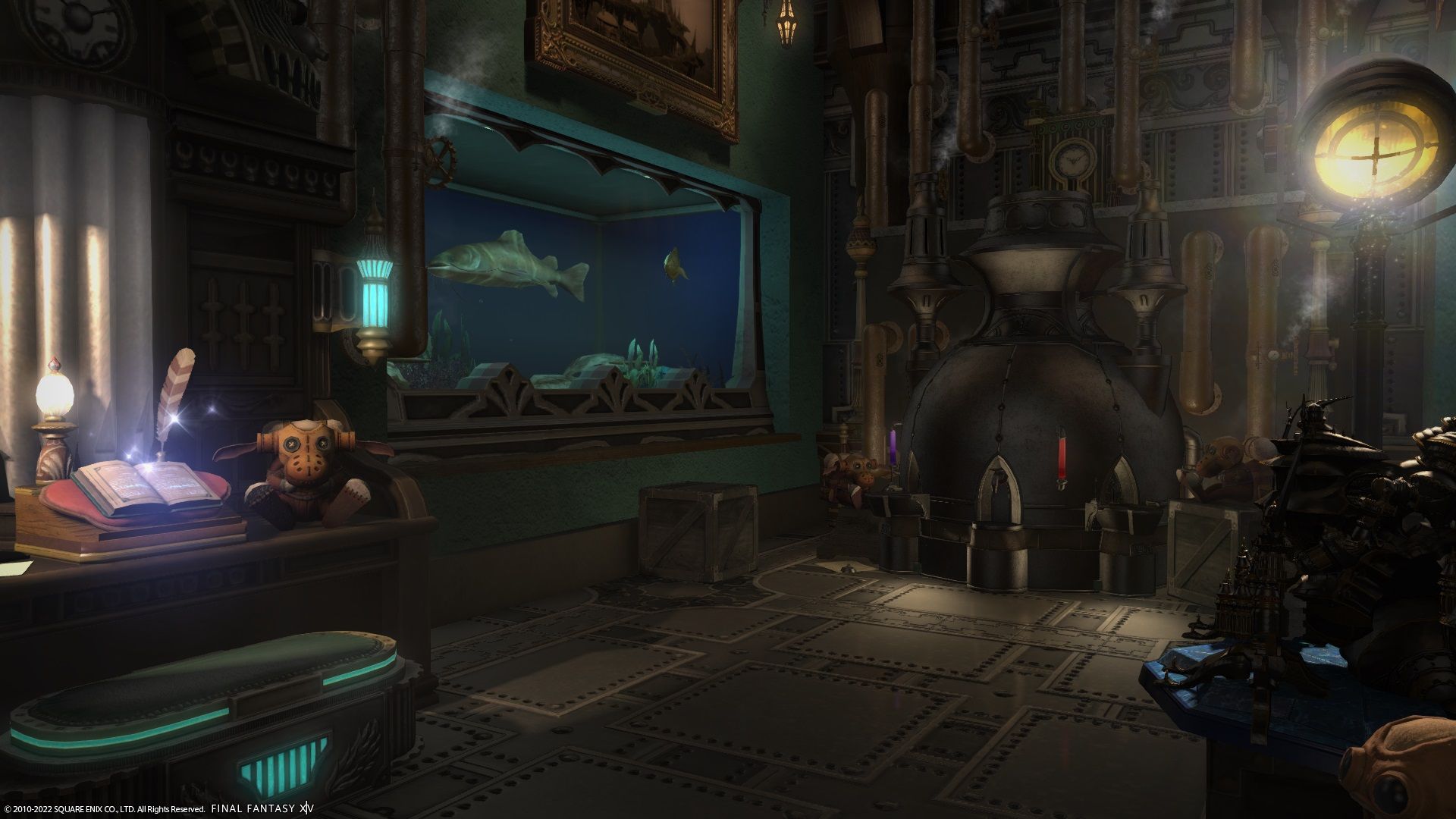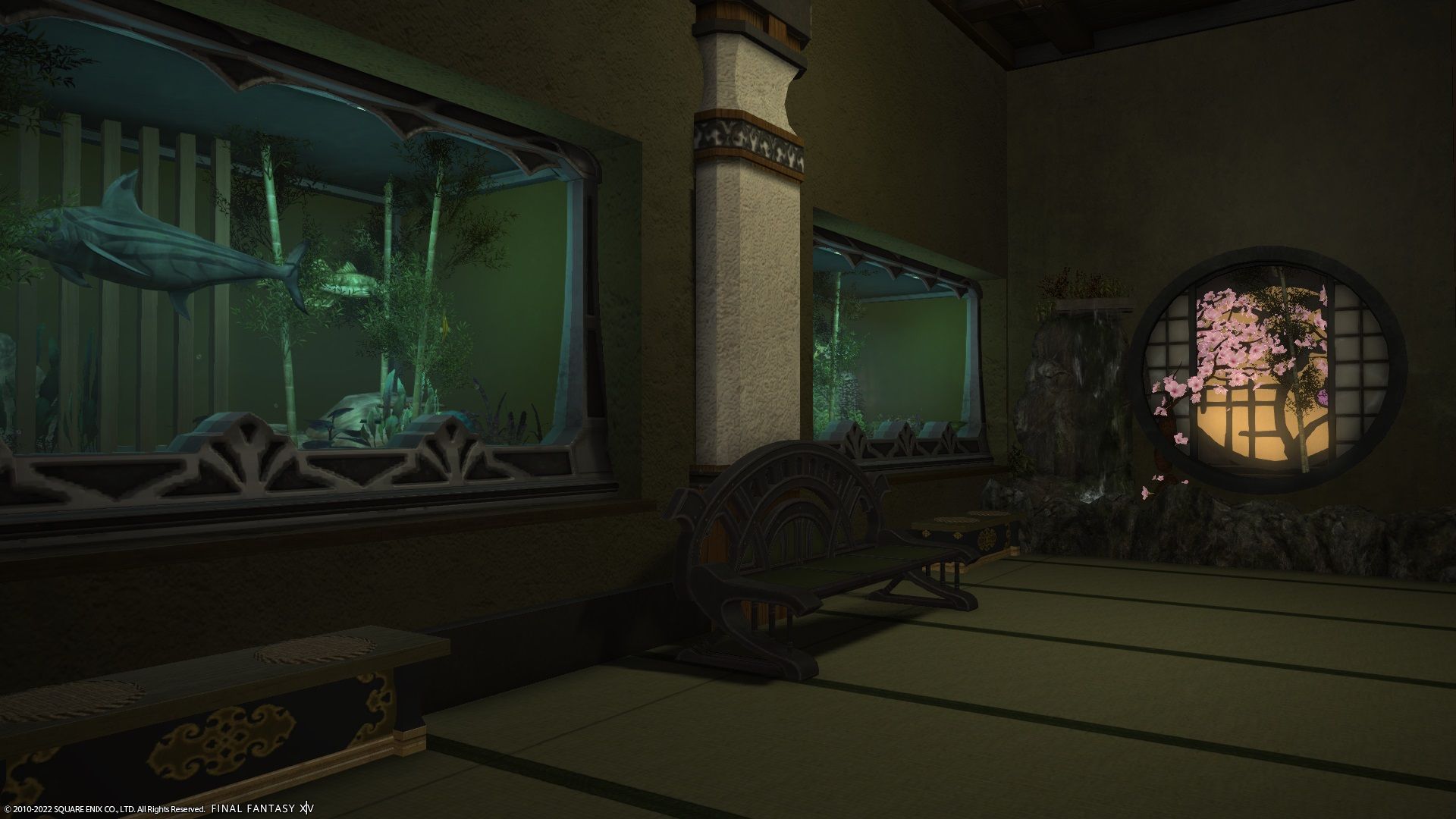 "So far, we've done a couple of events," aquarium staff member Carol tells me. "We had our opening event that wasn't really planned so much as an explosion that we didn't expect. The next one we ran was our ocean fishing event, where we found a few slots of time for the in-game ocean fishing voyages and taught folks the best way to get enough points to earn a specific achievement that rewards a shark mount. That day we found out there's a limit on how many people can be in a house at a time.
"The last event we did was a fishing event for the Warden Of The Seven Hues, a rare, hard-to-catch rainbow fish with a complicated setup that's very well-loved in aquarium tanks. The event was a Pride celebration, where the staff dressed in colors representing our pride flags, and we had so many people show up. It was incredible! We had a wonderful streamer collaboration, Spofie, we hired a bard for music, and did our best to teach folks how to catch the fancy rainbow fish. Honestly, even without catching it, it was an amazing time."
The launch of the new Data Center travel feature has seen an influx of players hopping over to check out the aquarium. The venue has proven so popular that while I was visiting, the retainer selling fish (a way to enable donations) ran out of stock and had to be replenished.
"It's been a blast!" aquarium staff member Lucerna says about the increase in visitors. "We may be an aquarium, but I'm proud of my fellow staff volunteers for not 'floundering' when met with the challenge."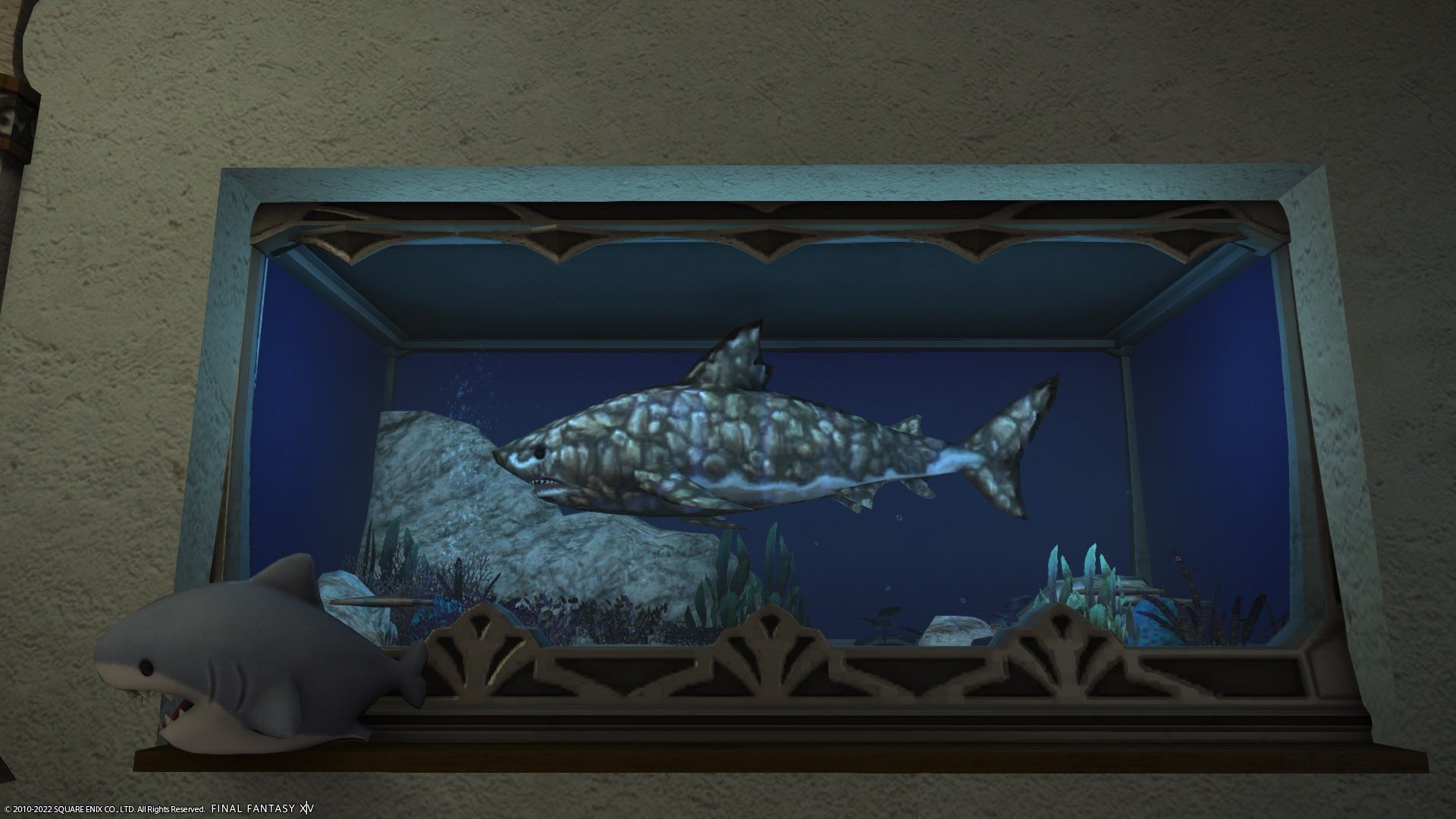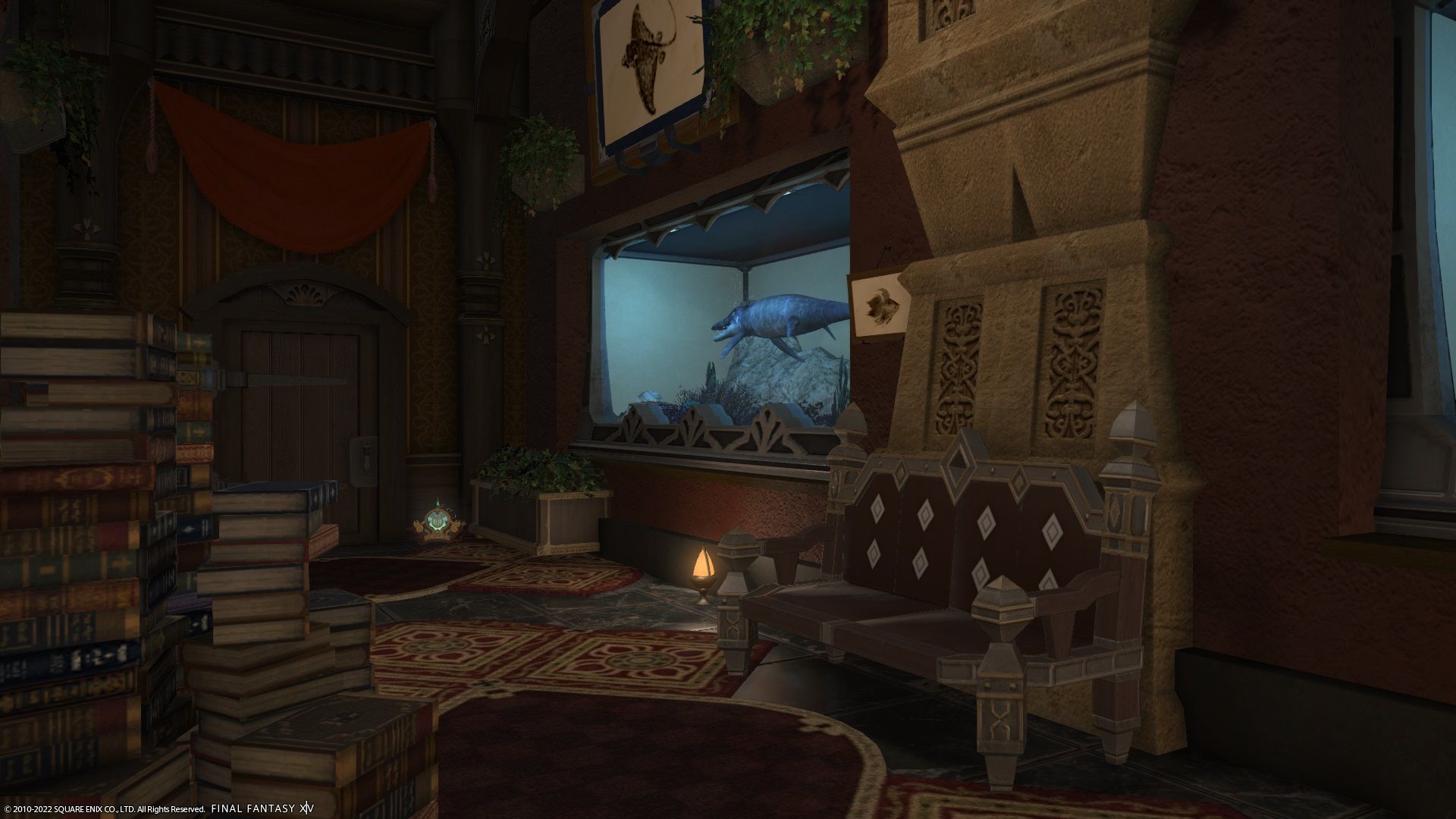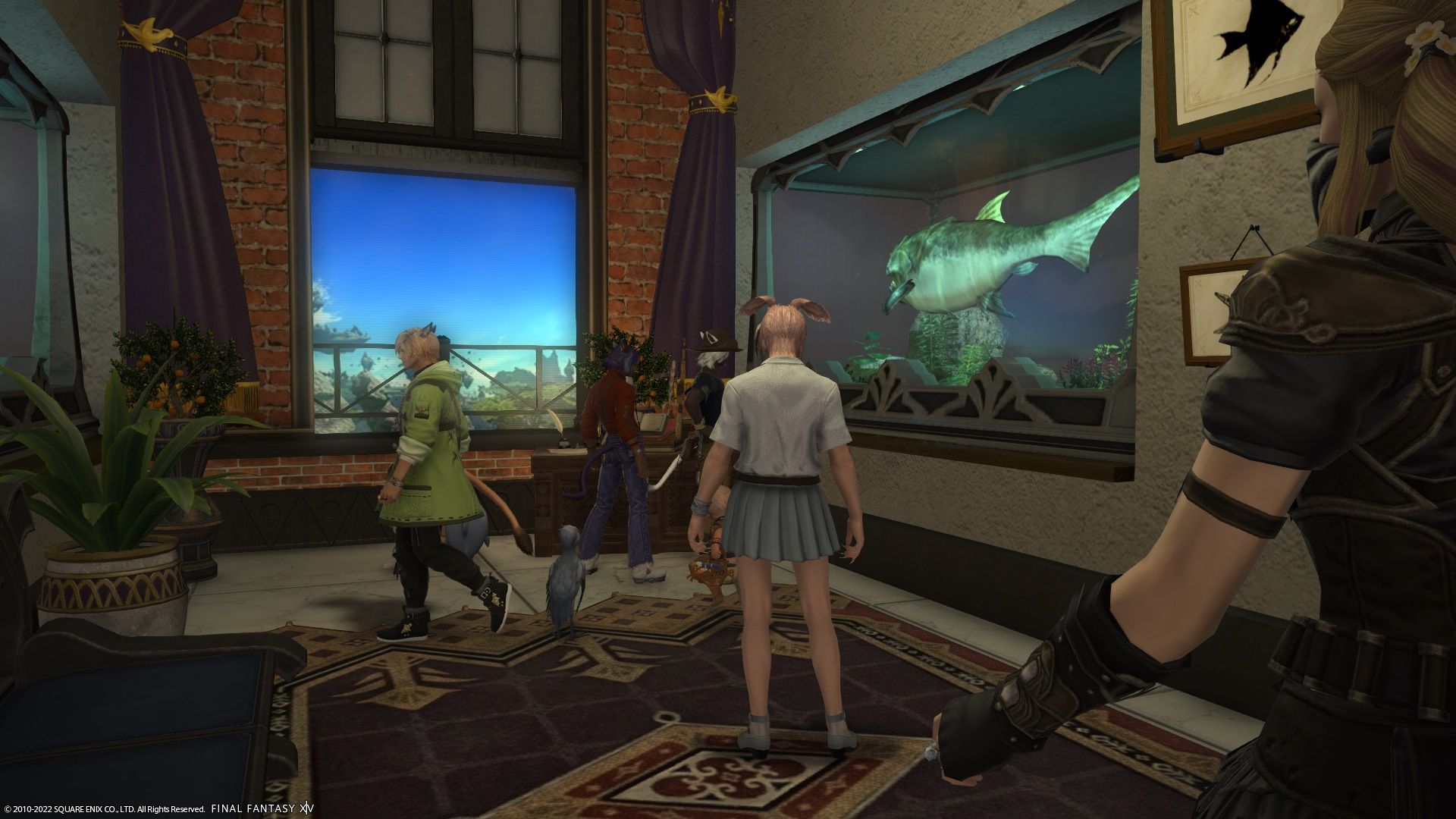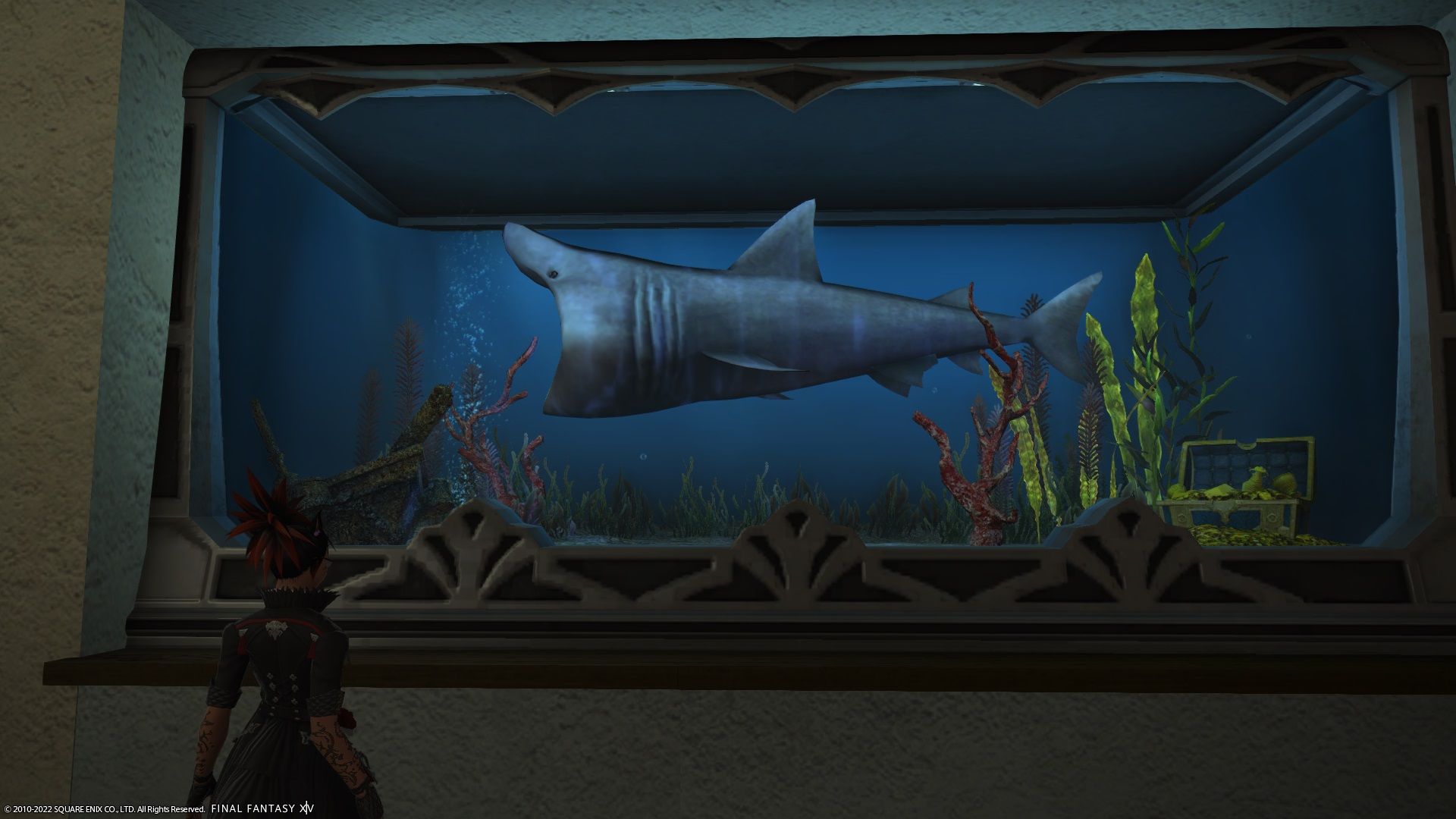 The team has been inundated with kind messages and feedback from others, with so many players writing in the FC's message book that the team has to regularly clean them out to free up space. However, they keep an archive of each comment on their Discord.
"We've received a wide variety of positive feedback, including heartwarming and funny comments and screenshots that we absolutely love," aquarium staff member Mizuki says. "We get suggestions for improving the place from time to time, which we also appreciate, but most of the messages we get are simply excitement about the fish themselves, as well as the exhibits they inhabit. The first message that touched us deeply was one from someone named Jack Henry, who mentioned he couldn't go to a real-life aquarium because of Covid, so it cheered him up to come to our virtual one."
"People really enjoy it and that makes us really happy!" aquarium staff member Proto Hropken adds. "We didn't expect such a huge response and we're blown away. There are people who visit several times a week. A lot of people have date nights at the aquarium. A couple even came for their honeymoon. A raid group came to visit after clearing. Our house was at capacity during the shark event and we estimated over 100 people for the Pride event. It's been amazing!"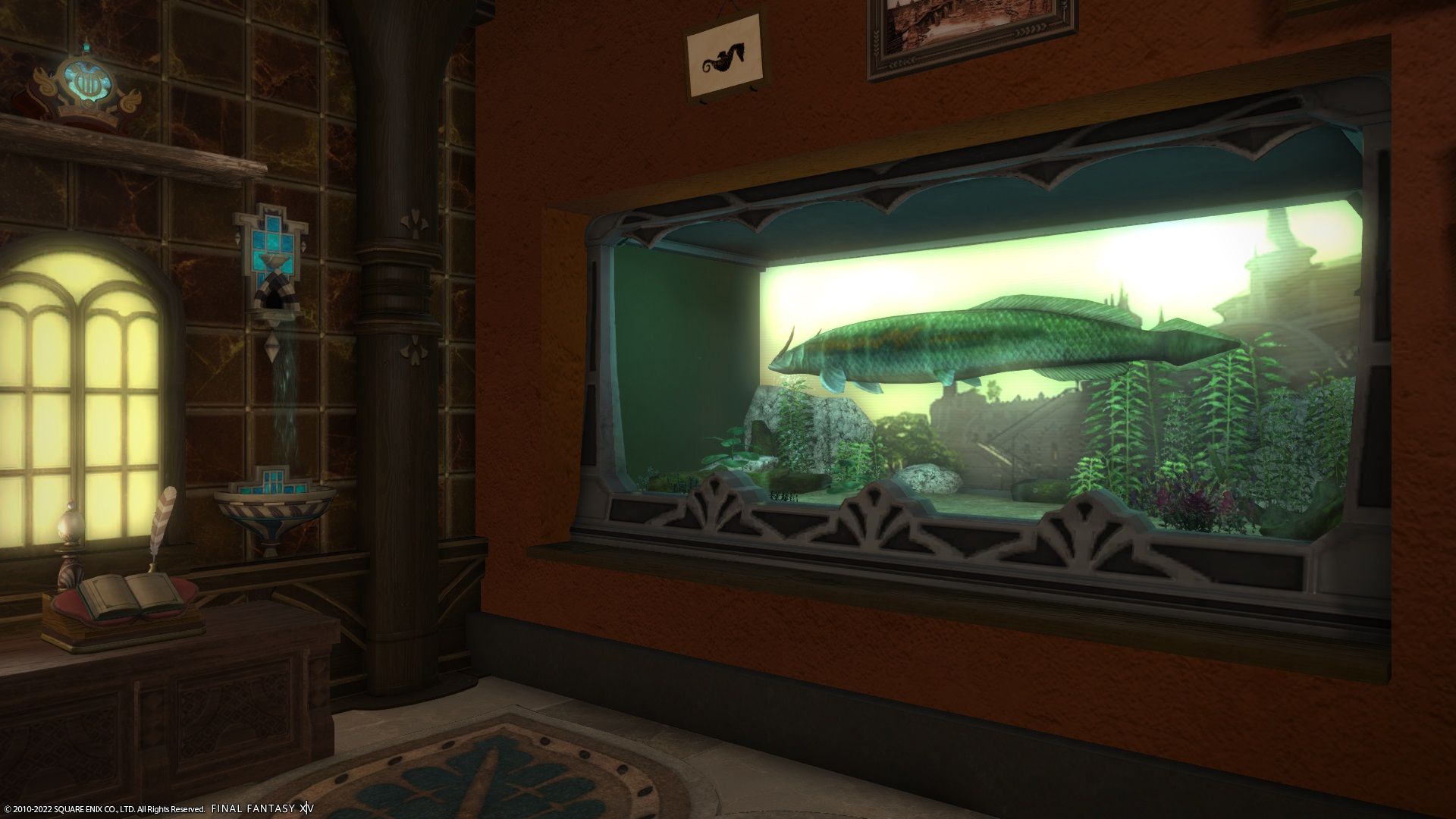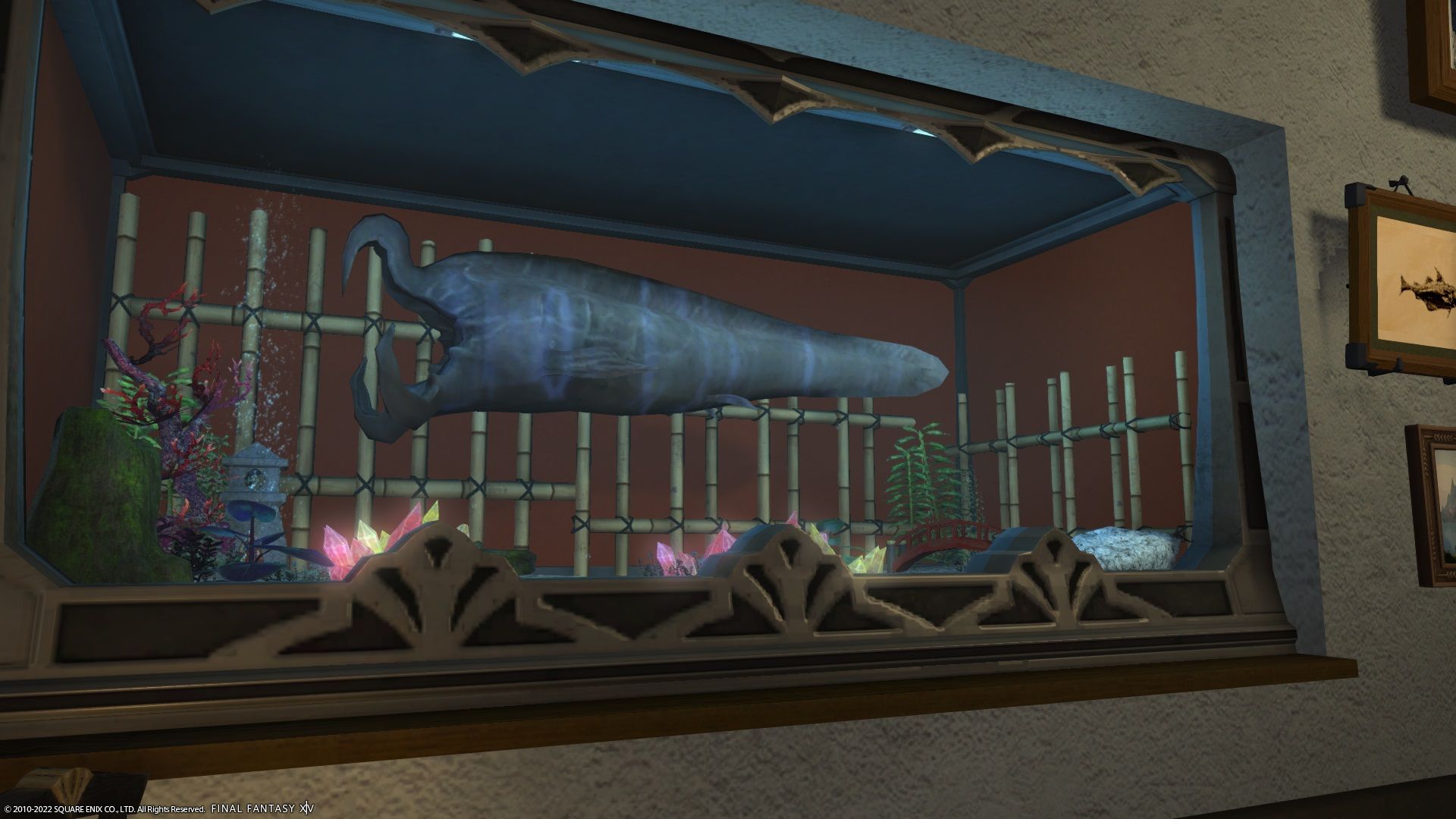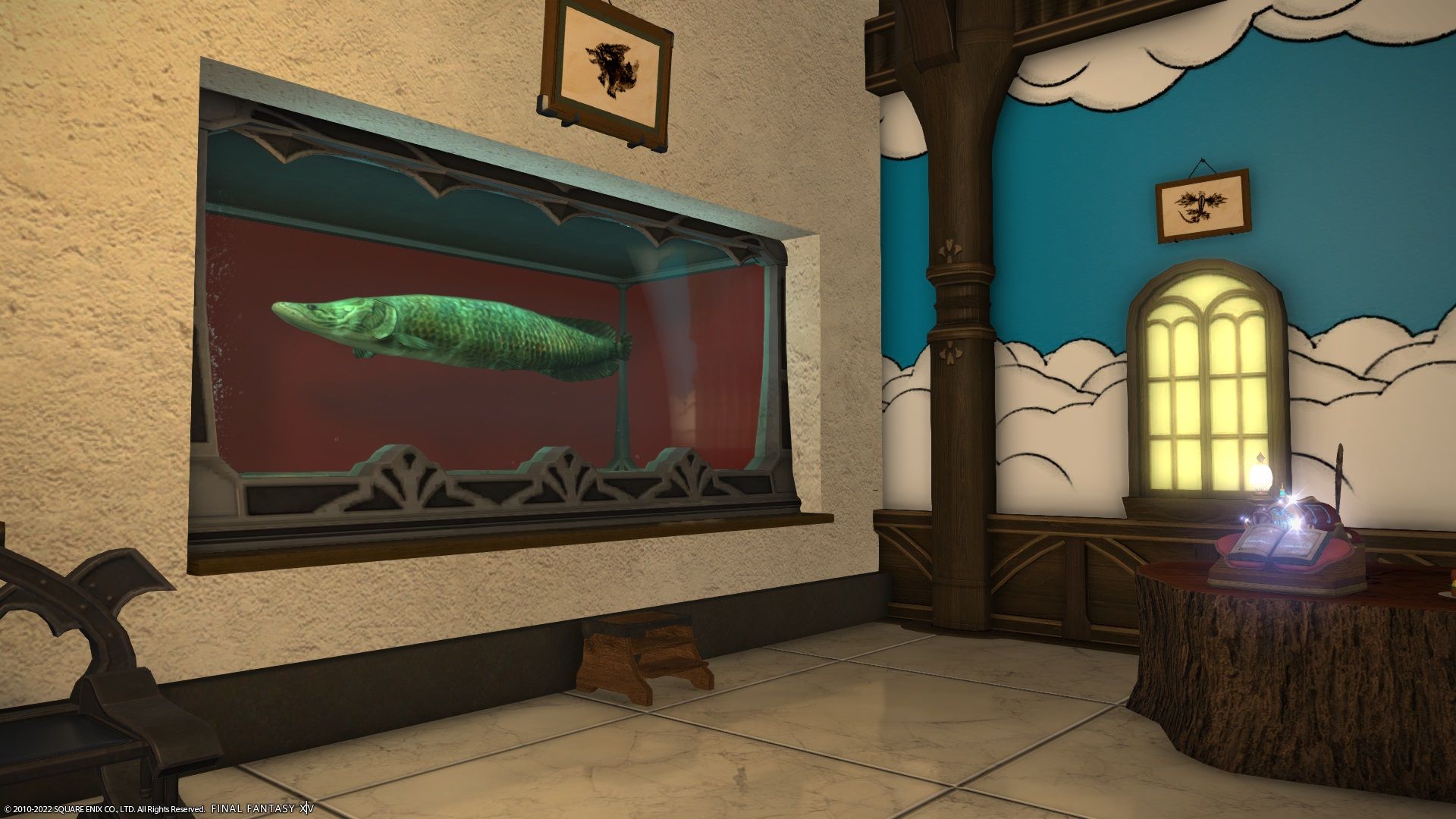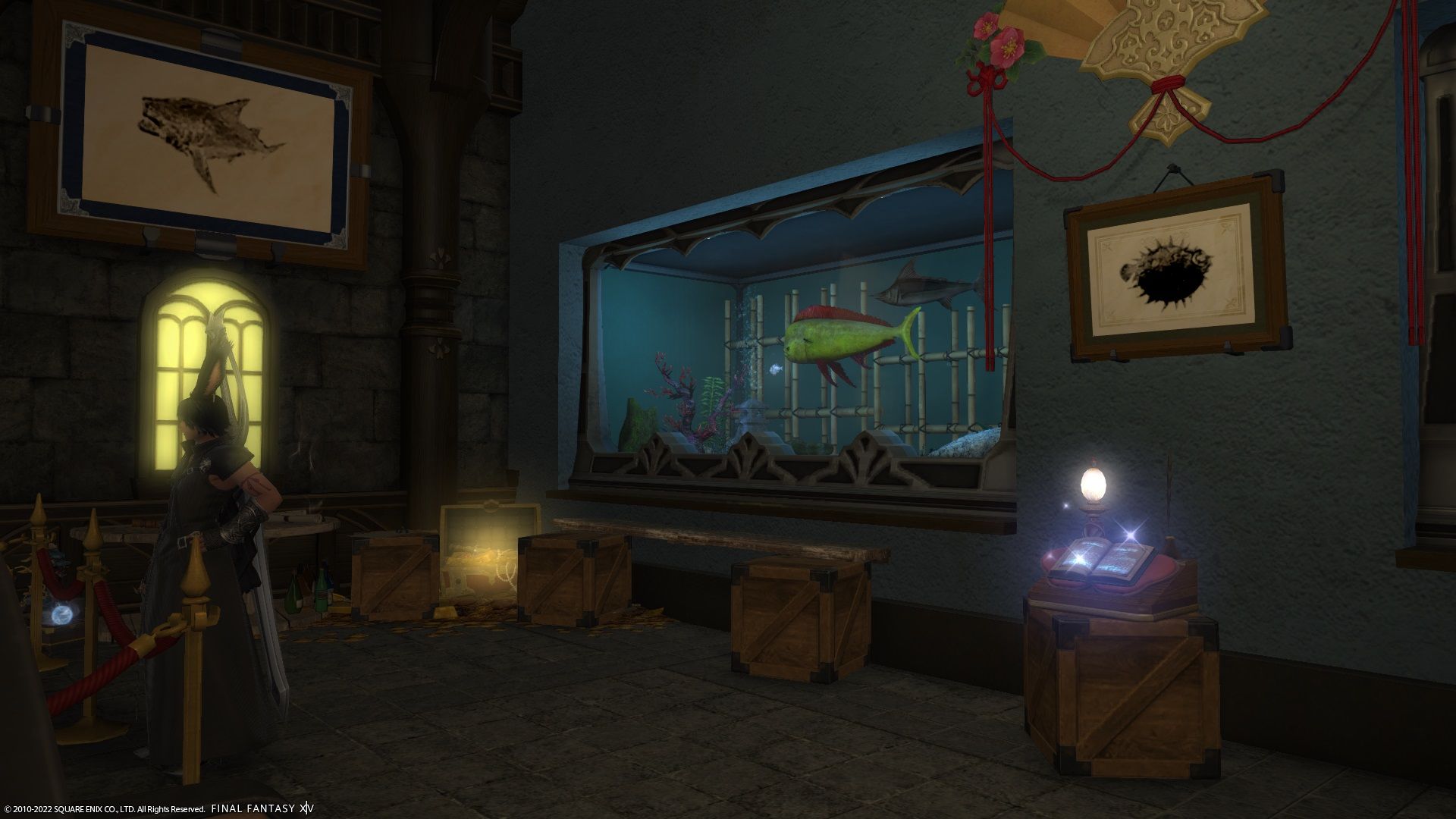 In fact, the aquarium staff has reached somewhat of celebrity status, with other players recognising them when they're off adventuring elsewhere in the game. The flood of community support has touched the staff, who are thrilled to be making an impact, not only as a cultural venue but also as a learning experience that teaches various tricks and techniques to FF14 fishers.
"We get overwhelmed all the time about it," Kyrie says. "Sometimes we'll be fishing on our aquarium characters and people will recognize us out in the overworld, or in duties. Or I'll be on my main character and someone will talk about the aquarium during a roulette because we encounter a fish boss in a dungeon.
"After our events, we get people who say 'oh I didn't get the mount' or 'I didn't get the fish' but they come back and tell us later that they managed it. And that's the best feeling. A lot of people think fishing is really difficult. And it is, but we give them the groundwork to tackle it like any other content in-game."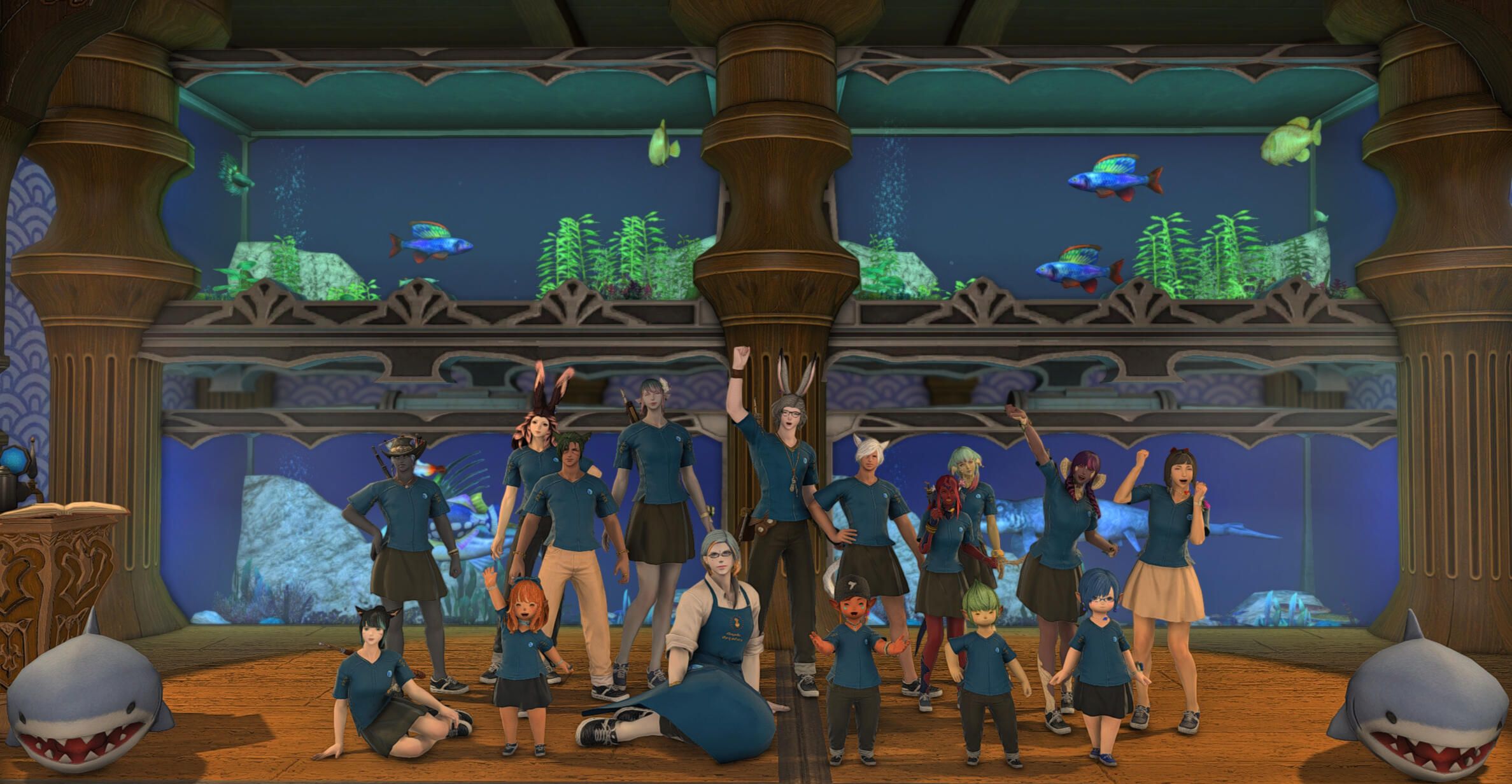 The team has begun constructing another full-size aquarium on Spriggan (Chaos) and a smaller venue on Sophia (Materia). As well as increasing their aquarium empire, they've started to build a network of museums and cultural venues, with a Fine Arts museum currently in the works. Fruity also tells me he would love to "spearhead an Eorzean Natural History Museum one day" and he also plans to host talks and lectures in the aquarium in the future.
"I would like to include a personal thank you to everyone who has visited the aquarium and enjoyed the work of myself and the team," Lucerna says. "And an additional thank you to the rest of the staff — without our teamwork, we'd be 'kelp'less. Thankfully, we aren't 'shellfish'.
"And if anyone out there is interested in starting their own educational/community resource venue, please feel free to reach out to the Eorzean Aquarium team! We would be delighted to extend a helping fin!"
You can visit the Eorzean Aquarium on Malboro world, Crystal Data Center in Plot 59, Ward 16. You can also follow the dedicated Discord, check out the website, or follow Fruity on Twitter for news and updates.
Source: Read Full Article