During the early hours of Forspoken, you'll be directed towards a guild in the area near Cipal to find some books about the torana, the mystical gate that brought Frey to Athia in the first place. Inside this guild, Frey learns about the magical nail polish that the Tantas of Athia used, and decides to try it out for herself.
From then on, Frey can collect many different nail designs across the world, each having its own unique ability. These are very useful, with effects ranging from buffing your damage to improving the quality of your counterattacks.
All Nail Design Locations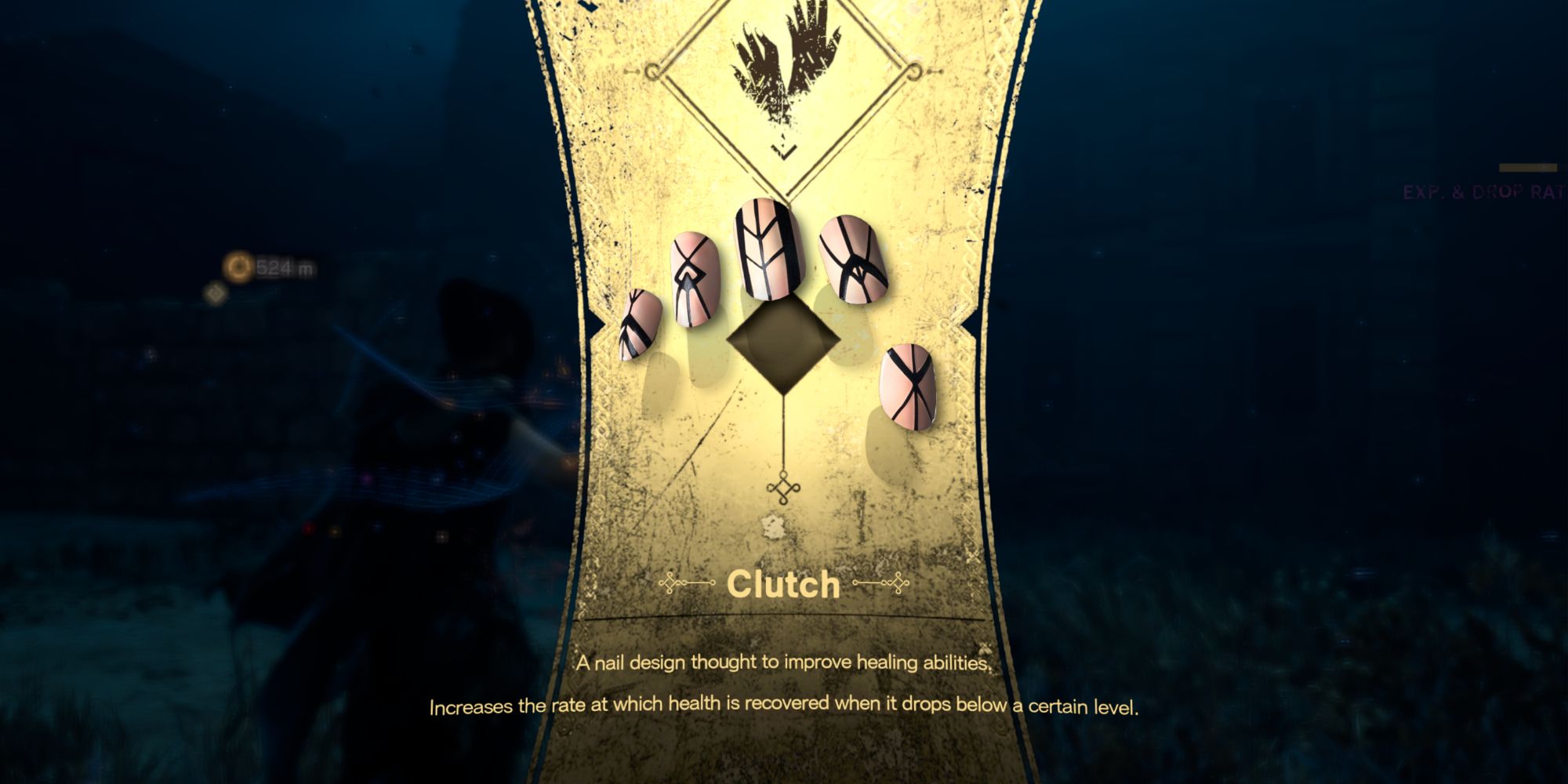 The table below lists all 30 nail designs that you can acquire in the game, along with the locations they can be found. In addition, it lists the Breakstones that you must use to actually use these designs – thankfully, Breakstones are all over the place and after a little exploring it's unlikely that you'll ever be unable to apply a particular coat of nail polish.
Nail Design

Effects

Breakstones

Location

Bounce

Healing Draughts recover more health

---

All damage -5%

Welkin Bloom x1

Avoalet – The Moulderings – Brome Guild

Slay

Support Magic deals more damage when Surge Magic is charged

---

Frey spell damage +5%

Leaden Cluster x2

Cipal – Dead Man's Ledge – Xenos Guild

Lit

Attack Magic deals more damage when Surge Magic is charged

---

All spell damage +2%

Lucid Cluster x1

Visoria – Tanta's Demesne – Zakto

Clutch

Healing Draughts recover more health when your health is low

---

All spell damage +2%

Welkin Cluster x2

Cipal – The Blessed Plains – Reeve

Jet

Support Magic recharge boost

---

Frey spell damage +5%

Lambent Bloom x1

Avoalet – Golden Hills – Ruins of Sommay

Blue Flash

Attack Spells charge quicker

---

All damage -5%

Welkin Cluster x1

Cipal – Dead Man's Ledge – Xenos Guild

Beaucoup

Surge Magic recharge rate boost based on the number of spells you have learned

---

All damage -5%

Lucid Cluster x1

Visoria – Inner Visoria – Ruins of Alda

Savage

General damage boost based on the number of spells you have learned

---

All spell damage +2%

Lucid Bloom x1

Visoria – Visorian Isthmus – Uprii

On Point

Top-Level attacks deal more damage

---

Frey spell damage +5%

Lambent Cluster x2

Cipal – The Sacred Peaks – Abandoned Merchant Convoy

Nightshade

Top-Level attack magic can poison enemies

---

All damage -5%

Leaden Cluster x2

Praenost – Fields of the Fallen – Ruins of Lepsi

Ignite

Top-Level attack magic can set enemies on fire

---

Sila spell damage +5%

Fervid Cluster x2

Praenost – The Path of Glory – Ruins of Zelennia

Ill

Debuffs from Frey's spells last longer

---

Frey spell damage +5%

Welkin Cluster x1

Praenost – Middle Praenost – Kloros Guild

Passion

Damage boost based on the number of Sila's spells you have learned

---

Sila spell damage +5%

Fervid Bloom x1

Praenost – Mount Garrison – Fort Optima

Frostbite

Top-Level attack magic can freeze enemies in place

---

Prav spell damage +5%

Leaden Bloom x1

Visoria – Visorian Plateau – Fort Sestina

Heavy

Debuffs from Prav's spells last longer

---

Prav spell damage +5%

Leaden Bloom x1

Avoalet – Samum Coast – Perle

Honor

Damage boost based on the number of Prav's spells you have learned

---

Prav spell damage +5%

Leaden Bloom x1

Visoria – South Plateau – The Boneyard

Dig Deep

Improved Surge Magic recharge rate

---

All damage -5%

Lucid Cluster x1

Praenost – Guardians' Way – Fort Wielki

Wired

Top-Level attack magic can electrocute enemies

---

Olas spell damage +5%

Welkin Cluster x2

Junoon – The Blossomwoods – Biichu

Wisdom

Damage boost based on the number of Olas spells you have learned

---

Olas spell damage +5%

Lambent Bloom x1

Junoon – Physic Garden – Fort Laayak

Twisted

Debuffs from Sila's spells last longer

---

Sila spell damage +5%

Fervid Cluster x2

Avoalet – The Fountainfields – Ruins of Eskii

Aftershock

Killer Blows generate a damaging shockwave

---

All spell damage +2%

Lambent Cluster x1

Defeat the enemies outside Praenost Castle in Chapter 5

Tease

Debuffs from Olas's spells last longer

---

Olas spell damage +5%

Lambent Bloom x1

Junoon – Nearcoast Terrace – Ruins of Terharnaa

Hope

Damage boosted based on the number of Frey spells you have learned

---

Frey spell damage +5%

Welkin Bloom x1

Junoon – Crosstide Coast – Fort Chahiye

Escalate

Enables Killer Blows to be chained together in a combo

---

All spell damage +2%

Lucid Cluster x1

Junoon – Nowhere – Ruins of Koshish

Amped

General damage boost when there are lots of enemies around

---

Frey spell damage +5%

Fervid Bloom x1

Avoalet – The Untrodden Forest – Ruins of Calme

Flaunt

General damage boost when your health is high

---

All spell damage +2%

Welkin Bloom x1

Visoria – Yonder Cape – Fort Gabb

Fatale

Enemies are knocked to the ground more easily based on the number of spells you have learned

---

All spell damage +2%

Leaden Bloom x1

Praenost – Mount Garrison – Rock beds

Blessed

Improved critical hit rate

---

All spell damage +2%

Fervid Cluster x2

Avoalet – The Water Garden – Chichek

Grit

General damage boost when you are low on health

---

All spell damage +2%

Lambent Cluster x2

Visoria – Shepherd's Meadow – Plateau Hollow

Spectrum

Critical hit rate boost based on the number of spells you have learned

---

All spell damage +2%

Lambent Bloom x1

Avoalet – The Moulderings – The Sunken Lands
Source: Read Full Article