GameStop's stock price is back on the rise. After closing out on Thursday at less than $200, GameStop closed Friday at a solid $325, a 68% gain.
Thursday's sell-off can be largely attributed to online trading platforms restricting the sale of GameStop shares so that users could only sell, not buy. With nowhere to go but down, GameStop's stock price plummeted precipitously.
At the time, Robinhood said that the GameStop stock restriction was due to the volatility of that particular stock and Robinhood's liquidity requirements. The denizens of WallStreetBets, the subreddit largely responsible for GameStop stock's meteoric rise, did not accept that explanation and instead accused the trading platform of market manipulation.
Robinhood removed the total restriction of sales on Friday but kept a buy-limit of one share of GME stock per order. Predictably, this once again angered WallStreetBets and led to calls to abandon Robinhood altogether.
It also led to a massive review bomb going off on the Google Play Store. Robinhood's mobile app went from four stars to just a single star over the span of a few hours after nearly 100,000 all gave the app a negative review on Google.
We have 9to5Google to thank for grabbing a screenshot of the Robinhood app moments after the review bomb went off. However, the publication noted that soon after publishing, Google went in and removed those 100,000 reviews, putting Robinhood back at its four-star rating.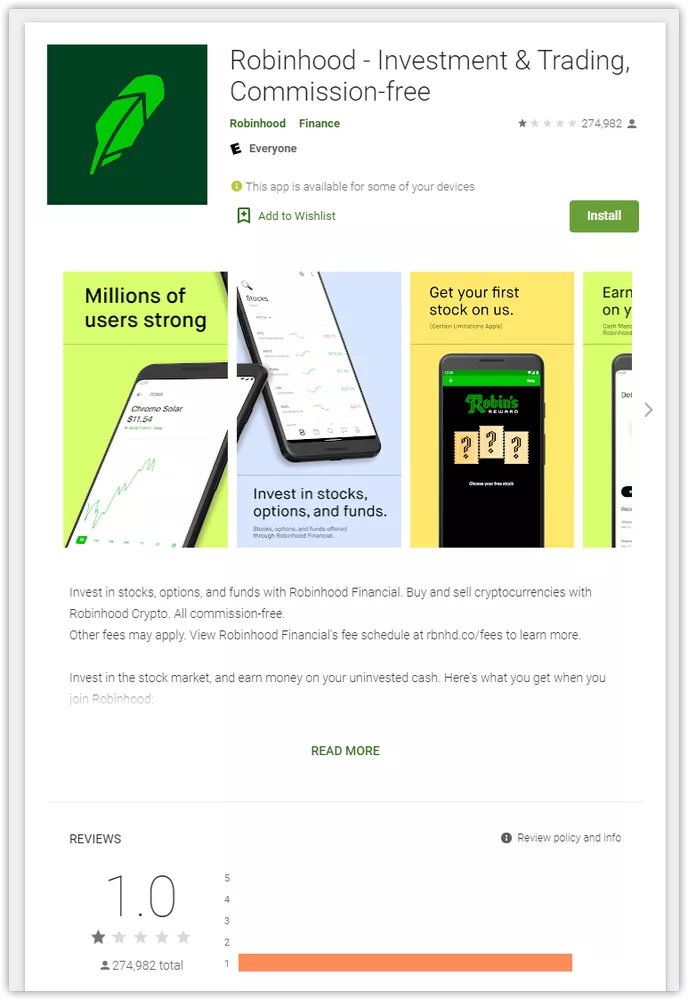 GameStop's stock price has remained mostly flat in after-hours trading as sentiment on the WallStreetBets subreddit continues to encourage users to hold onto their GME stock. The prevailing opinion is that wealthy Wall Street hedge funds still have massive short positions on GME, and maintaining a high price will eventually force those hedge funds to cover their bets, pushing GameStop stock even higher.
As trading is complete for the week, we'll have to see if GameStop stock jumps again on Monday.
Source: Read Full Article