Zhongli, Zhongli, Zhongli, that's really all the Genshin Impact community has been talking about from the moment his banner was announced. You can now pull for the lord of geo and Genshin forums around the world are still abuzz with talk about the character, but unfortunately, it's not for the best reasons.
Zhongli is a bit of a stinker, which has been a let down given the community excitement around Mihoyo's newest five-star. There was tons of speculation prior to his launch, with hopes that his release would make geo as an element a little more useful and have it brought into the endgame. Glimpses of Zhongli in the Chinese beta looked promising, but his public release was quite the departure from early impressions and the community was left frustrated. Mihoyo has even acknowledged the issues, but their response wasn't great.
In a post from u/Callanthe on Reddit, they've rounded up the best Zhongli and Mihoyo roasts from Chinese Genshin Impact forums. They note that not all of them translate well, but regardless, you can kind of get most of them anyway and they're both brutal and brilliant. Example A: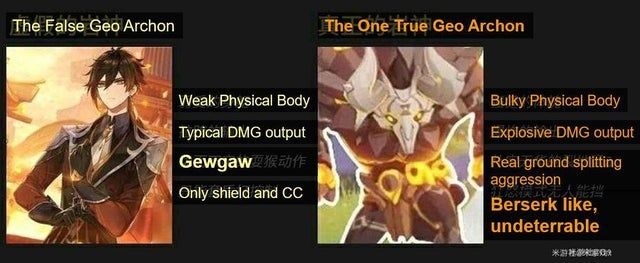 As a Zhongli fan, for no other reason than finding him very cute with an incredible sultry voice, this all checks out. Perhaps the most accurate though is the first example shared on Reddit, "Every character gets a budget of 100 points. Zhongli put 120 points into being handsome, so his gameplay score was made -20 to compensate." Ouch.
The thread is painfully long, with other Redditors adding additional finds or jokes of their own in the comments. There's plenty of gems like, "A boar does more damage when it charges you," and, "The boars can break Zhongli's pillar when they charge. So when are the boars getting their own banner?" Seems fair to say that Genshin Impact's boars are more useful than Zhongli. Plus, they at least give you meat for recipes. It doesn't stop there though.
"Zhongli would have been better off as a character skin. I'd rather pull a character skin, that way I can put it onto other characters. Geo was already orphaned enough, and they're still finding ways to strip it of features." That's as much of a good idea as it is a joke. Then whoever posted this hit really explains why most of us bothered pulling, "Every time I feel Zhongli's numbers are awful, I'll open his PV and watch it again. So handsome!! Ah, the happiness! Mora! EXP books! Skill books! Artifacts! I'll take them all, boss! But now I'm already numb. The light in my eyes has already died." The light in our eyes is dead, too.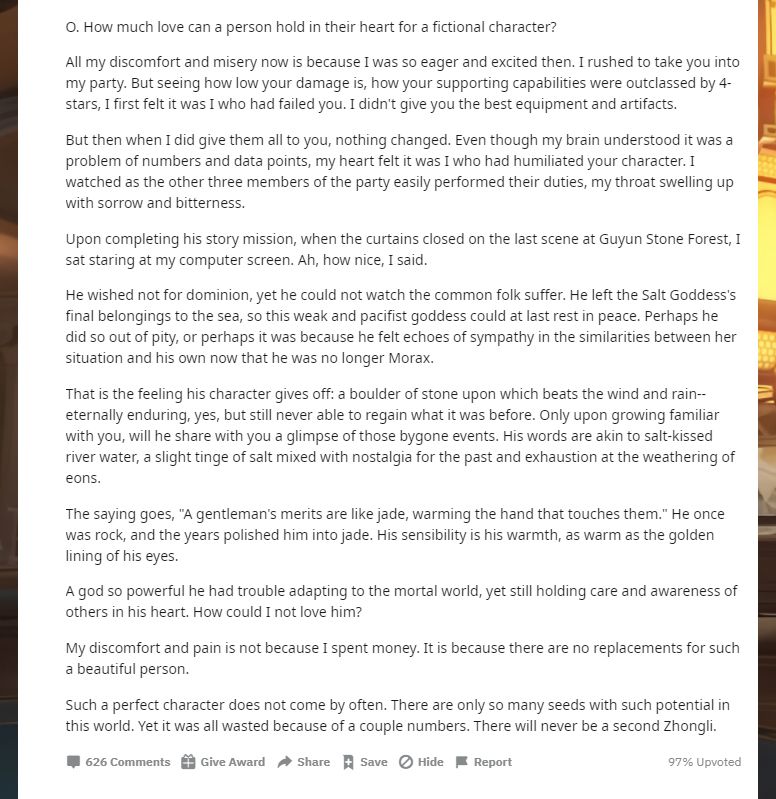 And this novel of a comment is a good note to end on. It's certainly a joke, but plenty of folks felt the sting from it in the comments. Right now, investing in Zhongli feels like a poor decision. The ball is in Mihoyo's court to do something about it, but at least there are the clever jabs at Zhongli to hold you over.
Next: Genshin Impact's Ganyu Tells A Story, Traveler Literally Dies Out Of Boredom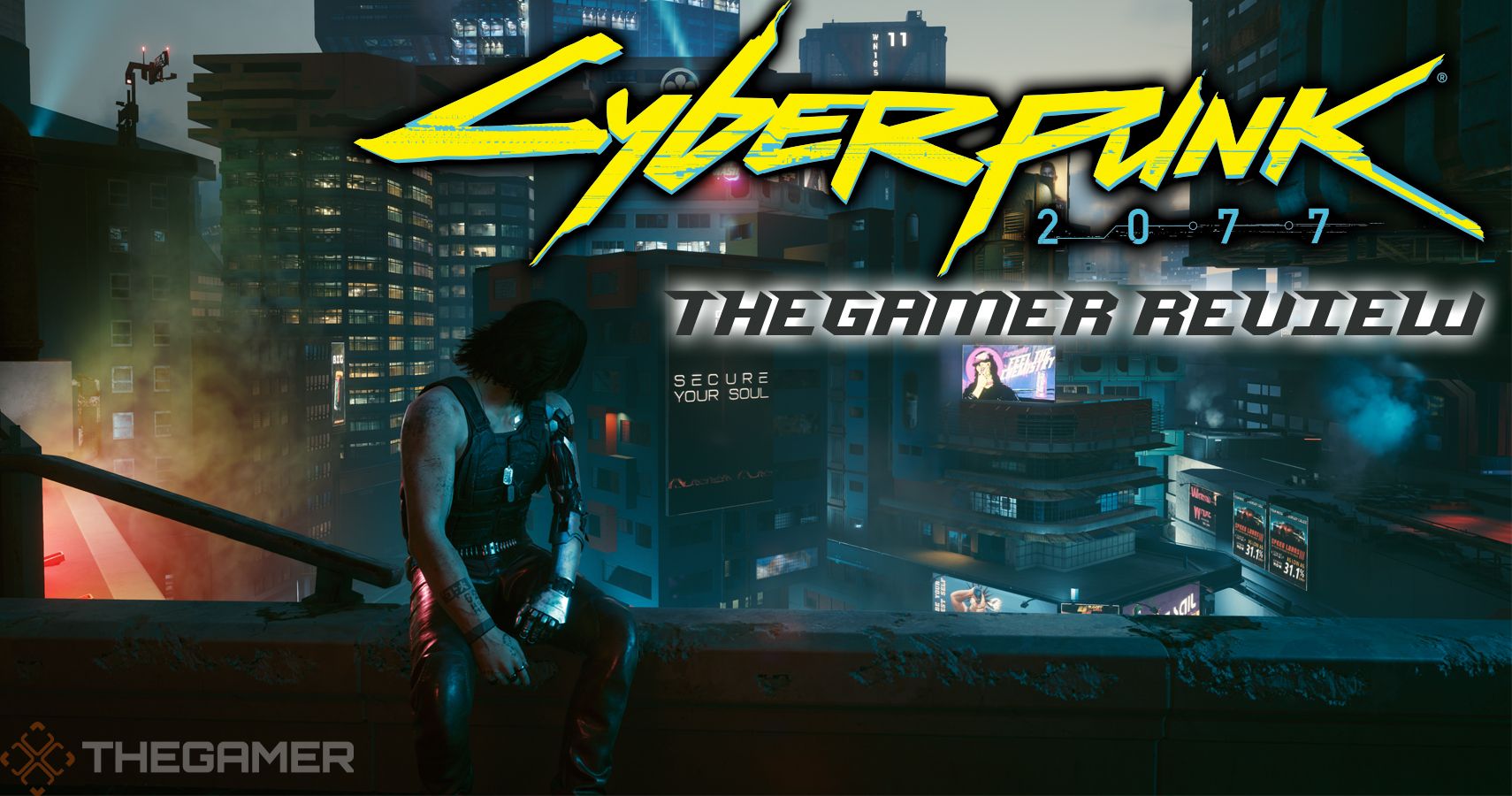 Game News
PC
Mobile
ps4
Genshin Impact
Andrea Shearon is a news editor at TheGamer who loves RPGs and anything horror related. Find her on Twitter via @Maajora.
Source: Read Full Article