The world of Minecraft is a mystery to me. I've always appreciated the creative opportunities its sandbox world allows for, but I've never been able to find my footing in these kinds of create-your-own-fun experiences. I like games that have stories, characters, dialogue, and quests. Call me a boomer, but I can't go on an adventure without a call to action. I've enjoyed watching my nieces and nephews grow up with Minecraft, but the right side of my brain just isn't developed enough to get it.
Last week, I heard the pitch for Camp Enderwood, Minecraft's latest DLC map, and it sounded like the thing that could finally bridge the gap for me. Camp Enderwood is a spooky summer camp where you and your friends can meet other campers, enjoy classic camp activities like fishing, hiking, and marshmallow roasting, and uncover the secrets of mysterious cryptids that lurk around the outskirts of the campground. It's got exploration, intrigue, and danger – all the ingredients of a good time. When I signed up to preview the game, I didn't know what the Minecraft Creator Series was, and I wasn't sure why it was taking place at Mattel's design center either.
Walking into Mattel felt like stepping into a real life Camp Enderwood. For this event they had transformed one of their meeting rooms into a Minecraft summer camp, complete with smores, archery, and even a subtle outdoor fragrance emitting from the blocky pine trees. For the presentation, we sat in camping chairs around a pixel fire pit to listen to Mattel's global marketing manager for Minecraft Caroline Lefwander, Minecraft's director of business development Federico San Martin, and Mattel lead designer Brad Harris tell us a little about the game, and a lot about their Camp Enderwood action figures.
The Creator Series, as I eventually put together, is Mattel's Minecraft toyline. Each action figure comes with accessories, like bags, hats, and jackets, that Minecraft players can import into the game and customize their own character with. All of the different accessories can also be mixed and matched together between different action figures, so you can customize your real-life Minecraft toy just as you would your in-game character.
Camp Enderwood is an evolution of that concept. Harris and his team at Mattel developed the Camp Enderwood story and designed all of the characters, then brought the concept to Minecraft partner studio Cyclone to develop the DLC. The game is based on the toys, not the other way around.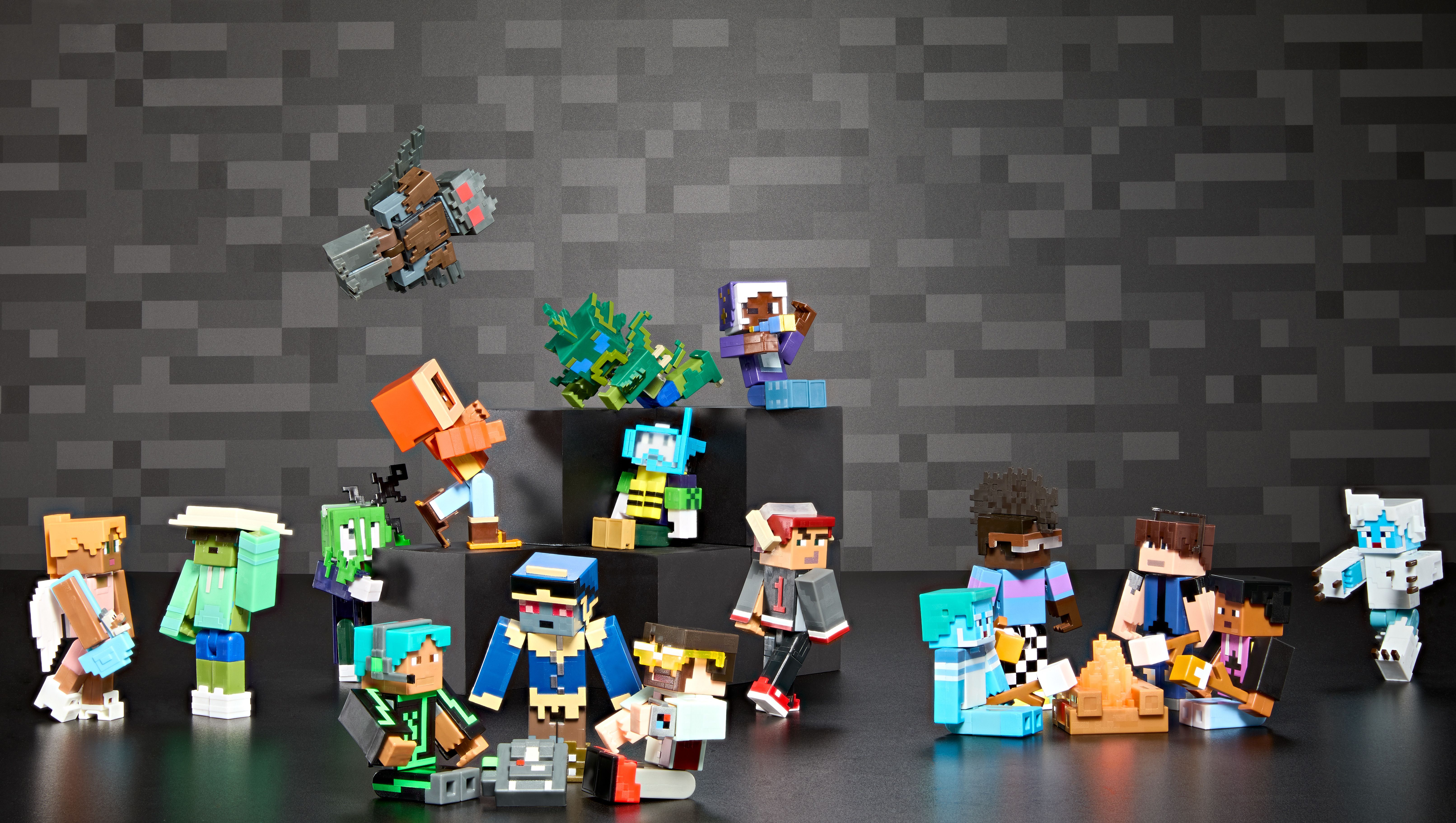 This isn't anything new for toy companies. In the '80s and '90s, Mattel and Hasbro built their fortunes by creating action figures then developing TV shows to advertise them. You may have thought the shows came first and the toys later, but He-Man, Thundercats, G.I. Joe, Transformers, and My Little Pony all started out as toys first. The TV shows we grew up with were essentially glorified commercials for action figures. Saturday morning cartoons did not survive the decline of cable, so games based on toys eventually took over. And while most toy-based games aren't designed to advertise a specific product line, Camp Enderwood seems to be a modern return to Matttel's classic formula.
You may see something cynical about it, but I don't think that's necessarily the case. Transformers and G.I. Joe have managed to endure through all these decades because those shows were able to give identity and stories to those action figures. Those fond memories we have of smashing our Optimus Primal figures into our Megatron dinosaurs wouldn't be nearly as powerful if the Beast Wars cartoon hadn't given voices and personalities to those characters. If they had only ever been inanimate objects, we wouldn't have loved them so much, and we certainly wouldn't be getting a big budget Beast Wars movie in 2023.
Unfortunately, I'm not convinced that Camp Enderwood is bringing characters and stories to life in the same way. Sitting in Mattel's design center, Harris told us about the cast of characters and cryptids that inhabited the camp and described the history of the campgrounds. He enthusiastically explained details like the "quick to complain" Glamper that carries a puppy around in her purse, the fact that the first iteration of the camp was built on top of a moth creature's nest, and the unfortunate camper who transformed into the ghostly Sunken Spirit when a ship's anchor landed on her head. The presentation led me to believe that Camp Enderwood was full of interesting characters and a compelling story, but when I actually got my hands on the game, that didn't seem to be the case.
I only played about 20 minutes of Camp Enderwood, but it struck me as a pretty barebones Minecraft Map. It's large with plenty of places to explore, and there are lots of new camp-themed items to craft, but ultimately this is just a different colored sandbox. The 'characters' are just stationary NPCs who are just there to introduce mini-games. They don't have unique dialogue or personalities, and they don't seem to be part of a story. There could be more to it than what I was shown, but all I saw was a camp-themed map and six or seven of the worst mini-games ever created. These include jumping on a trampoline to ring a bell and kicking a soccer ball by clicking an arrow when the goalie moves out of the way. Seven year old gamers are a lot more equipped than these mini-games give them credit for – especially the ones who spend their free time building entire cities in Minecraft.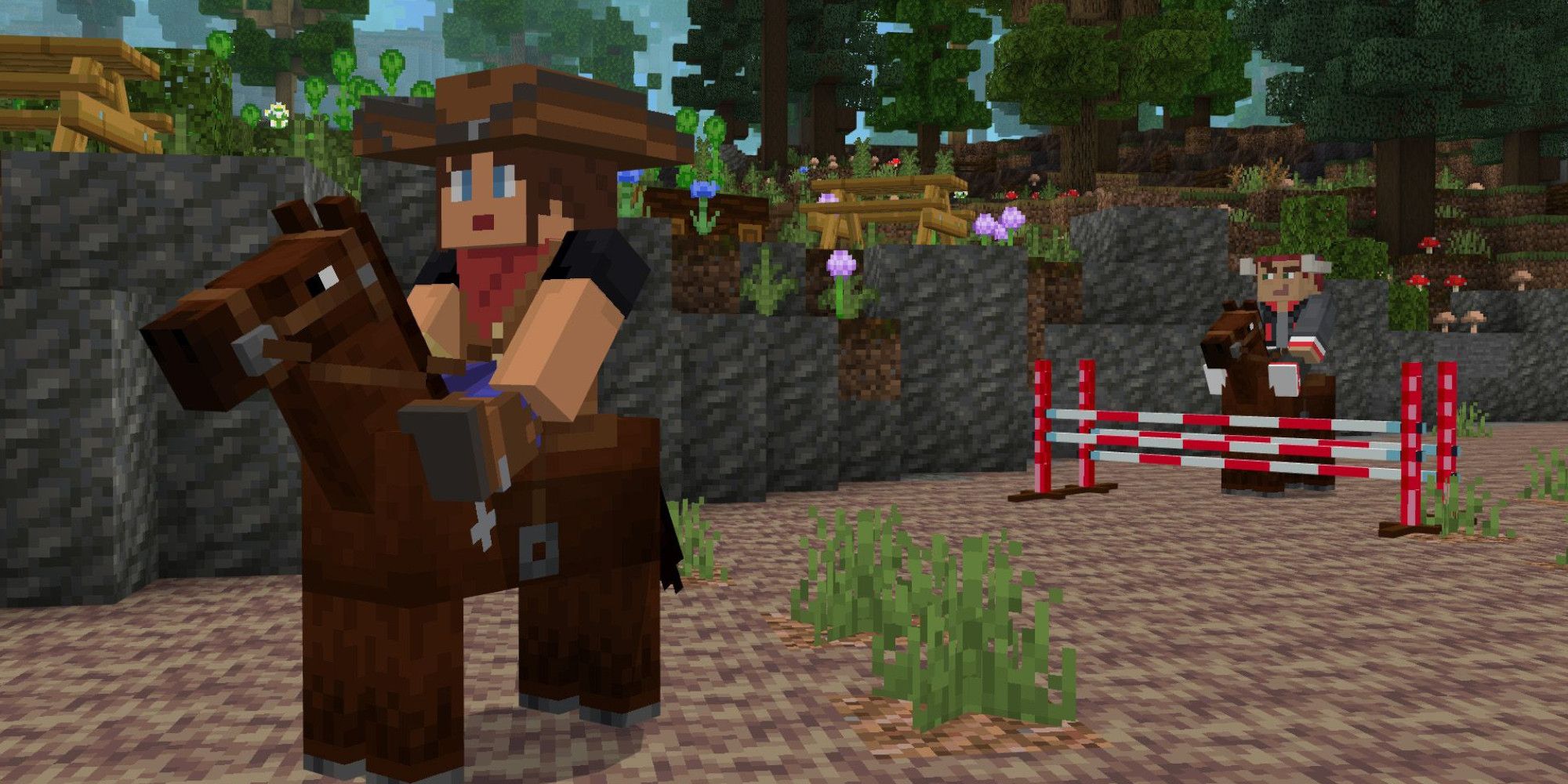 The toys themselves support my theory that there aren't actually any characters here. Though I was told they all have names – or rather, archetypes – like Glamper, Top Athlete, Camp Rockstar, and Ska Kid, the boxes the action figures come in don't even have their names on them. Instead, they're all represented by the accessory they come with. Top Athlete is Letterman Jacket, Glamper is Puppy Purse, and Camp Rockstar is Ripped Jeans. I don't know why anyone would care about these characters when the packaging is more concerned with the clothes they're wearing than who they are.
Maybe Minecraft just isn't a great fit for the kind of character and story-focused toyline Mattel is known for. Harris told me that he had wanted to do a line for Telltale's Minecraft: Story Mode, but that the dual-licensing it would have required from Telltale and Microsoft made it unfeasible. The idea percolated in his mind for years and eventually Camp Enderwood was born, but it feels like some essential elements got lost in translation.
I like the Camp Enderwood Toyline a lot. The figures have great articulation, and it's a lot of fun to mix-and-match their different accessories. I'm particularly fond of the cryptids – the Yeti, Swamp Monster, and Moth Creature – because you can remove all their monster parts and dress them in 'incognito mode', and put the monster parts on other characters. On the in-game side, the character customization of the Creator Series is a fantastic idea, and I love being able to try out different cosmetic pieces on a real-life version of my character and then putting those same items on my in-game character. There are some solid ideas here and Mattel makes great action figures, but the totality of the Camp Enderwood project doesn't quite come together in the end.
Source: Read Full Article