Late last year, Bungie brought back the Gjallarhorn Rocket Launcher, a fan-favorite Exotic weapon from Destiny 1. The Gjallarhorn was renowned for its ludicrous capacity for both single target damage and clearing a room of enemies with a single rocket that broke into multiple smaller explosives. It was, quite simply, the perfect weapon.
And with the 30th Anniversary content drop, the Gjallarhorn became available in Destiny 2 for the first time. Although not quite as oppressively powerful as the original, Destiny 2's Gjallarhorn is still one of the most potent weapons in the game and has quickly become a favorite of Guardians everywhere.
However, Bungie didn't just bring back the Gjallarhorn for Destiny 2. At the same time, Bungie announced a partnership with Nerf to make a real-life Gjallarhorn that fires actual giant Nerf darts. It would reload just like the in-game animation, and it would be just as massive as the Destiny 2 Gjallarhorn. There was of course just one catch: you had to earn the Gjallarhorn in-game before you could pre-order it in real life.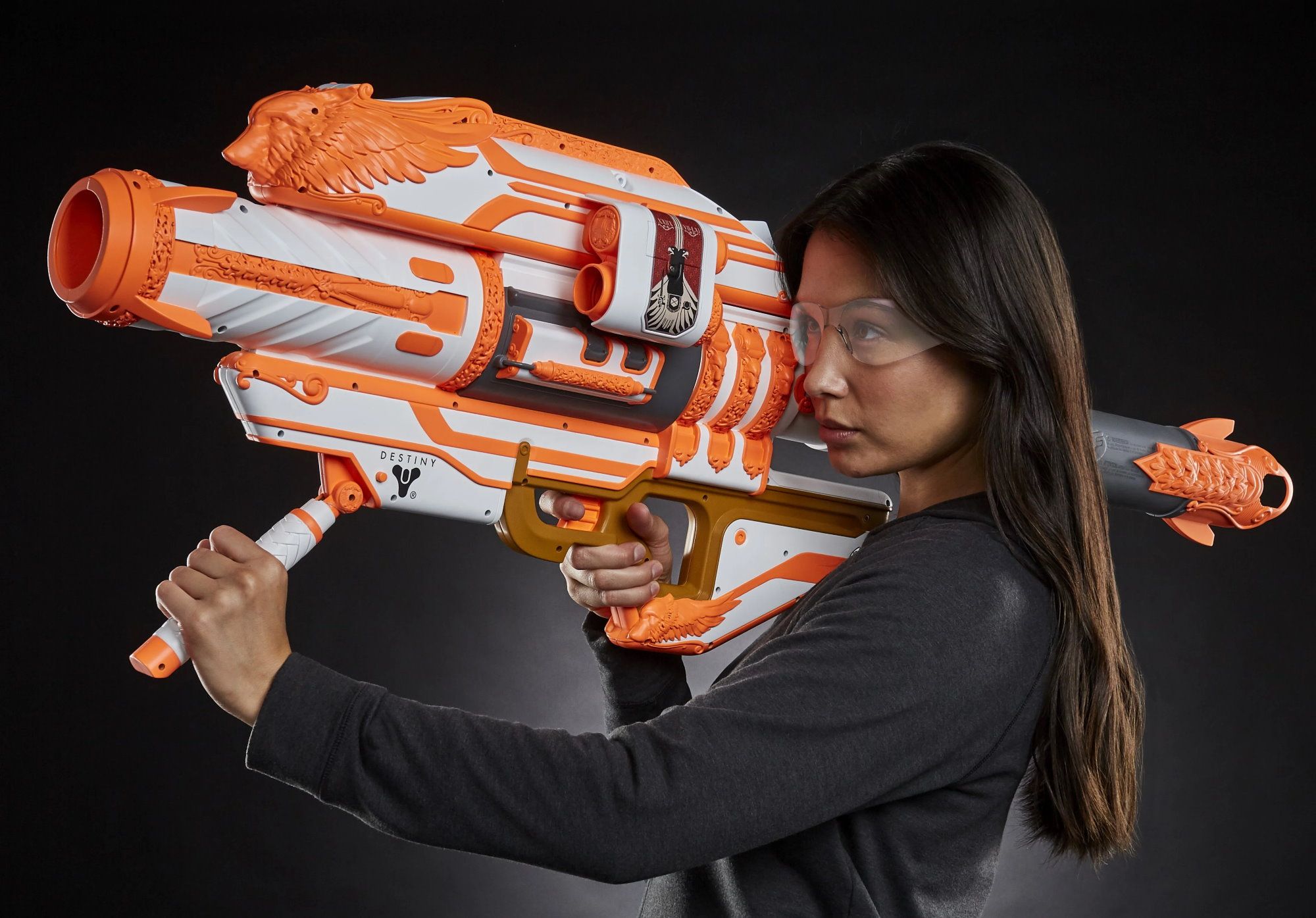 In a new post on Bungie's blog, the development team details how the Gjallarhorn Nerf blaster came to be, showcasing the surprising collaboration between a toy manufacturer and the developers of an online shooter.
"We are all super passionate about the Destiny universe and we've all played the game. Because of that, the idea of bringing something like the Gjallarhorn to life was just too exciting to pass up," recounted Justin Saccone, senior project engineer. "As soon as these talks began and we really started to dial in on the Gjallarhorn, we went back and looked at in-game footage— animations, size and scale, reference from the game itself and extrapolated that into what we knew and how we would bring that product to life."
Saccone explained that creating the Nerf version of the Gjallarhorn meant finding the right balance between authenticity and functionality. The in-game Gjallarhorn does have a slightly more intricate design, but the wolf's head ornament and overall shape is retained. And, somehow, Bungie figured out a way of making the Gjallarhorn fire not just one, but three Nerf Mega darts at the same time.
Bungie didn't show exactly how the Nerf Gjallarhorn fires three darts at once, so the only way to find out is to get the Gjallarhorn in Destiny 2 and pre-order one before July 7. Bungie said that any remaining stock will go up for public sale after that, but there's no guarantee they won't all be gone before then.
Source: Read Full Article