Nintendo has dropped a trailer for Game Builder Garage, and game that gives you all the tools needed to create your very own games on the Nintendo Switch, and it is launching on June 11 for the low price of $29.99. Take a look at the reveal trailer below to get a first look at some of the tools available, as well as the types of games you can create.
At first glance, Game Builder Garage looks like an intuitive and straightforward set of tools to build your games. There are dozens of cartoonish icons that are easy to differentiate, and a layout that looks like a simplified Microsoft Access database to structure the core elements of your game. Best of all, Game Builder Garage features several tutorials to help you get started, so regardless of your age or programming knowledge, anyone should be able to pick up on the core skills needed to create the games they envision.
According to a press release from Nintendo, the colorful creatures that form the building blocks of a game are called Nodon, "each with a unique function, and you can learn how to build games just by connecting them in various ways." For example, connecting a Stick Nodon with a Person Nodon will allow you to create and move a humanoid type creature, whereas other combinations can guide your game towards genres like puzzle games, side-scrolling shooters, and much more.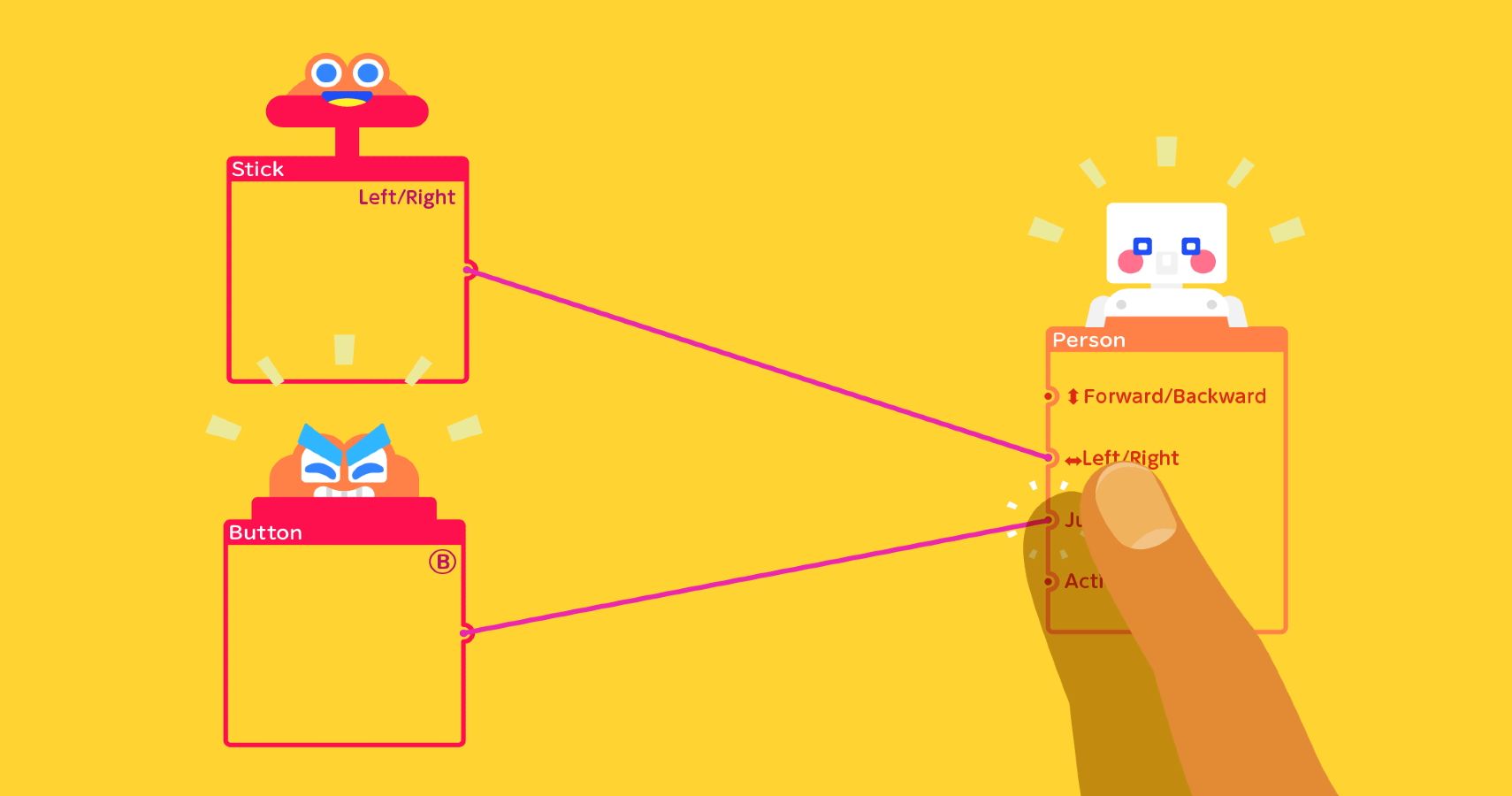 Related: If You Want Your Game On A Nintendo Console, You Can't Have Ties To The Yakuza
This is certainly an exciting announcement by Nintendo because history has shown that there is a passionate, vibrant community of people who are ready to create truly fascinating projects to be enjoyed by all. The Elder Scrolls series, including Morrowind, Oblivion, and Skyrim, is probably the most prolific example with thousands of incredible mods available for download, and detailed guides written to educate anyone who might want to dabble in the creative process themselves.
The same can also be said of the creative levels made in both Super Mario Marker and its sequel, Super Mario Maker 2. Beyond the 100 levels in Story mode, there are literally millions of courses made by players, and many of them are truly fantastic. We should also mention WariorWare: DIY from 2010 and the Nintendo Labo for fostering a similar environment of creativity, but on a much smaller scale.
As you might expect, games can be uploaded and shared online, so it will be only a matter of time before we start seeing people flex their creative skills. Even better, this can also provide you with a solid look at how some people create the best games that are shared online, as "You can even go into Free Programming mode to pull the curtain back on the programming of games uploaded by other players to study them and learn some tricks of your own!"
Game Builder Garage launches on June 11 for $29.99.
Source: Read Full Article