NZXT is a favorite brand for many PC enthusiasts. A huge part of that is the company's gorgeous products that transform your computer into the centerpiece of your desk. It puts out limited edition cases based on iconic brands like Fallout and World of Warcraft. It also teams up with streamers to offer multicolor rigs that run the latest games at top performance and look pretty in the facecam. For those of us without large amounts of money and clout, there's the H510 series.
The H510 cases are a range of medium-sized towers that come in matte white and matte black. The emphasis with all three models is on style, and it shows. The bottom is a clean black or white rectangular stand that brings to mind the base of a statue. Sitting on top of that are two windows of smoky, tempered glass housed in a metal frame. The package as a whole is simply elegant, like something you'd see in a modern museum. All of the H510 models have this design. The Elite differentiates itself by offering NZXT's latest RGB lighting technology.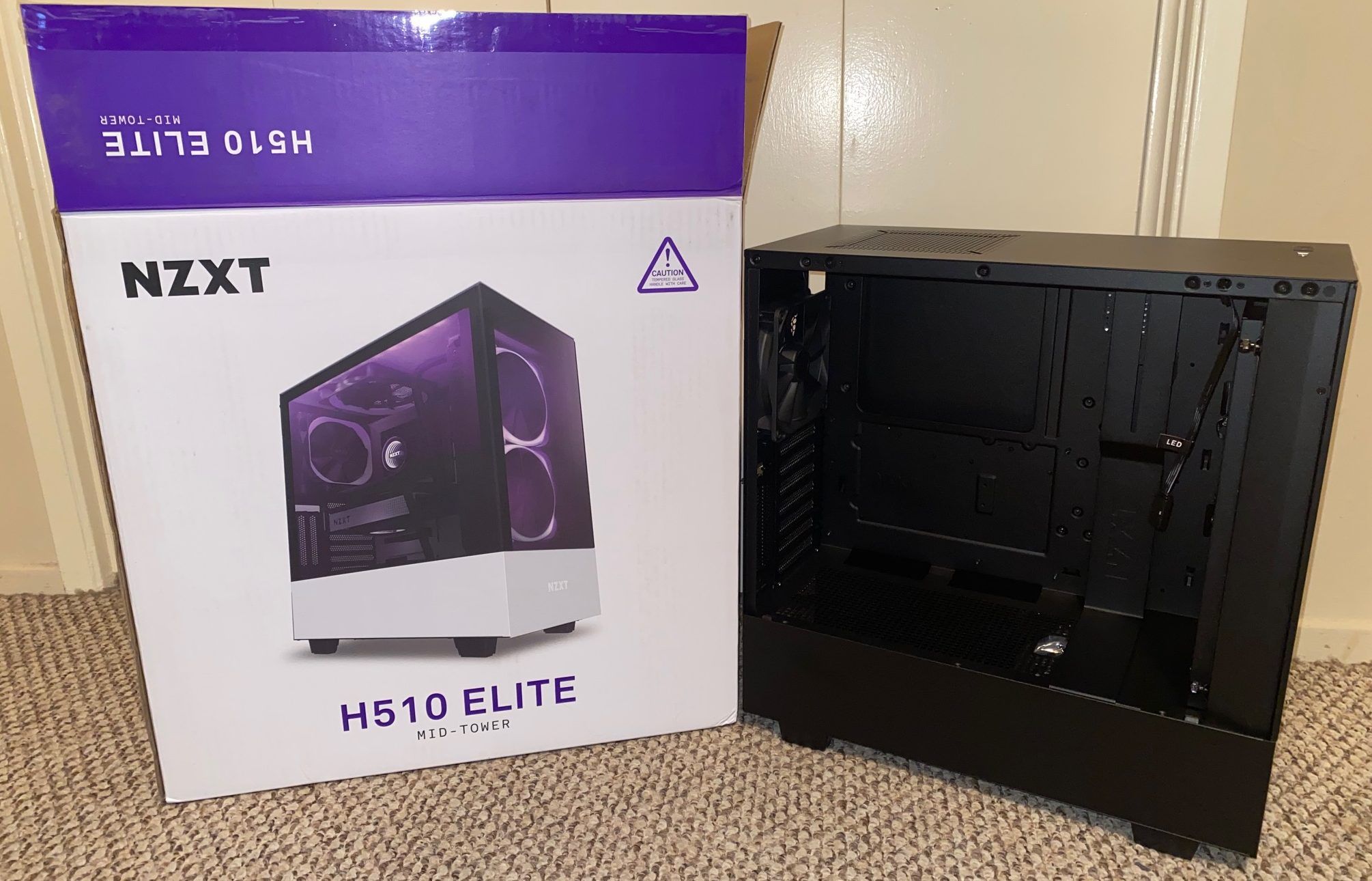 RGB is the reason why this case is the Elite version, with all the extra dollars that entails. The basic H510 is $69.99, the H510i is $99.99, and the H510 Elite is $149.99. The Elite comes with two front-mounted RGB fans and a built-in LED strip from the start. It also comes with NZXT's Smart Device 2, which supports two RGB channels and three fan channels. If you don't get it by now, a pretty RGB setup is clearly the focus of this design.
And honestly, once it's set up, it does wash away most concerns about the expense. I grew up with a basic Dell tower, gamed mostly on consoles, and now work from a Macbook. Needless to say, my PC experience is defined by basic black and gray blocks. So seeing a fully lit-up H510 Elite was like seeing the light. Well, it literally was seeing the light. Take a look at this finished build from Zenchills Hardware Reviews, who had the opportunity to stuff the H510 Elite with a 1500 Euro setup.
NZXT also thought of some small touches in its design to let the user achieve this beautiful build without needing to be a PC pro. Strategically-positioned brackets and bars make cable management a breeze, hiding it all on the edges and walls of the interior. Both pieces of tempered glass can be removed so that you can keep the museum look or give your PC some air. This is especially handy with the front piece. Removing the front panel lets those RGB fans really do their job and lowers temperature.
There is one big concern with the H510 Elite, however, and it's that most of the "elite" upgrades are related to RGB/display. Some additional ports would have been nice. The Elite comes with one USB, one USB-C, and one audio jack (with included headphone splitter!) on top. That's exactly the same configuration as the standard H510. It just feels like the Elite maybe could've added at least one or two more USB ports. When it comes to things like part placement and cooling, the Elite seems just as good as many other cases on the market. Which may be a selling point or a reason to look for a cheaper case.
When it comes to the NZXT H510 Elite, the ultimate question is how much you want to flex with your PC. The case facilitates an RGB build that wows with little-to-no effort thanks to NZXT's CAM software. Even when it's not lit up, the H510 Elite is still an achievement in minimalistic design. If you want your battlestation to look like a famous streamer's, then go ahead and splurge on this beauty. If performance or price are your concern, then consider picking up the base H510.
An H510 Elite case was provided to TheGamer for this review. It, and the rest of the H510 series, are available now on NZXT's website.
Source: Read Full Article