Do you love to play Twilight Imperium? Enjoy spending hours marveling over the look and design of all those lovely map tiles? Then here's a thing you may be interested in. Fantasy Flight Games recently announced the Twilight Imperium Map Design Contest, giving you a chance to design an official game map that will be included in Volume 2 of the Imperial Codex.
If this sounds like a galactic challenge you would like to participate in, you can read the basic details in the Chart the Galaxy news post on the FFG website, and you can find the official contest rules and legalese here. Basically, FFG is looking for a Twilight Imperium player who can design a map that's "more inventive, more unusual, and most importantly, more fun to play than any other map". If your map is chosen as a winner, you'll get to work with Twilight Imperium designer Dane Beltrami to create its official game version.
Six people will have the chance to have their maps become official, as one winner will be selected from the six contest categories, which are divided by Twilight Imperium player counts – 3 Players, 4 Players, 5 Players, 6 Players, 7 Players, or 8 Players. Choose player count you want to design a map for, and note that you can only submit one entry. FFG states it will only consider your first map entry, so make it count.
Briefly, some of the contest specifications state you may design your map using "any red- or blue-backed system tiles from Twilight Imperium Fourth Edition or the Prophecy of Kings expansion." Maps must be playable by any faction (meaning no home systems), single system tiles cannot be used twice, including hyperlanes, but all nine hyperlane tiles may be used.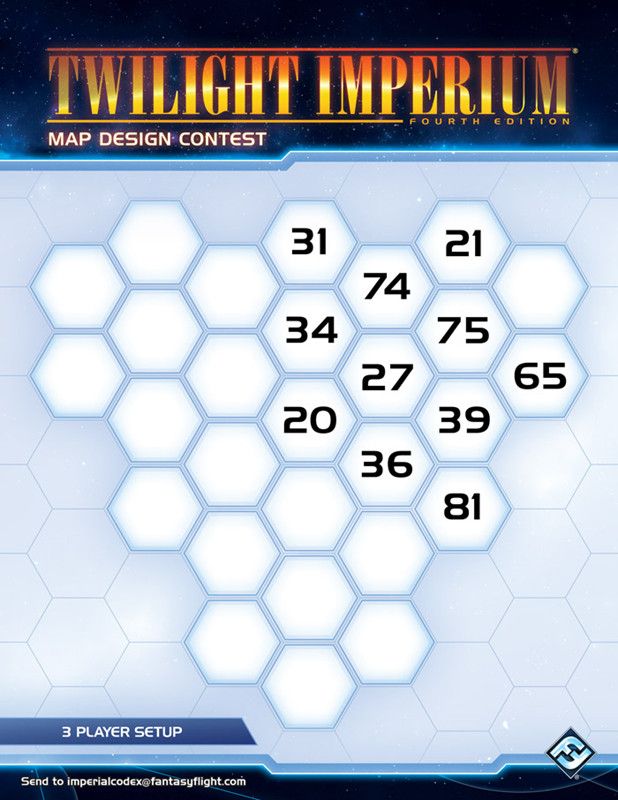 The official announcement has a handy map design diagram for you to follow, and shows the overall map design shape to build to. The notes link to downloadable templates to work with, one template each for three, four to six, and seven to eight player counts.
Once you're satisfied with your original map design, submit your template and a pic of your map to the email in the announcement with the added instructions. And hurry, because all submissions must be sent in by January 31, 2021!
Source: Read Full Article