As a Career Mode player, FIFA has long left me behind. The mode still exists, and even gets yearly aesthetic updates to the transfer system, but it's clear FUT is the horse EA wants to bet on. FIFA Ultimate Team is, at least to those men in suits who see video games exclusively as a money-making scheme, absolutely perfect in its execution. Even though all of the pros are already in the game for free, players pay thousands of dollars (tens of billions, collectively) each year to unlock them through random chance. There are real football matches every week, constantly providing variety for you, and at the end of each season, players willingly throw away every single item they've bought and salivate over the chance of starting from scratch all over again. But winning a cup in Career Mode reminds you how soulless it all is.
FIFA Ultimate Team is never ending. You might compete against friends and win some bragging rights, but the only prize in Ultimate Team is more games. Play to unlock packs to get better players to play to unlock better packs and so on forever. There's no real victory. There are online league systems, just as there are in the regular Online Mode, where you can be promoted and relegated, but most players avoid this in favour of FUT Champs, or Weekend League – another endless and disposable competition where the only prize is a better team for next time you play, meaning an even better team for the next time you play, and so on.
In Career Mode, there are clear goals. I've just beaten Man City as Newcastle to win the Carabao Cup. Winning the League Cup, of all things, in a single-player mode on the not-particularly-impressive Professional difficulty does not sound like a major achievement, but then I'm not suggesting it be placed on my headstone. All I'm saying is I enjoyed it. It felt like I had not only achieved something, but reached the end of a journey.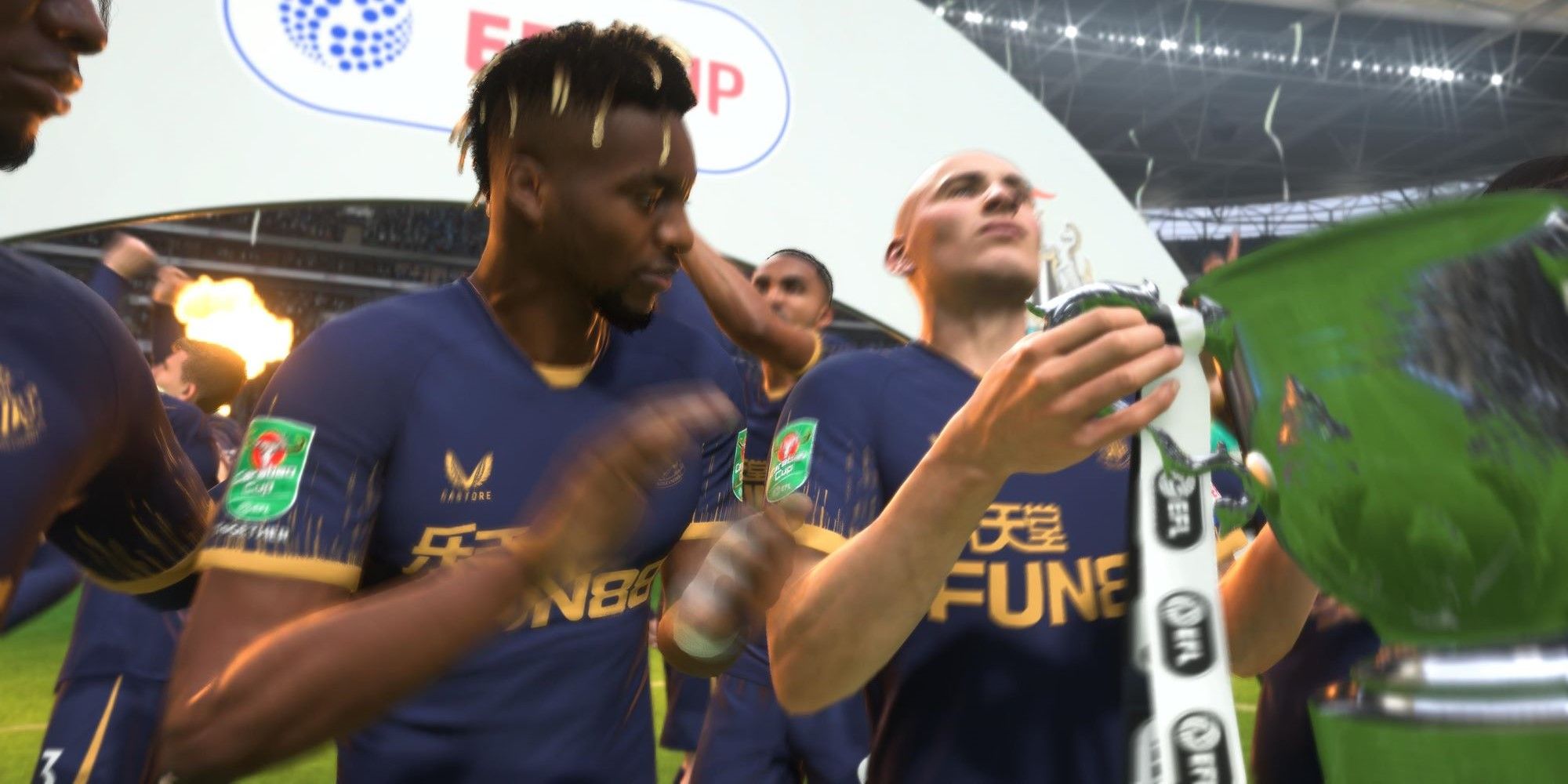 I try to be fairly realistic on FIFA. I have made reasonable signings (real-life Toon transfer targets James Maddison and Joao Pedro, plus Liverpool's second choice left-back Kostas Tsimikas, and a few youngsters), and play on a difficulty that means I have to work to win. I'm sitting fourth in the league right now (the real Newcastle are sixth at the time of writing), and I have been knocked out of the FA Cup already. I also play my second string team in the cup games, meaning Karl Darlow in goal, Dan Burn at centre back, a young 72 rated right back instead of Trippier, and a midfield trio of Shelvey-Willock-Anderson, while Wilson, Bruno, Botman, and ASM sit on the bench. City played Haaland, KdB, Foden, Cancelo, Ederson, and new signings Milinkovic-Savic and Milito (who cost over £160m between them).
That meant I could construct a story in my head, of the pundits doubting if I should be loyal to Darlow when he was at fault for two of the goals in the semi against Forest, whether in the in-form ASM should have gotten the nod even if Pedro had gotten us this far, and of course, what Jack Grealish would think of lining up against Almiron. We won in extra time, Wilson off the bench to equalise in the 82nd minute and ASM to win it, Almiron getting both assists. FUT Champs is harder, but it means less, and you never get to stop.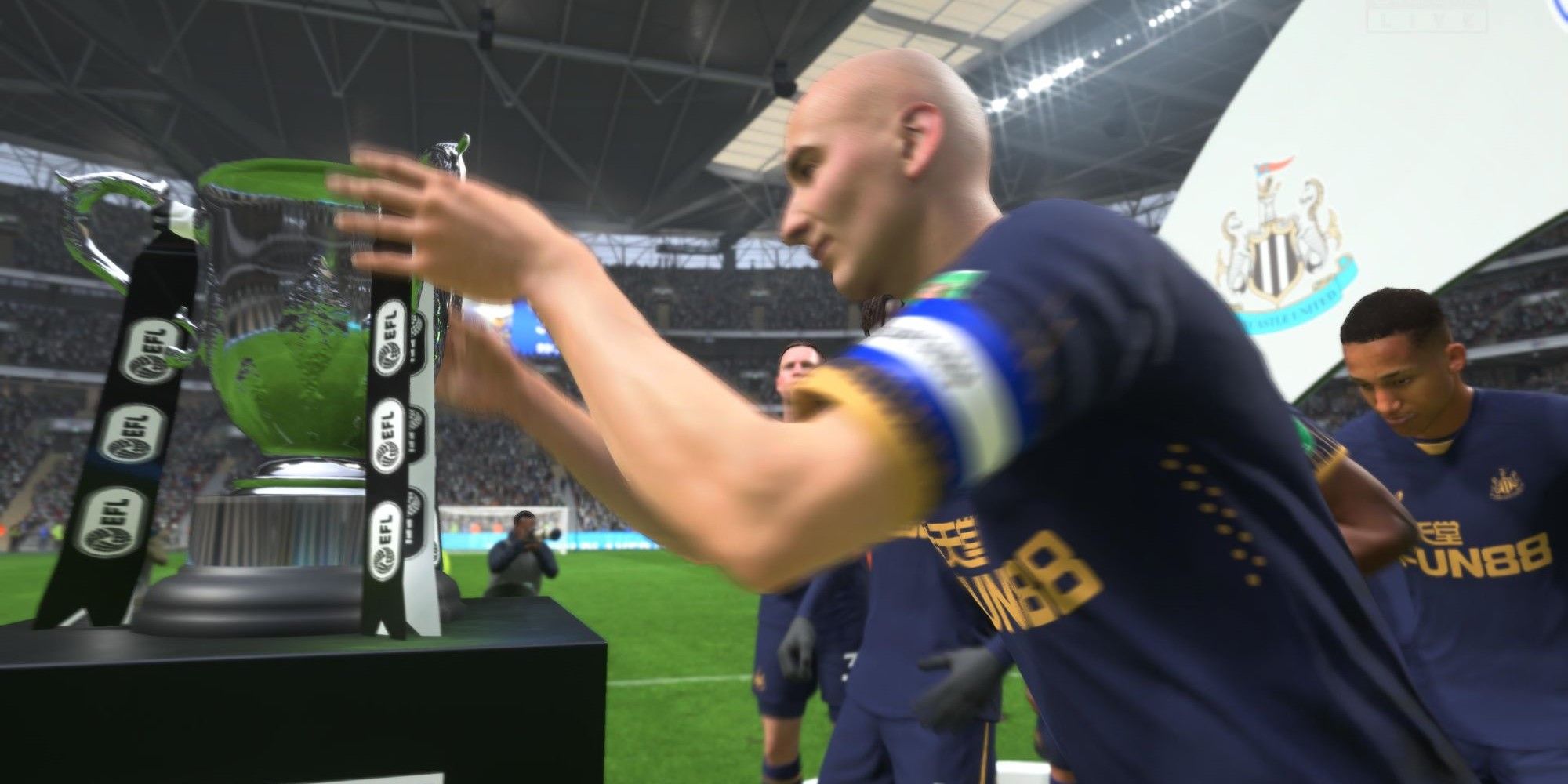 I think it's symptomatic of the modern football fan, who would prefer to argue niche points with strangers online than to watch the games. Newcastle have had a shot in the arm recently, and the fanbase has had discussions over whether they would prefer to see us win the Carabao (in real life, not just in my FIFA save) or qualify for the Europa League. Qualifying for a European competition seems to take precedence for some fans, and I cannot understand it. Newcastle have not won a trophy in my lifetime. The last trophy we won of any note was the Fairs Cup in 1969, but some would say the drought goes back further, to the FA Cup of 1955. Conversely, we have played several European games in both the Champions League and the UEFA Cup (as the Europa was then called) this century. The first game I ever went to was a European game, against Olympiakos. We won 4-0 and went on to the quarter finals. We did not win the cup.
Fans who want us to qualify for Europe instead talk about increasing club revenue, about attracting more players, about growing the project. But for what? To increase revenue further, to attract even more players, to grow the project even larger? The biggest prize in football is not a pack of cards, it's a shiny metal cup. FIFA has turned soulless, and worse, so have football fans.
Source: Read Full Article