Earlier this month, Oculus announced a plethora of new features coming soon to the Quest 2, including 120 Hz support and updates to Infinite Office. But the thing that really caught my eye was Air Link, and native feature for streaming PCVR games to the quest wirelessly. This is something you've been able to do for some time through a somewhat complicated process of sideloading a remote desktop app, but now, Quest 2 owners can access PCVR with just the flick of a switch. While it technically doesn't offer anything that the headset couldn't do before, I still think this is the moment that the Quest 2 truly becomes an all-in-one VR solution. Air Link launched Friday and I had a great experience using it over the weekend. Tethered still has some advantages, but the convenience and simplicity of Air Link make it one of the coolest features on the Quest 2.
For those that don't know, the Quest 2 can only play games that are purchased and downloaded from the onboard store. The Quest 2 library is extensive, but it has quite a few notable exceptions. If you want to play PCVR games like Half-Life: Alyx, Star Wars: Squadrons, Stormland, or Asgard's Wrath, you need to connect the Quest 2 to the PC either wirelessly or with a USB-C cable.
The USB-C connection offers the best performance, but at the cost of being tethered to your computer by a cable. You need an exceptionally long cable for this option to even be feasible, which are less common than you think. The official Oculus Link cable is 16 feet long and will set you back $80. There are other, more inexpensive options on Amazon, but you still have to contend with a cable you're liable to get tangled up in. The untethered Quest 2 offers so much freedom, so it feels a bit counterintuitive to have to plug it in to use it.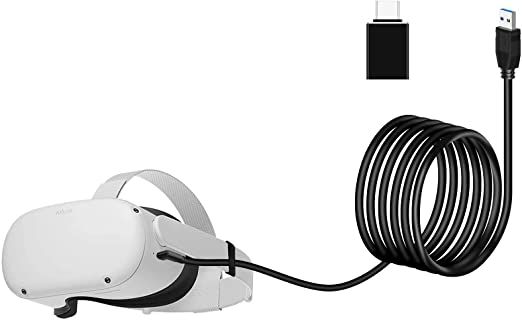 The other option is wireless, which, until Air Link, has been easier said than done. In order to set up remote desktop on the Quest 2, you'd need to follow a complex series of steps that includes creating a developer account on the Oculus website, sideloading an app called Sidequest onto your headset, and tinkering with a bunch of network features that most people won't understand. If you follow a guide, it's doable even if you're not a "computer person," but it's also easy to mess up and overall just a lousy user experience. It worked for me and I've recommended it to others, but I never expected anyone else to go through the hassle.
Air Link, by great contrast, is no hassle at all. Here's a complete step-by-step guide to setting up Air Link on your Quest and PC.
In the Oculus PC App, go to Beta Settings and turn on Air Link

On the Quest 2, go to Experimental Features and turn on Air Link

From the Quick Access menu on the Quest 2, launch Air Link
That's absolutely everything. After 24 hours, the Air Link setting on the PC app turns off, so you'll need to turn it back on every time you use it, but that's really the only hinky thing in the entire process. Once you're in, you can have the entire PCVR experience on the Quest 2, including customizing your room, using remote desktop, and of course, playing PCVR games.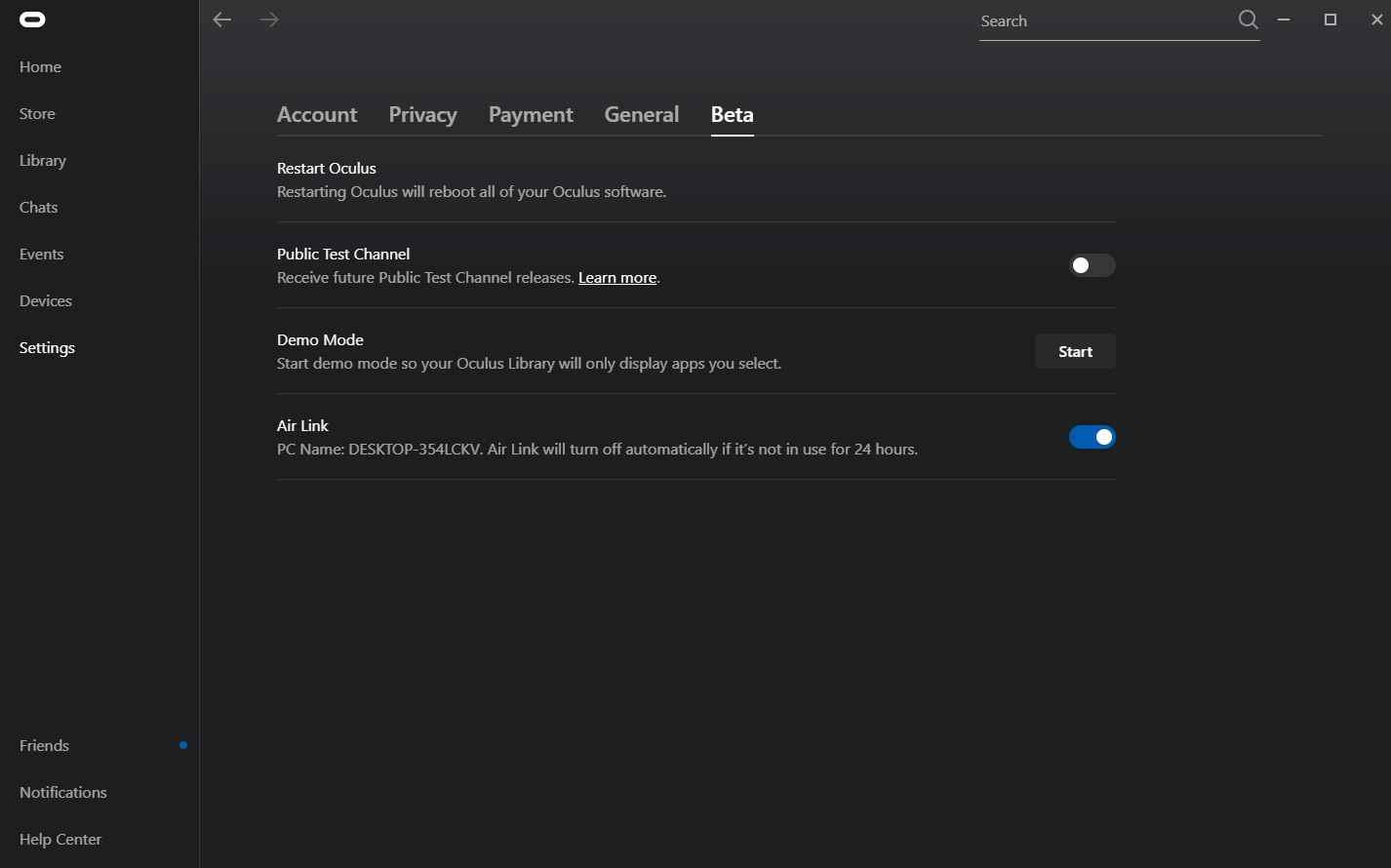 While the tethered experience is certainly more stable and has the benefit of charging your Quest 2 while you play, the Air Link experience is almost as good. I played a couple of hours of Stormland, Half-Life: Alyx, and Star Wars: Squadrons over the weekend and I couldn't believe how consistent the experience was. With remote desktop, I always needed to maintain a line of sight with my router to keep a good connection, but Air Link seems to be a lot more reliable. I noticed a few dips in image quality on occasion, but the frame rate almost never faltered. This is a perfectly acceptable way to play a game like Half-Life: Alyx with minimal compromise, and I expect that Air Link will convince even more VR players to upgrade from the Rift S to the Quest 2.
It's not a perfect solution, and wired will always have some advantages. You will need a strong wireless network to use Air Link, but any 5 Ghz network should work fine as long as you're close enough to your router. I wasn't able to test whether Air Link drained the battery faster than Remote Desktop, but I assume that it's either the same or better. That, unfortunately, limits you to just a couple of hours of playtime, meaning sessions are often cut short. Ultimately, the freedom of playing VR completely wirelessly is worth the short battery life, and Air Link is the only thing the Quest 2 was missing in order to make it a completely wireless experience. It's a marvel that it works at all, but luckily, it works extraordinarily well.
Next: Oculus Quest 2 Is "Going To Be In The Market For A While," No New Headsets In 2021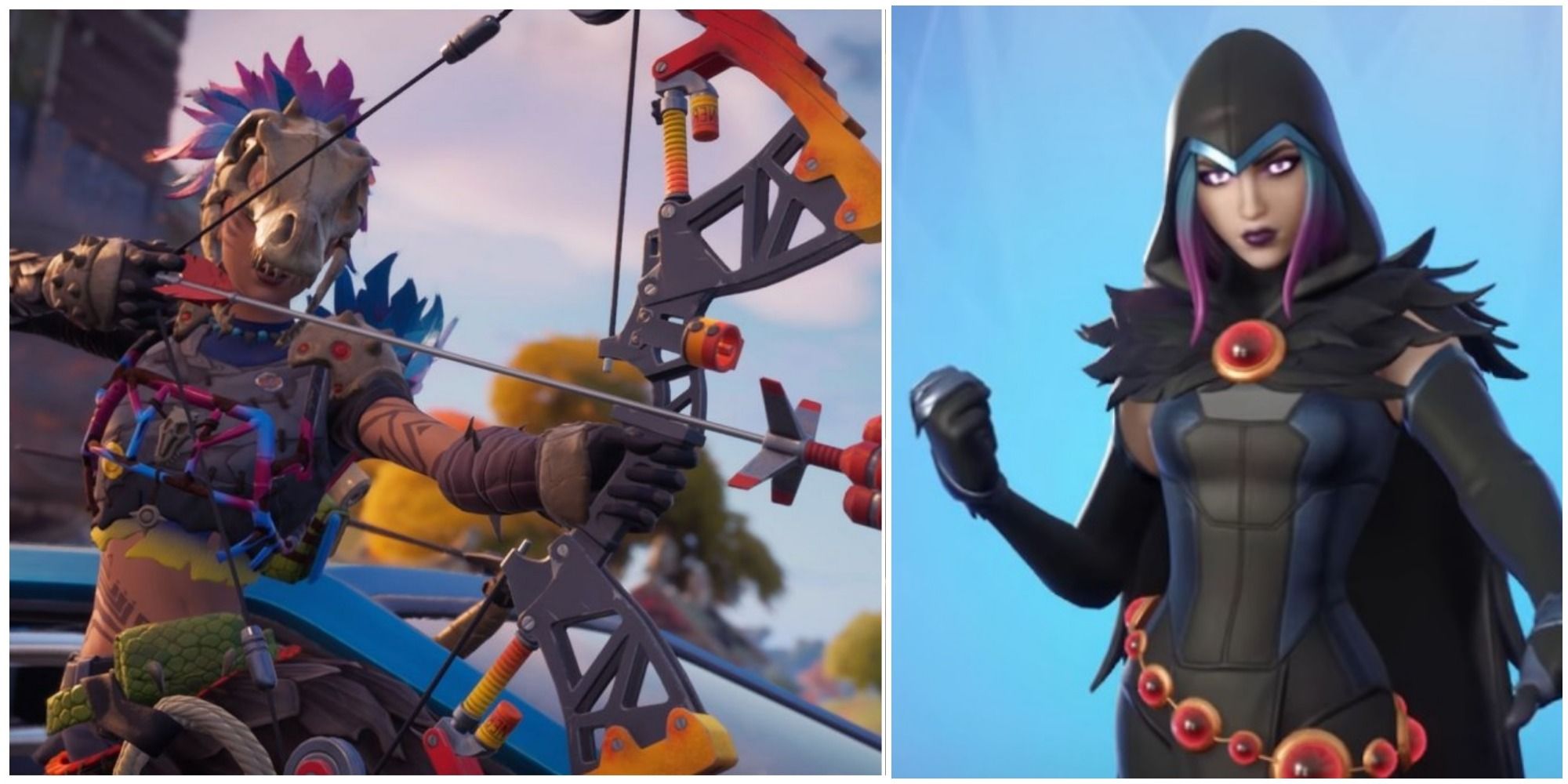 TheGamer Originals
vr
Oculus Quest 2
Eric Switzer is the Livestream News Editor for TheGamer as well as the lead for VR and Tech. He has written about comics and film for Bloody Disgusting and VFXwire. He is a graduate of University of Missouri – Columbia and Vancouver Film School. Eric loves board games, fan conventions, new technology, and his sweet sweet kitties Bruce and Babs. Favorite games include Destiny 2, Kingdom Hearts, Super Metroid, and Prey…but mostly Prey. His favorite Pokémon is Umbreon.
Source: Read Full Article