Gunnar Optiks has had a fascinating journey over the last several decades as its product line of gamer glasses continues to grow. Years ago, you might have seen a pair of Gunnars at Best Buy that looked like safety glasses. These days, Gunnar offers dozens of styles and types of glasses for a variety of needs – not just gaming – all designed to block damaging blue light and reduce digital eye strain. Its newest frame, the Lightning Bolt 360, is likely Gunnar's most innovative design yet, thanks to its interchangeable temples that relieve the pressure created by gaming headsets.
The Lightning Bolt 360 features a thick, black frame with squared-off lenses and a curve that gives them a wraparound feeling. Style is subjective, but compared to Gunnar frames I've sampled in the past, I find these to be particularly sharp. They might be bolder than some would prefer, but were it not for the distinct yellow tint I could see myself wearing these frames out and about. They've got a Tony Stark sensibility that I suspect will definitely appeal to the target audience.
The frames sit high and extraordinarily close, thanks to the size of the lenses and the extreme curve that hugs your face. This causes the colored lenses to fill your entire periphery, which seemed to help me adjust to the tint a lot faster. Looking through Gunnar's lenses warms up your screen a lot by blocking blue light, but it doesn't dramatically shift the perception of other colors, at least for me. It's not as though you're walking around in a yellow-tinted world, which makes it much easier to wear them all day, even when you step away from the computer. While the fit does give them a sporty feeling, they also tend to fog in the corners if I don't pull them away from my face a bit. I couldn't identify whether it was my breath, sweat, or ambient body humidity that caused it, but the fog was frequent enough that I found myself taking them off for a wipe down far too often.
Related: Gunnar RX Glasses: Protect Your Vision In Style
The big problem that the Lightning Bolt 360 aims to overcome is the discomfort caused by wearing gaming headphones and glasses at the same time. A snug headset can cause one's glasses to push into their head, causing pain over time. In the past, Gunnar has addressed this with paper thin frames made of lightweight metal. This definitely helps, but it tends to make the glasses feel cheap.
The Lightning Bolt 360's key innovation is its interchangeable temples, which is the actual name for the arms of your glasses. While it may seem like a gimmick at first, I'm actually really impressed by how clever the design is. There's a simple push release in the hinges on both sides of the frame that allow you to remove the temples and replace them with different options. The stock temples that come with glasses are shaped like lightning bolts, made of flexible plastic, and include rubber padding on the section that sits above your ears. For my headset (Astro a50) I found them perfectly comfortable for long stretches, but with other headsets they might not be.
If you want to switch the temples out, you have two other options. The first is the post, a flat, metal temple that you'll find on many other pairs of Gunnars. It's a perfectly viable option, I just don't love the look of them and I get worried about accidentally bending them. The other option is something I've never seen before. Essentially, you remove the temples completely and replace them with a nylon strap that sinches behind your head. While it makes the glasses harder to take on and off, it completely eliminates any pain or fatigue that would otherwise be caused by a headset, and it keeps the glasses secured tightly to your face, if that's something you need. It's definitely a bit odd to tie your glasses to your head, but it also clearly has a lot of benefits. From the front, you can't even tell that the frames are being held together with rope. It's exceptionally comfortable, and I'd consider replacing the temples on all of my glasses with straps if I didn't already know I'd get tons of weird looks.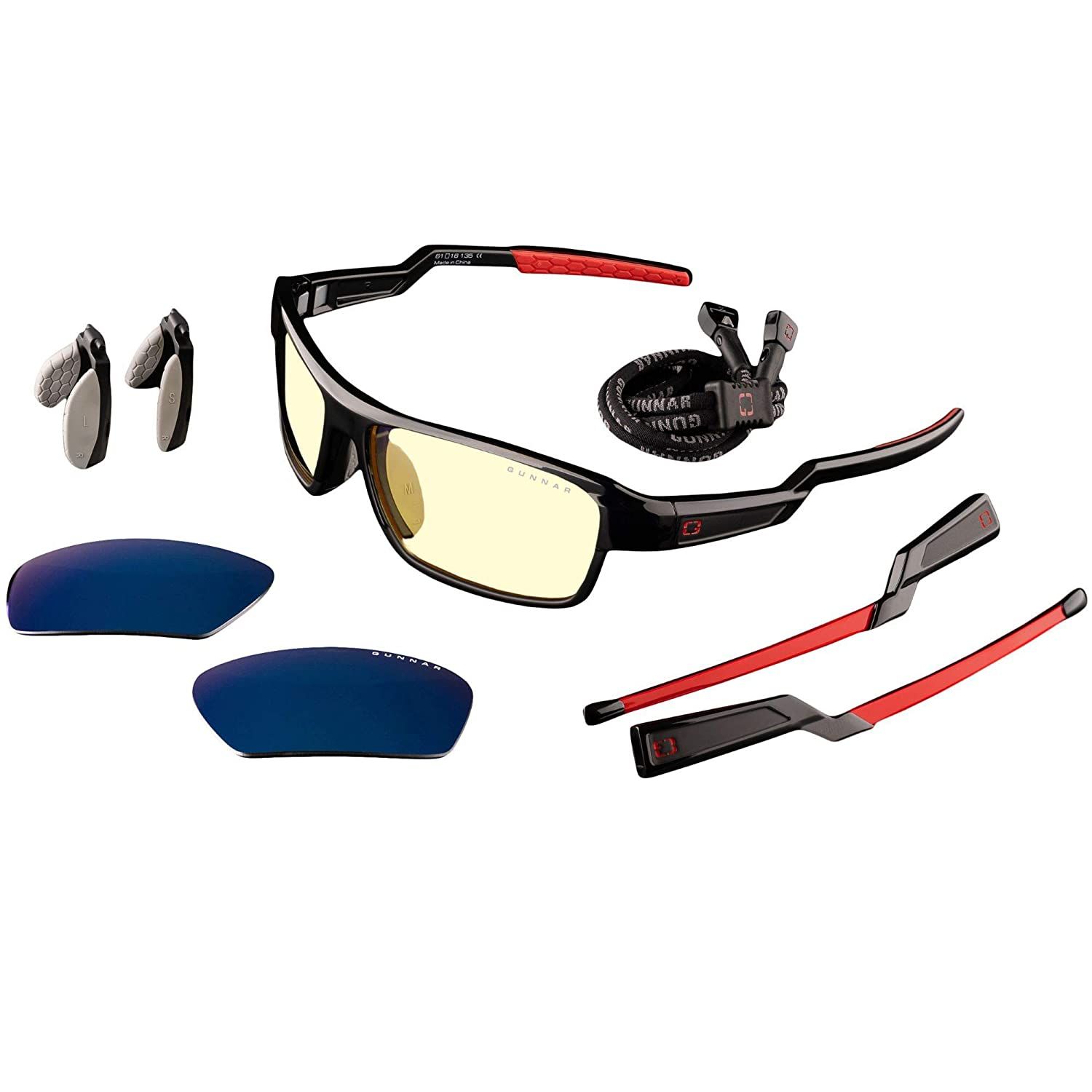 The one thing I'm not enthusiastic about is the prescription lenses. When putting on the Lightning Bolt 360s, I've noticed a pretty severe amount of distortion that's been difficult to adjust to. I recently updated my prescription and ordered three sets of lenses with identical specifications. One was from Warby Parker, one from Lensabl for my Razer Anzus, and the third was the Lightning Bolt 360s. While I can switch back and forth between the Warby Parker frames and the Razer glasses without any adjustment at all, the Lightning Bolt 360 takes quite a while to get used to every time I put them on, and I've experienced both headaches and nausea during that adjustment period. I'd say this was a manufacturing fluke or a problem with my interpupillary distance with these wrap-around style frames, but I also have Gunnar's Vayper frames with prescription lenses and I have had a similar experience with those. I don't know if there's something unique about my prescription that doesn't jive well with these glasses, but I'd recommend sticking with contacts while you wear them, rather than getting the prescription option.
The Lightning Bolt 360 isn't Gunnar's most fashion-forward design, but I think it's one of the sharpest. The interchangeable temple design is a revelation, and I love that Gunnar offers different temple packs with a variety of colors and designs. The strap replacement is something I'd never considered wearing, but it's grown on me quite a bit over the last week. If you spend more than a couple hours per day looking at a screen, the science indicates that you really ought to be wearing something to protect your eyes from artificial light. If you're also wearing gaming headphones, there's really no better option for eyewear than the Lightning Bolt 360.
Next: Gunnar Torpedo 360 Review: Absolute Best Way To Protect Your Eyes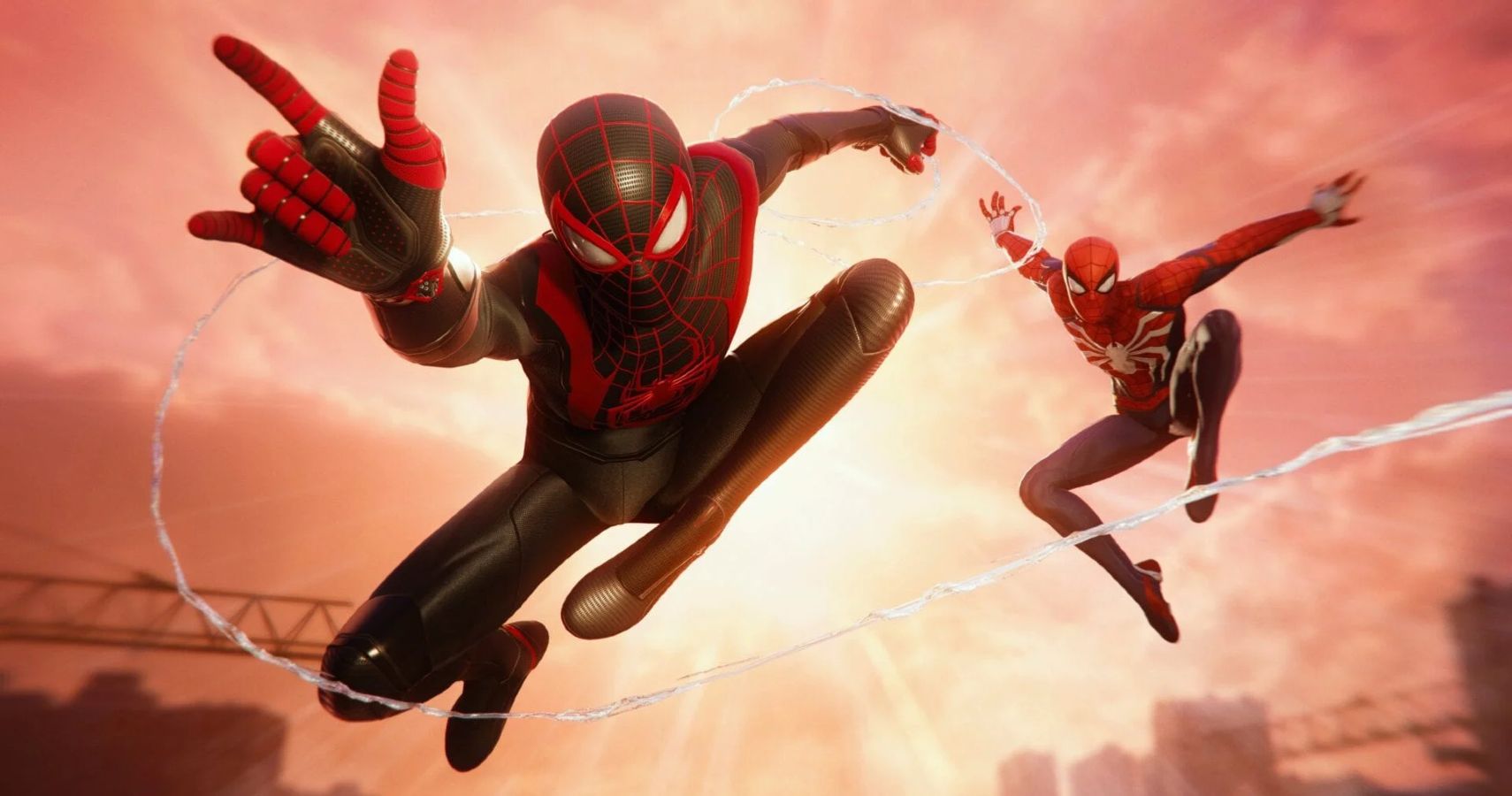 Insomniac Games is currently hiring in a number of positions for an unannounced multiplayer project.
Tech
TheGamer Originals
tech
Gunnar
Eric Switzer is the Livestream News Editor for TheGamer as well as the lead for VR and Tech. He has written about comics and film for Bloody Disgusting and VFXwire. He is a graduate of University of Missouri – Columbia and Vancouver Film School. Eric loves board games, fan conventions, new technology, and his sweet sweet kitties Bruce and Babs. Favorite games include Destiny 2, Kingdom Hearts, Super Metroid, and Prey…but mostly Prey. His favorite Pokémon is Umbreon.
Source: Read Full Article