I spent maybe all of ten minutes with Rosaria in Genshin Impact so far. She popped up briefly in the Dragonspire storyline, not really long enough to give us the best idea of who she is, but it's all I needed. Rosaria is a cold, straight-forward fierce melee combatant, and still hyper-feminine in design. Rosaria is the perfect storm of all things that quickly turn a character into one of my favorites. She holds the same sort of appeal that other ladies like Bayonetta, Tifa Lockheart, or Miranda Lawson have for me – and I can't wait until she's here in Genshin Impact's Version 1.4, Invitation of Windblume.
As a little girl, I was instantly a fan of more femme presenting characters like Princess Zelda or Princess Peach – it was a secret, though. You see, when you're really young and a little girl that wants to assert herself, super "girly" things aren't cool. My attraction to characters like Peach were pretty one-dimensional, I had no real motivation outside of "she's pretty" and "I love her pink dress." As an adult, that's fine, and I love that for me. As a kid, that was a bizarre taboo. I spent years pretending I liked bland ole Mario instead, or opting to play Yoshi in Mario Party when I really wanted to parade around in that poofy dress.
I spent too much of my early life critical of the feminine and only embracing the masculine because I thought the latter was the only acceptable solution if I were to be taken seriously. Cute, femme, delicate appearances are often weirdly fetishized or dismissed, and it wasn't until I was well into college that I realized I didn't have to pick a side to appease people who made me uncomfortable. My go-to ladies often embrace femme presentation, but will still pull a knife on you. Perhaps I just really dig the femme fatale trope too much? Regardless, I think Rosaria would kick my ass, call me names, then go buy new fishnet stockings and heels. I love her for that.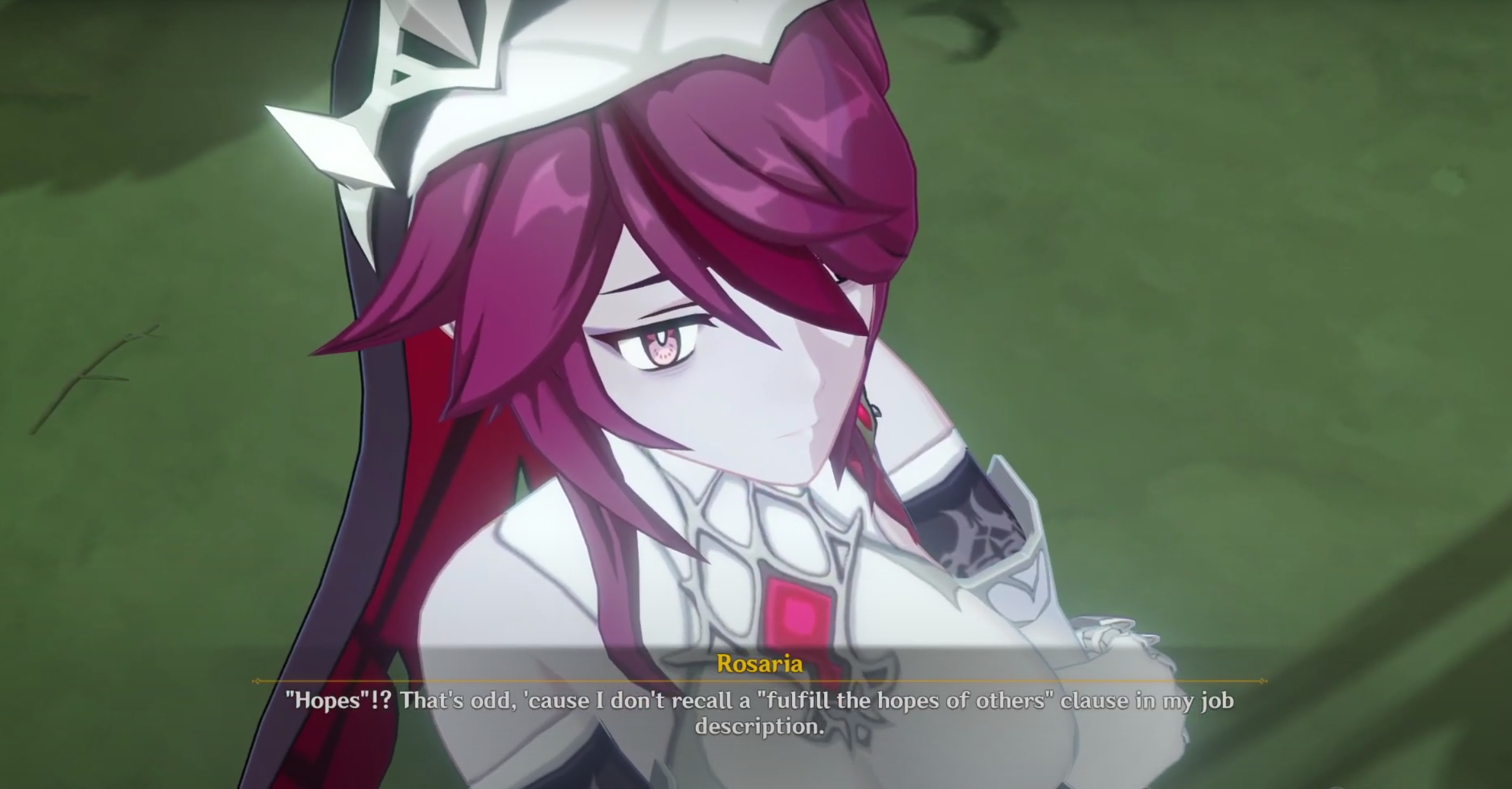 Perhaps what initially stands out to me is Rosaria's dismissal of the conventions expected of her from the Church of Favonious. Just seconds into your first meeting with the nun, she's already scolding Barbara for trying to get her to return to choir practice. Barbara pleads, she's obviously more hung up on the ceremonial, but seemingly pointless, nature of the church's request. Rosaria has no time for it – coldly dismissing Barbara before insisting her investigation into the threat she perceives Albedo poses is far more important than keeping up appearances and pleasantries.
There's, of course, nothing wrong with Barbara, either. But my love for characters like Rosaria comes from a place of long-assuming the worlds of the assertive and feminine do not mix. She's a bit of a security blanket, as I find comfort in characters that allow me to connect with that femme aesthetic I once felt meant that I couldn't demand respect.
Rosaria's unorthodox approach to her affiliation with the church is a bit jarring when you compare her with how highly the rest of Mondstadt regards the Church of Favonius. But later on, you see the Sister soften when speaking of Mondstadt itself, articulating that protecting the city at all costs is the whole reason she's out on her own in Dragonspire. I'm honestly not quite sure how she does it without the institution coming down on her, but the strict operating under how own terms is what has me so intrigued about Rosaria. Perhaps what's furthered my fondness for her too – she just refuses to acquiesce to the demands of a church.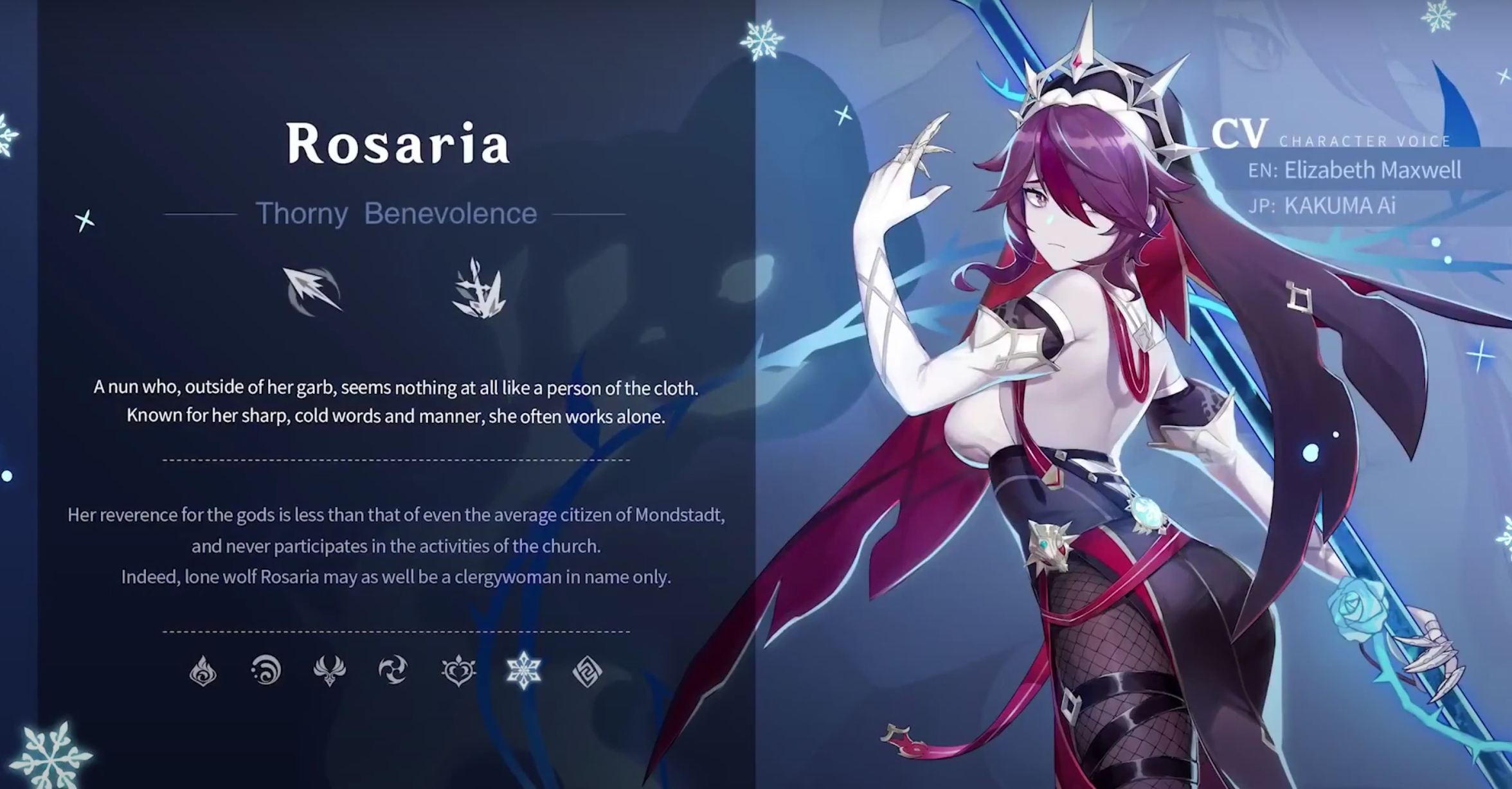 Then comes her fighting style. We first got a peek at Rosaria's Cryo powers in Genshin Impact's 1.4 livestream event. Rosaria is a polearm-wielding, up close and personal combatant with a pledge to "do the dirty work." Cold and sharp, Rosaria's skills rely upon her ability to be quick and cunning – like an assassin – as her kit requires her to bob and weave around an enemy's front and flank.
Of course, this could all come crashing down and Rosaria could be a total bust that's already seen her five minutes of fame in Genshin Impact, but I dig her. We've got just a little over a week before 1.4 drops, and I'm furiously saving for Mondstadt's most unorthodox nun. Genshin Impact hasn't really delivered on Rosaria's character archetype just yet, so I'm ready to main a powerful lady that would probably crush me.
Next: I Hope Pokemon Legends Arceus Is Less Breath Of The Wild And More Genshin Impact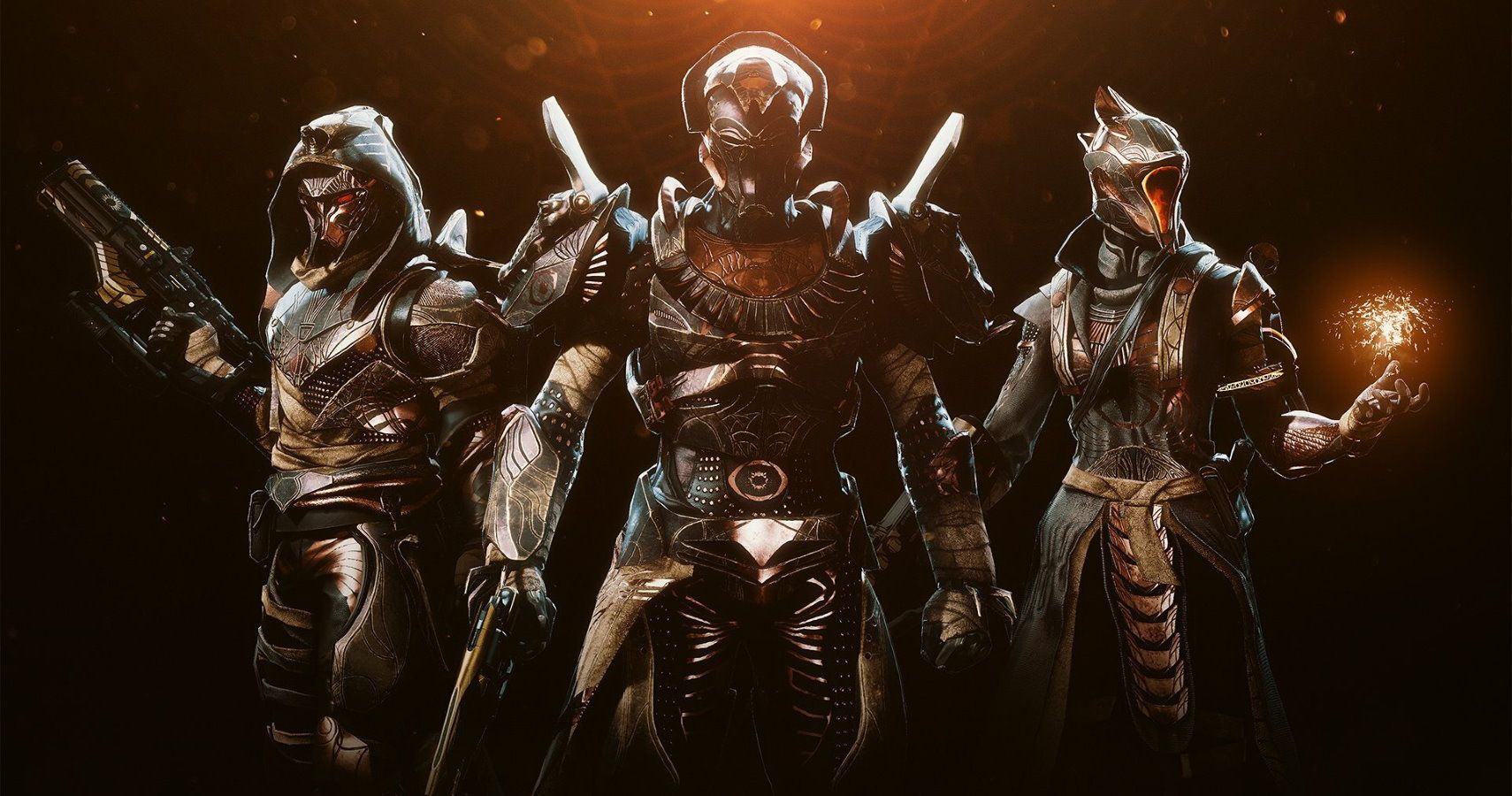 TheGamer Originals
PC
Mobile
Ps5
ps4
Genshin Impact
Andrea Shearon is a news editor at TheGamer who loves RPGs and anything horror related. Find her on Twitter via @Maajora.
Source: Read Full Article