Quick Links
Spotlight Hour and Raid Hour
December Community Day – Part One
News, Updates, and Reminders
December is in full swing and there's a lot going on in Pokemon Go to celebrate the holiday season. This week sees the start of the annual Pokemon Go Holidays event as well as some new features, Ice-type Pokemon, and the first half of December's Community Day weekend.
We've got all the important info you need this week as well as a preview of what's going on in the game next week. Here's what's up in Pokemon Go for the third week of December.
Pokemon Go Holidays 2021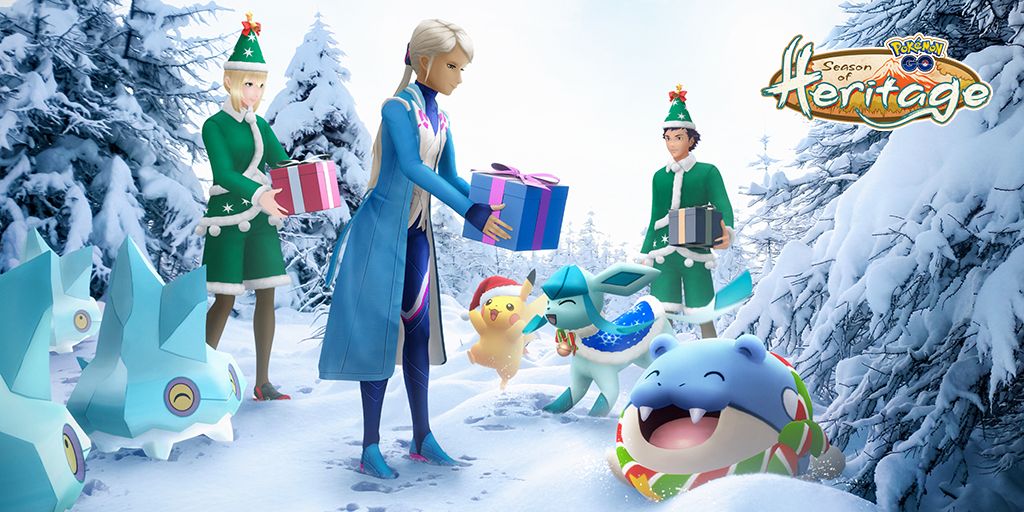 December 16 at 10am to December 31 at 8pm local time
(Part 1 runs December 16 at 10am to December 23 at 10am)
The most notable event this week is of course the annual holiday event. The celebration is split up into two parts with the first portion running this week and into next week. We've got a full guide on the event with all the specifics, so definitely check that out.
However, here's the most important stuff to know for Part 1 of the event:
Costumed Pokemon will be spawning
Includes Santa Hat Pikachu, Holiday Delibird, Holiday Stantler, Holiday Cubchoo, and two new costumed Pokemon: Holiday Spheal and Holiday Glaceon
Other Ice-types will be spawning
Includes Snorunt, Swinub, Vanillite, Snover, Cryogonal, Alolan Sandshrew (only in Part 1)
Ice-types and costumed Pokemon will feature in Raids (more on that below)
Field Research tasks exclusive to the event will lead to encounters with holiday- and winter-themed Pokemon
Includes Santa Hat Pikachu, Swinub, Holiday Stantler, Holiday Spheal, Holiday Cubchoo, Cryogonal, and Alolan Vulpix (only in Part 1)
You can open up to 45 gifts per day and you can hold up to 40 in your inventory
Team Go Rocket Grunts will have more Water-types and Ice-types on their teams
Mega Abomasnow will receive a CP boost
New stickers, avatar items, and shop bundles are available throughout the entire event
Postcards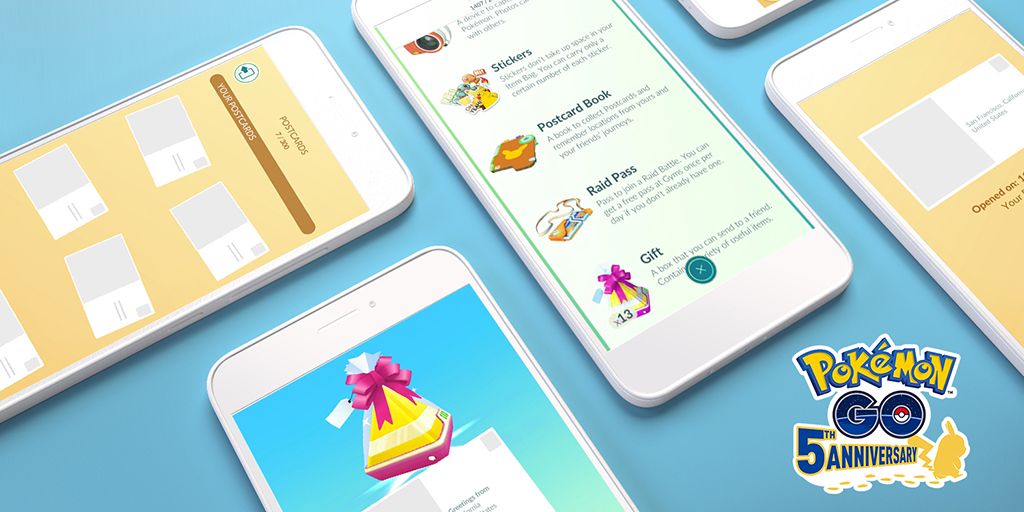 As part of the Holidays 2021 event, there's a new feature launching in Pokemon Go: postcards! You'll now be able to "pin" the postcards attached to gifts in a book where they'll stay forever (or until you unpin them). This Postcard Book will be accessible from your profile page or your inventory.
You can save the postcards on gifts you receive from friends or those from your own gifts. This is a great way to look back at all the places around the world or even just your local community where you've had a Pokemon Go connection.
This feature goes live at the beginning of the Holidays 2021 event.
Go Battle League Updates

Season 10 of the Go Battle League is continuing this week and it'll see new tournaments starting while the current ones end.
At 4pm EST on December 13, the GBL will switch from the Great League and Great League Remix tournaments to the Ultra League and Ultra League Remix. Then on December 16 at 4pm EST, the Holiday Cup will begin. Here are the rules for each tournament:
Cup
Rules
Ultra League

Pokemon must be CP 2,500 or lower

Ultra League Remix

Pokemon must be CP 2,500 or lower
Certain Pokemon are banned (see note)*

Holiday Cup

Max CP of 1,500
Only these types allowed: Electric, Flying, Ghost, Grass, Ice, Normal
*Banned Pokemon (UL Remix): Alolan Muk, Cresselia, Empoleon, Giratina (Altered Form), Obstagoon, Swampert, Talonflame, Togekiss, Umbreon, Venusaur
The Ultra League and Ultra League Remix tournaments close on December 27 at 4pm EST while the Holiday Cup continues for a few more days, ending on December 31 at 4pm EST.
Spotlight Hour and Raid Hour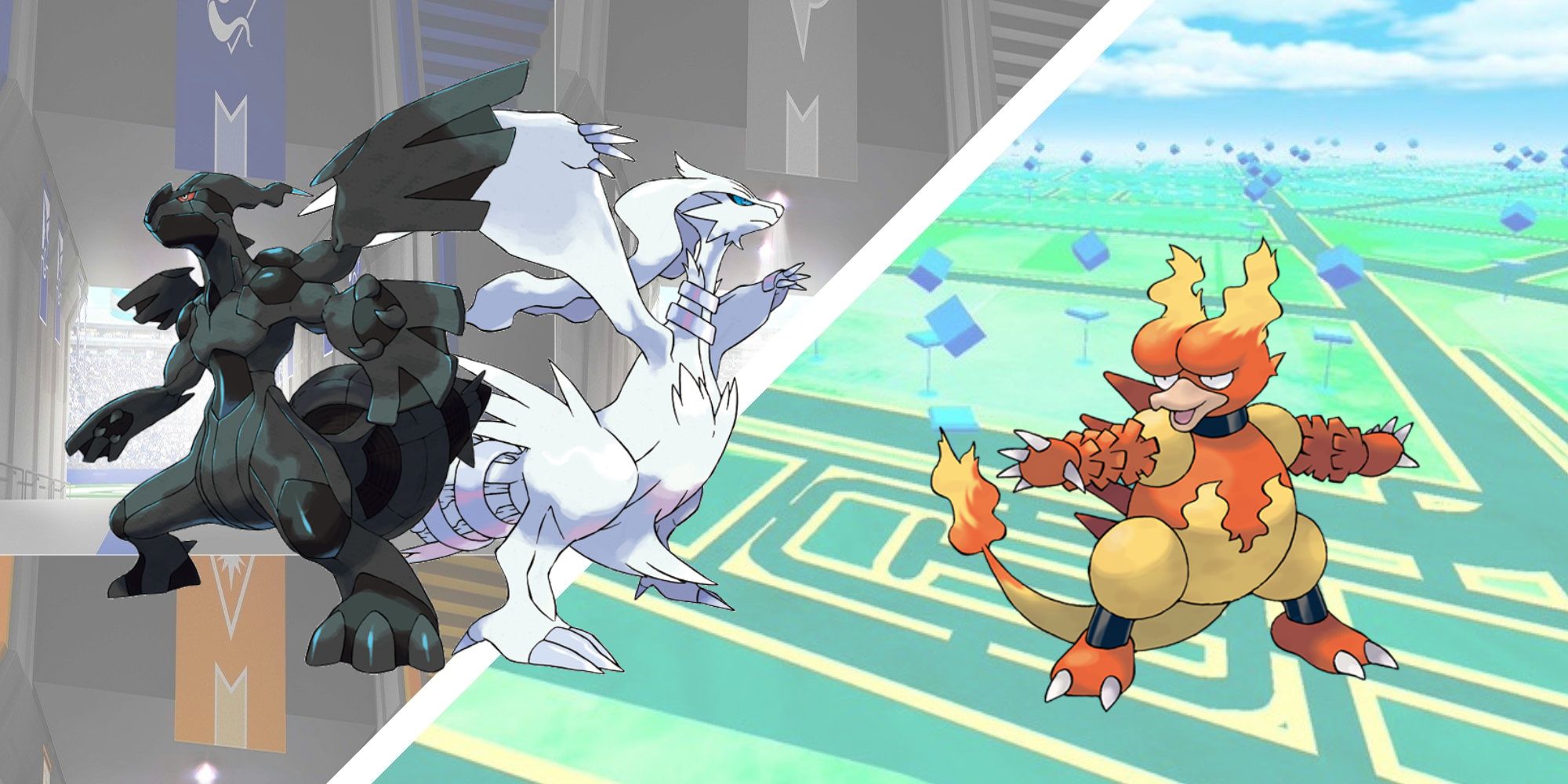 Next week's Raid Hour and Spotlight Hour both feature Ice-type Pokemon, which is fitting for the season. For now, though, Reshiram and Zekrom are still in Raids.
Spotlight Hour: This week's Spotlight Hour features Magmar and a bonus of double evolution XP. It runs from 6pm to 7pm local time on December 14.
Raid Hour: The Raid Hour for this week is on December 15 and runs 6pm to 7pm. The featured Raid bosses are Zekrom and Reshiram.
December Community Day – Part One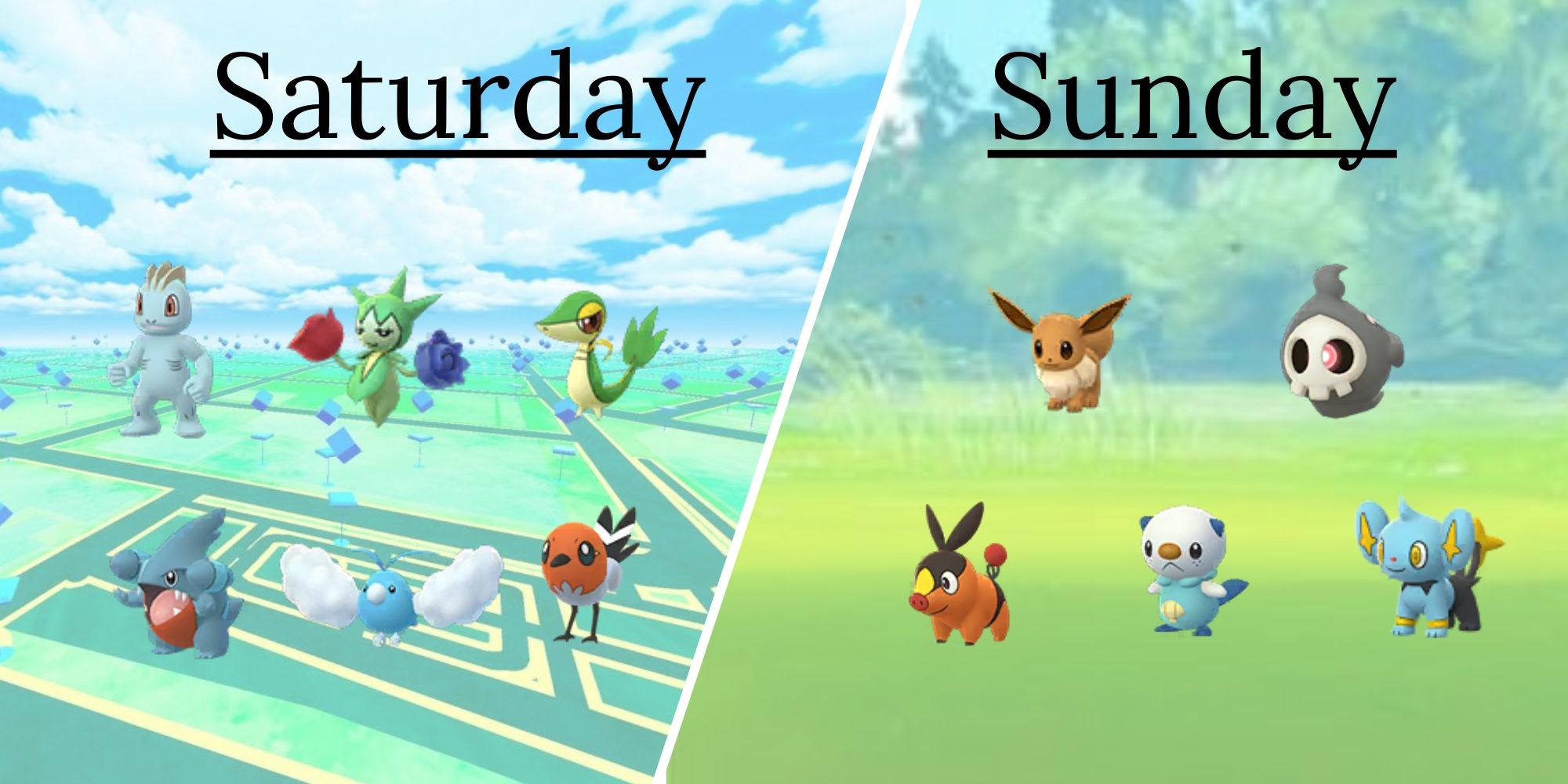 December 18 from 11am to 5pm local time
The December Community Day is split into two parts taking place over the course of two days. Part 1 is this Saturday, running from 11am to 5pm.
Of course, we have a full guide for the upcoming Community Day specifics (and some of them are a bit confusing). But here are the major notes:
Pokemon from all of 2021's Community Days will be spawning in the wild

Their special CD moves will be available
Some will spawn on Saturday and some on Sunday

Saturday spawns: Machop, Roselia, Swablu, Gible, Snivy, Fletchling

Lures and Incense will last three hours
Eggs will take half the distance to walk
You'll earn double Stardust and XP for catches
You can make an extra special trade each day and trades will cost 25% less Stardust
Pokemon from 2020's Community Days will feature in eggs and Raids

Their special CD moves will also be available
Special Research, Timed Research, and Field Research tasks will all be available

Field Research tasks will reward Mega Energy for Mega Charizard, Mega Beedrill, Mega Gengar, Mega Gyarados, and Mega Altaria

Kyurem Returns To Raids

December 16 at 10am local time

With the departure of Zekrom and Reshiram, Kyurem will take over Raids once again as the Tier 5 boss. The switchover takes place with the start of the Holidays 2021 event at 10am local time on December 16. The other tiers of Raids (with the exception of the Mega Tier) will change over at that time as well.

Here's who is currently in Raids until Thursday:

Tier 1
Tier 3
Tier 5
Mega

Tynamo
Litwick
Cubchoo
Golett
Deino

Electabuzz
Magmar
Lapras
Dragonite
Druddigon

And here's who will be headlining Raids alongside Kyurem starting on Thursday:

Tier 1
Tier 3
Tier 5
Mega

Santa Hat Pikachu
Alolan Sandshrew
Swinub
Holiday Spheal
Holiday Cubchoo

Cloyster
Holiday Delibird
Holiday Stantler
Holiday Glaceon

News, Updates, and Reminders

As always, there's a bit of news this week as well as some reminders.

>Powered Up PokeStops

A new feature has rolled out in the game. You can now power up PokeStops to receive more and better rewards from them. To do this, you'll need to scan the stop in AR. There are three levels which are simply called Level 1, Level 2, and Level 3. The more a PokeStop is powered up, the longer the boost will last.

Here are Niantic's instructions for powering up a PokeStop:

(this will be in block quote formatting in emaki)

Tap on the PokéStop or Gym to view the Photo Disc
Tap on the power up button in the bottom right
Tap Scan PokéStop or Scan Gym
If this is your first time scanning, you will need to review the safety information and tap OK
Take a scan of the PokéStop or Gym. For instructions and guidance on how to take an AR scan, see this article
Tap Upload Now to contribute to that PokéStop or Gym immediately or Upload Later to save your scan to submit later

Note that if you choose to upload later, you will not be able to contribute location points until the scan has been uploaded successfully.

Some reports are showing that earning hearts with your Buddy Pokemon is possible from visiting powered up PokeStops as well.

>QR Code Mystery

Some strange mystery hunt seems to be going on around social media sites. Niantic has hidden pieces of a QR code in a video and keen Trainers have seemingly begun to solve the puzzle.

You can read more in this Reddit thread. It seems that the QR code leads to a Google Survey by Niantic that offers a chance to win some prizes.

>Johto Tour Tickets Now On Sale

The second Pokemon Go Tour, this one focusing on Johto, is set for the end of February, 2022. Tickets for the event are now on sale in-game for $14.99 or the equivalent in your local currency.

Here's our post on all the stuff happening during the Johto Tour:

>Community Day Storage Expansions

As part of the December Community Day celebrations, Niantic has announced that both Pokemon and Item storage will have their max capacity limits increased by 500. You can now store up to 5,500 Pokemon and 4,500 items. This capacity upgrade goes live just before Community Day at 4pm EST on December 16.

>Unannounced Chansey Event in Fukushima

It seems there's an event in Fukushima, Japan this week that wasn't announced by Niantic. There are Chansey spawning en masse in certain parks in the area.

Next Week

Here's a quick look at next week's events. Be sure to check back every Sunday when we round up everything going on in Pokemon Go for the week!

December 19: Community Day Part 2
December 21: Snover Spotlight Hour
December 22: Kyurem Raid Hour
December 23: Mega Steelix leaves Raids and Mega Abomasnow returns
December 25 and 26: Winter Wonderland Mini-Event

Source: Read Full Article