As 2021 comes to a close, many are preparing to enter the new year and there's a big celebration in Pokemon Go to mark the occasion. But that's not all. There's quite a bit going on in Pokemon Go this week including the changeover to a new month which always brings a ton of new content.
Meanwhile, things are moving in the Go Battle League with the Holiday Cup and Ultra League tournaments finishing this week. Here's everything going on in Pokemon Go this week.
Go Battle League

December 27 at 4pm EST to January 10 at 2pm EST
On Monday, the GBL is changing over to the Master League tournaments. This includes the standard Master League and the Master League Classic — both of which run through to January 10. The Holiday Cup also continues this week, though it ends on Friday (December 31) at 4pm EST. Here's a refresher on each league:
League
Rules
Master League
Master League Classic

Pokemon that have been powered up with Candy XL are not permitted

Holiday Cup

Pokemon must be CP 1,500 or lower
Only the following types are allowed: Electric, Flying, Ghost, Grass, Ice, Normal
When the Master League starts, the Ultra League tournaments will end. Don't worry about missing the Ultra League cups because the standard UL and the UL Premier Classic will run from January 24 to February 7, though. For all future leagues coming in Season 10, check out our full guide.
Holidays 2021 Event Ending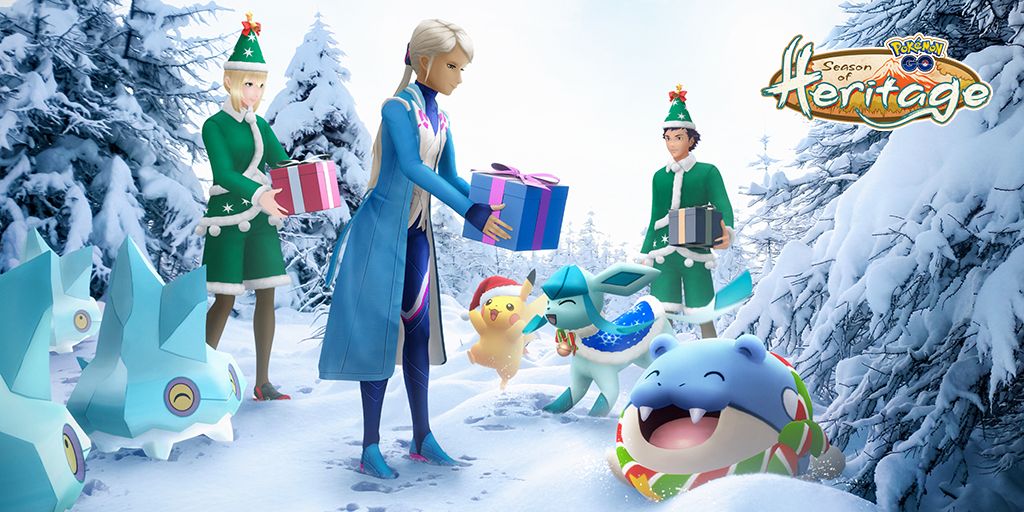 Ends December 31 at 8pm local time
Make sure you've caught a Bergmite and finish up those Timed Research tasks because the Holidays 2021 event is ending this week. Don't forget — these Timed Research questlines will lead to encounters with Galarian Mr. Mime.
If you want a reminder on all the bonuses that are on as part of this event, check out our post outlining all of them in detail.
January Research Breakthrough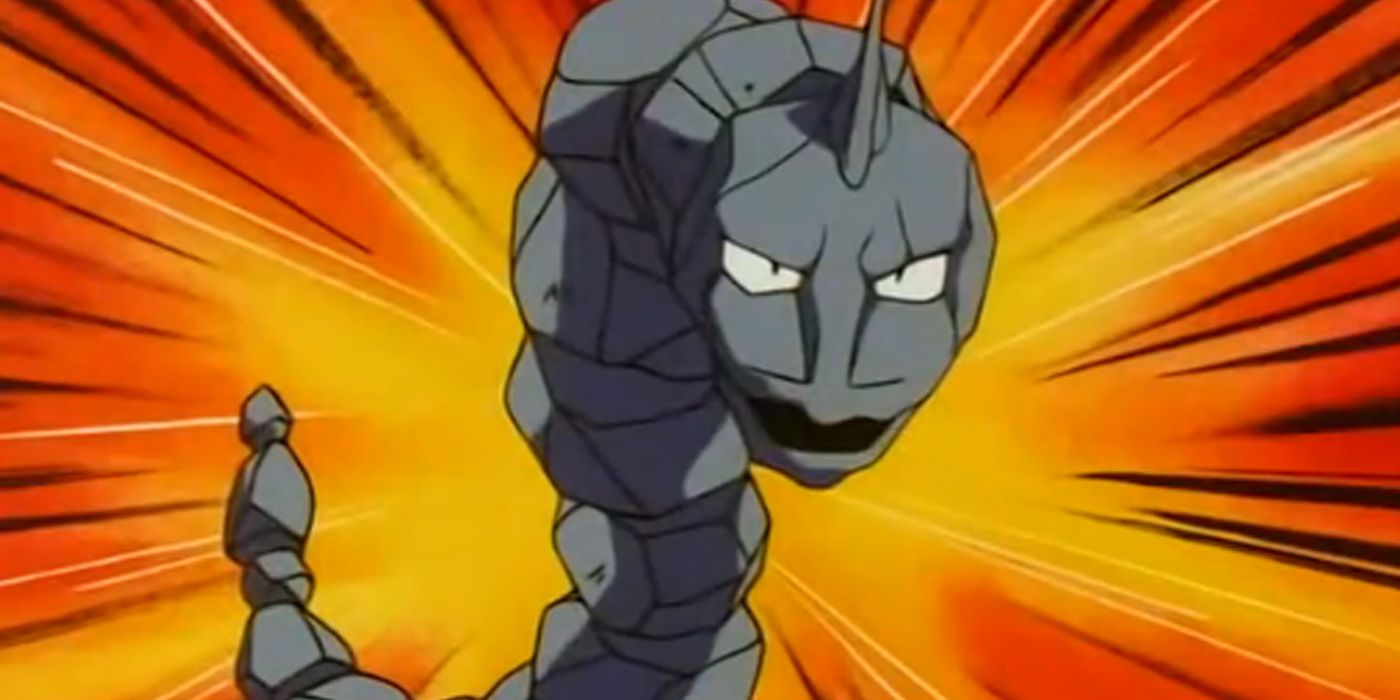 Starts January 1 at 4pm EST
Niantic has announced that Onix will be the Research Breakthrough reward for the month of January. Interestingly, you'll also earn Steelix Mega Energy as part of the Research Breakthrough.
If you still need or want a Deino, you can catch one as part of the Research Breakthrough as long as you open the box before 4pm EST on January 1.
Spotlight Hour and Raid Hour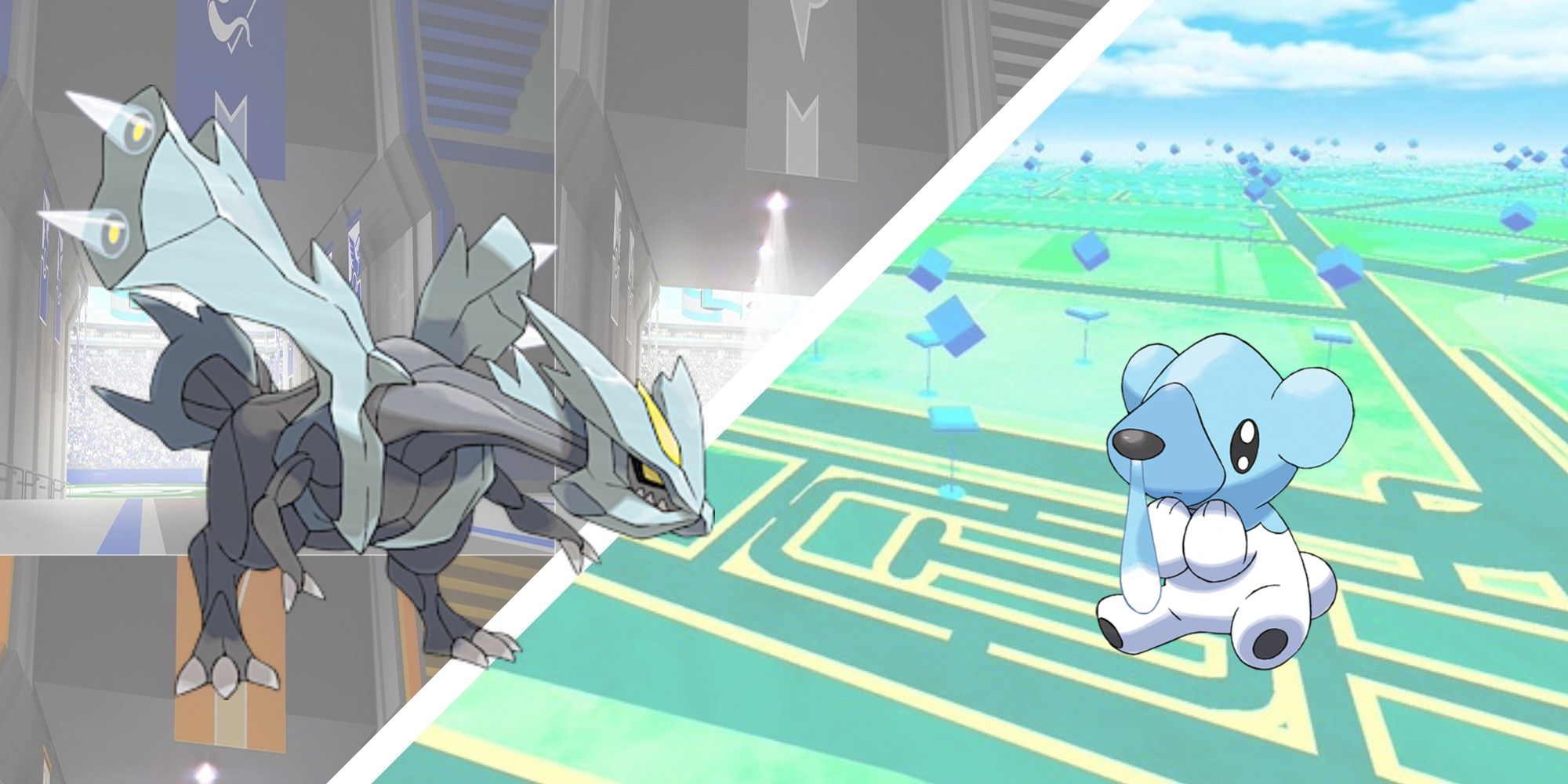 If you can find the time during the hectic holiday season, you can participate in this week's Spotlight Hour and Raid Hour.
Spotlight Hour: On Tuesday, December 28 from 6pm to 7pm local time, Cubchoo will spawn in significant numbers. It's likely that these Cubchoo will have the holiday bow. The bonus this time 'round is double catch candy.
Raid Hour: This week's Raid Hour features Kyurem who will be atop most gyms. On Wednesday, December 29, there will be a ton of Tier 5 Raids, of course featuring the Ice/ Dragon-type Legendary. Raid Hour events run from 6pm to 7pm local time.
New Year's Event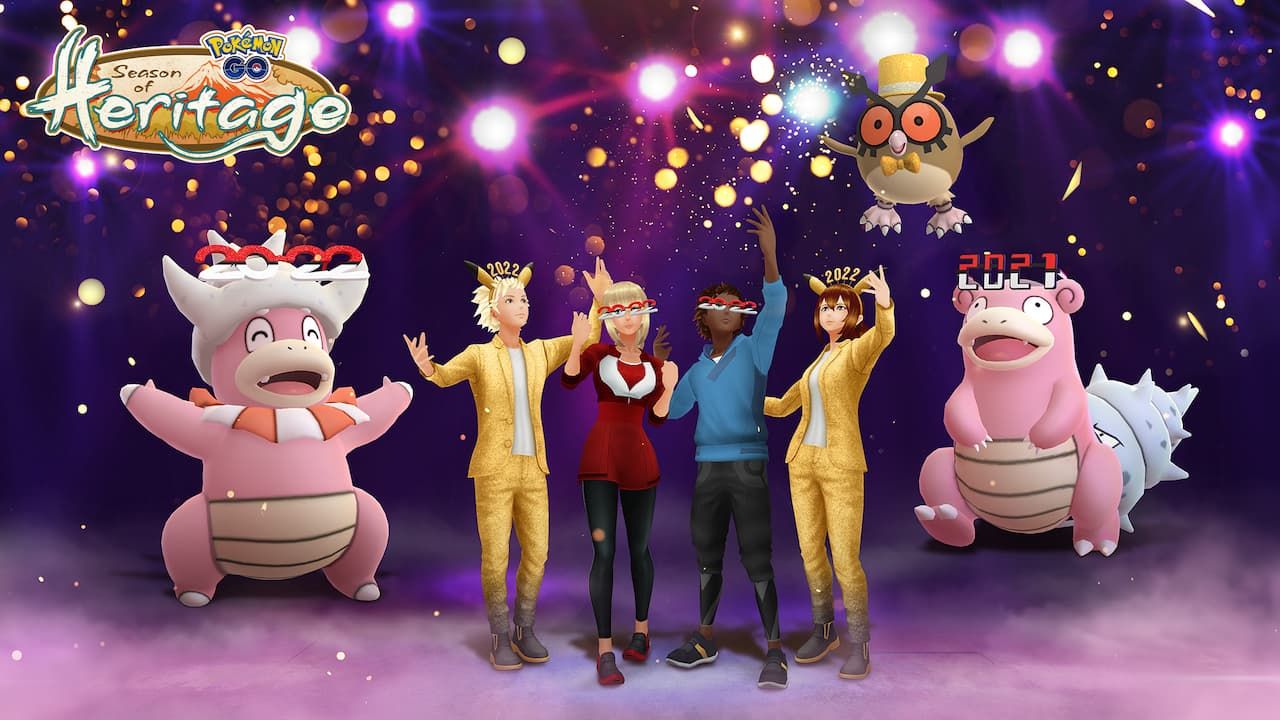 December 31, 2021 at 10pm to January 4, 2022 at 8pm local time
There's another New Year event this time, this one celebrating the end of 2021 and the beginning of 2022. Like last year, the Slowpoke family will be featured. The event runs for only a few days and includes some Timed Research and new Pokemon, so you won't want to miss it. Let's go over all the details.
New costumed Pokemon will be spawning and some familiar faces wearing costumes will also make an appearance. If you missed any of these costumed Pokemon, this is a great opportunity to find them.
New Costumed Pokemon:
New Years Hat Hoothoot
2022 Glasses Slowking
Returning Costumed Pokemon:
Party Hat Bulbasaur
Party Hat Charmander
Party Hat Squirtle
Party Hat Raticate
Party Hat Nidorino
New Year Hat Pichu
New Year Hat Pikachu
New Year Hat Raichu
2020 Glasses Slowpoke
2021 Glasses Slowbro
Party Hat Gengar
Party Hat Wurmple
Party Hat Wobbuffet
Some of these Pokemon will spawn in the wild while others can be obtained from eggs, Raids, and as encounter rewards from Field Research tasks. Check Niantic's blog post for all the specifics, though we will go into detail on the Raid bosses here.
Raid Bosses for December 31, 2021 to January 4, 2022
Tier 1
Tier 3
Tier 5
Mega Tier

2020 Glasses Slowpoke
New Year's Hat Hoothoot
Party Hat Wobbuffet
Mawile

Party Hat Raticate
Party Hat Gengar
Party Hat Nidorino
Machamp
2022 Glasses Slowking
There are a few other things going on, too:
You'll receive double Stardust for hatching eggs
Catching Pokemon will grant double candies
Eggs will take half their regular distance to hatch
Timed Research will be available and it'll lead to encounters with costumed Pokemon
Hoothoot's and Noctowl's shinies will be activated, both with a costume during this event, and the noncostumed standard variants after the event ends
New avatar items themed around New Year's celebrations will be available in the shop including a headband, jacket set, pants, shoes, and 2022 glasses
From December 31 at 11pm until January 2 at midnight local time, fireworks will take palce in the in-game sky
News and Reminders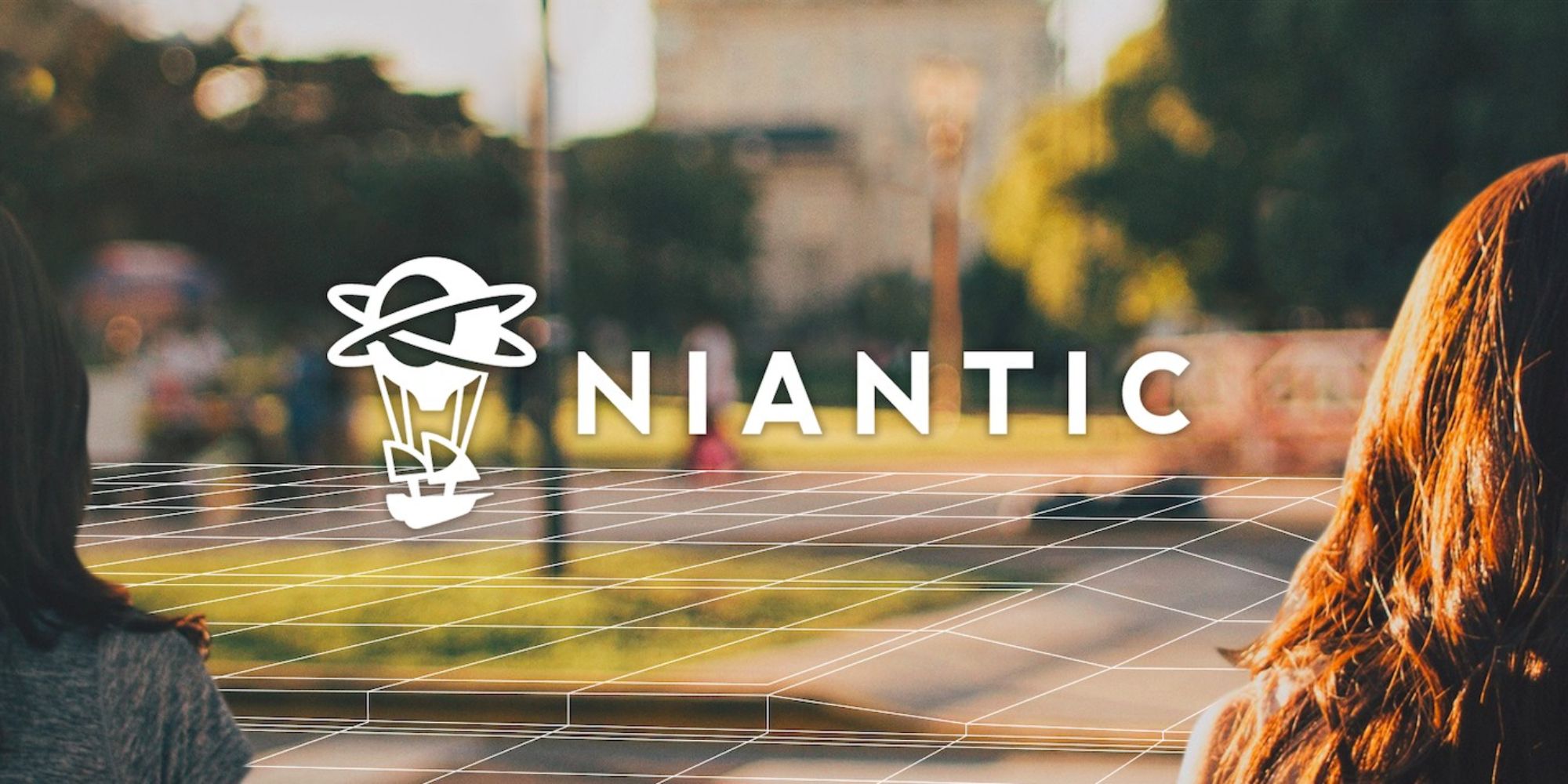 We've got a few bits of news and some reminders this week!
January Events
January's events and details have been announced. We'll have all the details for each as they approach, but here's a quick rundown:
Spark's portion of the Season of Heritage Timed Research will be available (only available to those who pre-purchase a ticket for Pokemon Go Tour: Johto)
Mega Aerodactyl will debut
Heatran, Genesect with a Shock Drive, and Regice will feature as Tier 5 Raid bosses
Spotlight Hour Pokemon include Solosis, Diglett, Plusle, and Minun
Major events will take place as always, but most of the details aren't yet released

"Mountains of Power" (starts January 7) and an unnamed Steel- and Electric-themed event (starts January 17)

January Community Day will feature Spheal and Walrein will learn Powder Snow (fast) and Icicle Spear (charge)

Free Item Code Expiring

There's a code active currently that offers some free items and it expires on December 31. It gives an Incense, 10 Poke Balls, and 10 Pinap Berries. Here's the code:

53HHNL3RTLXMPYFP

Pokemon Go Tour: Johto Tickets For Sale

Pokemon Go's next regional tour event, this one focusing on Johto, is fast approaching. Tickets are now on sale in the in-game shop for $11.99 or the equivalent in your local currency. Check out our guide for all the specifics:

Note that the Timed Research questline for January's portion of the Season of Heritage is only available to Trainers who pre-purchase their Johto Tour tickets.

Additionally, the in-person portion of the event has been announced to be taking place in Mexico, the UAE, and Taiwan. Those tickets are also on sale. Niantic's post has all the details if you're interested in taking part in the live event.

Postcard Feature Live

In case you missed it, the Postcard Book feature is now active in game. You can save the postcards from gifts to a special book which is accessible from your inventory or profile page. You can save postcards from your own gifts or those you receive from friends. These postcards remain in the book until you delete them, letting you look back on some memories or cool places that you and/ or your friends have been.

Next Week

Here's a quick preview of what's going on next week:

January 4: Solosis Spotlight Hour
January 5: Kyurem Raid Hour
January 7: Mountains of Power event begins
January 8: Raid boss changeover

Mega Aerodactyl replaces Mega Abomasnow
Heatran replaces Kyurem

January 8: GO Battle Day

Source: Read Full Article